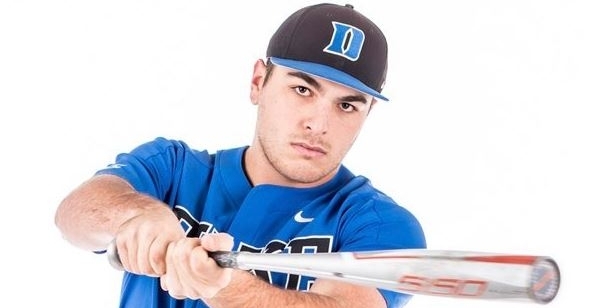 | | |
| --- | --- |
| Getting to know: 1B/RHP Matt Mervis | |
---
| | | |
| --- | --- | --- |
| Saturday, June 27, 2020, 9:46 AM | | |
The final position player to ink an undrafted free agent deal with the Cubs, at least the final one to this point, is former Duke first baseman Matt Mervis. This is one pick that a lot of us should be keeping an eye on, as not only was Mervis one of the best seniors not taken this year ranking 17th overall in terms of undrafted seniors, but he was one of the better-undrafted players left on the top 500 board giving the Cubs something more to smile about.
Also, when you add in the fact that he plays a position in first base that the Cubs will have to figure out a long term plan, and that he is a two-way player who has shown some success as an RHP also you are getting a brand new toy with a bright future. Two-Way players are not very common in this league, and outside of Shohei Otani for the Angels, there isn't a single two-way player that has success recently in baseball.
Mervis is trying to change that in the Cubs organization as he could honestly fit the mold of both pitcher and first base. Let's dive into his hitting stats first before we look at his pitching stats. As a hitter, the 6-4 225 pound Mervis certainly fits the mold of a solid hitter, although his power numbers are not where you would expect them to be. In 48 total games during his freshman and sophomore seasons, Mervis hit right around .300, but only saw ten at-bats throughout those seasons so you can't take much away from that.
If you want to look at the type of hitter he can be, then his 2019 junior season is the one we should be looking at. In 56 games that season, Mervis saw nearly 200 at-bats and logged 52 hits for a respectable .274 average. His 18 walks and 44 strikeouts is something he needs to work on, but his .421 slugging percentage was an obvious plus as he went deep six times that season to go with 31 driven in.
Fast forward to 2020, and Mervis was off to an even better start in his 15 games this season, hitting .288 with three homers and 14 RBIs already. What stands out this season is his slugging percentage, which increased to .577 and his eye at the plate where he had more walks than strikeouts. Whether or not that would have stayed that way, the entire season is something we will never know, but it was clear that Mervis put in the work to become a better overall hitter at the dish in just one season.
On the mound is where I am wondering his long-term plans as I don't see as bright of a future as a pitcher. During his tenure at Duke, Mervis made 50 total appearances in four seasons, compiling a 6-2 record with a 5.49 ERA. That ERA was inflated mainly due to his 7.83 ERA as a freshman, but it did get better the older he got.
His freshman season saw him toss the most games, but his sophomore season may have seen the best results. In 20 games that year, Mervis battled through a 4.91 ERA but managed to post a 3-0 record with 10 walks and 21 strikeouts in 25 2/3 innings. That was miles ahead of where he was during his first season at Duke as he continued to get better with experience.
In the last two seasons, it appears as if Mervis has focused more on hitting first as he has pitched in just nine games the past two seasons totaling ten innings of work. Although that is a limited sample size, Mervis has gone 1-0 with a 1.75 ERA in those ten games, walking six and striking out ten.
Although Mervis had some reasonable success as a reliever, he appeared to be breaking out with the bat this season before baseball was shut down, which leads me to believe the Cubs want him to focus on the bat over pitching at this point. Especially when you look at his .325 average with wood bats in the Cape Cod league, and you immediately find a senior you want to pursue given the wooden bat experience.
From a size standpoint and given what the Cubs saw over the past summer into this season, there is a lot of reasonable thought that Mervis could have been a 9th or 10th round talent, but would the Cubs have taken him that high. I think he is more of a 15-20th round talent, but that is all for naught now that he has signed a free-agent deal with the Cubs.
Can his two-way player ability continue to be a thing for his professional career?
Maybe as I expect the Cubs to toy with that idea early on. However, when it comes time for him to figure out what he wants to be as a player, it looks like hitting is the best way for him to latch onto a big-league club.
Officially a member of the Chicago @Cubs organization. Can't wait to get back on the field!! #FlyTheW ?? pic.twitter.com/WW924EXI68

— Matt Mervis (@mmervis12) June 27, 2020
Matt Mervis, a first baseman/pitcher from Duke, signs for $20,000 with the #Cubs. He's a power left-handed bat, and power right-handed pitcher

— Bob Nightengale (@BNightengale) June 15, 2020