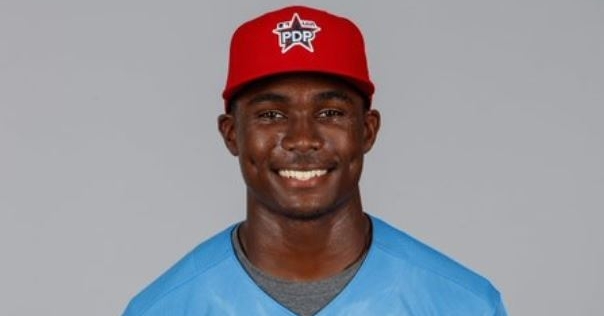 | | |
| --- | --- |
| Getting to know: Ed Howard | |
---
| | | |
| --- | --- | --- |
| Thursday, June 11, 2020, 6:01 PM | | |
Now that the first round of the draft is over and we have seen who the Cubs selected at 16, the consensus is in that the Cubs struck gold with Ed Howard. Some scouts view him as potentially the most talented and best player in this draft hence why Chicago received an A+ grade for that selection. Yes, he is just 18 years old and fresh out of high school so it may take a while for him to get here, but the bottom line is Howard is one of those players that you can mold into whom you want him to be given his willingness to learn and get better.
Not only do scouts love his makeup, but fans do, too, as he is a hometown boy who hails from the Chicago area graduating from Mt. Carmel High in Chicago. If the name sounds familiar for other reasons, it may be from his LLWS series days when he was a part of the Jackie Robinson West team that made it to the World Championship game that summer. Howard was the starting shortstop on that team and has continued to play shortstop at an elite level in the years since.
Jackie Robinson Little League in Chicago. @LittleLeague World Series.

Drafted in the first round by the @Cubs. @ehowardIV is living a dream. #MLBDraft pic.twitter.com/SwMJ8Umg3q

— Play Ball (@PlayBall) June 11, 2020
Unlike any other draft in the past, this year was especially difficult as you had little to no film on players from this season. That meant that you had to bank on what they did in the past and go with your gut instincts. Theo certainly did his homework on this pick as Howard was viewed as a top 20 prospect for a while now and even ranked as high as 11 in some scouting grades. Even with those high grades, this is undoubtedly going to be a risky year to take a high schooler, but the Cubs are ready for that risk knowing the rewards that may follow.
Howard is the true definition of a SS and has all the tools to not only stick their long term but to become an elite player at that position defensively. His quick feet, great instincts and soft hands make him a dream to watch in the field as often things come extremely easy for him. While his defense certainly is at the level most would expect from a top 20 pick, his bat is where you have to buy into the hype and hope it pans out down the road. Until that point, you are getting a defensive shortstop, with the potential to bring an excellent bat and become a star.
With the #16 Overall Pick in the 2020 #MLBDraft, the @Cubs select:
@CaravanBaseball SS Ed Howard (@ehowardIV)

Scouting report courtesy of @PerfectGameUSA: pic.twitter.com/04lU0uwXvX

— MLB Network Radio on SiriusXM (@MLBNetworkRadio) June 11, 2020
This was the year that many scouts thought we would see the best version of Howard to date, especially since he started to fill out his frame and was starting to show some of that overall raw power he used during the LLWS run. Even without the huge amounts of power right now, Howard answered most questions about his bat facing strong pitching last summer and doing a great job squaring up the baseball especially low in the zone.
He may not have as big of upside as some of the top prep prospects in the past, but Howard has a chance to have plus tools across the board and blossomed into the best prep prospect for his position in 2020. Howard also became the first Illinois high school player to be taken in the first round since Jayson Werth way back in 1997.
Some of the things that stand out the most for not only the Cubs but for all the teams who scouted him has to be his overall skill set in all areas as many feel he has electric skills across the board. He is a plus shortstop, especially defensively, and offers some nice pop in his bat. He can run, he can hit, he can field, and he can impact the game in so many ways that almost everyone thinks he has a chance to become a star.
During his junior season in high school, Howard mashed the baseball to the tune of a .421 average, with three homers in just 35 games. During that same season, Howard demonstrated some incredible defense and was making plays that very few high school shortstops should be able to make.
Despite the strong showings across the board, Howard does have some things he needs to work on, which is to be expected from a young kid. He is a high schooler and your banking on his projection solely over what he has done thus far. He is 6-2 but only weighs 185 lbs, so he does need to fill out a little bit more, which is why scouts are wondering how much power can come from him.
He does not possess that power right now, and one of the most significant holes in his game is handling velocity up in the strike zone, which teams will expose early and often in his development process. That may have some scouts worried mainly if that continues to be an issue. However, if he can figure things out at the plate and you pair that with his defensive skill set, Howard may end up being the best pick in the draft.
Chicago kid. pic.twitter.com/JPlsQLrncR

— Chicago Cubs (@Cubs) June 11, 2020