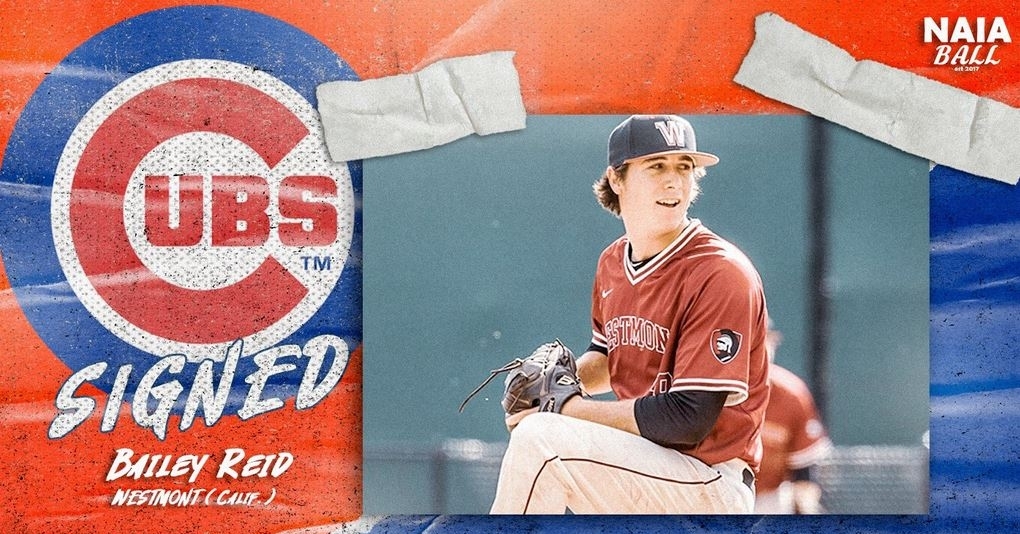 | | |
| --- | --- |
| Getting to know: RHP Bailey Reid | |
---
| | | |
| --- | --- | --- |
| Friday, June 26, 2020, 6:01 PM | | |
The undrafted free agent part of the draft was all about college-level players as most teams did their best to try and bring in some quality college talent. However, there was still some good JC talent that went by the wayside, and the Cubs wanted to make sure they were active in finding some of those players with hopes they would stick around long term.
From a money side of things, it seems highly unlikely that any of these undrafted JC players will choose a professional contract over going to school for a few seasons. Still, the Cubs are hoping RHP Bailey Reid from Westmont (CA) is an exception from the rest as they love the potential they see in him.
The lengthy 6-2 205 pound right-hander spent the past four seasons pitching for the Warriors and has shown significant improvement after some early struggles in his career. As a freshman, Reid was used sparingly and solely in relief as he appeared in a total of nine games compiling just 8 1/3 innings of work in the process. Although that is a small sample size, Reid was undoubtedly capable as he posted just a 1.08 ERA and earned nine strikeouts.
2018 was supposed to be the year where he was going to be an impressive force, but things never materialized despite him making 18 appearances in relief that season. If his 17 innings of work don't raise an issue, his 7.94 ERA certainly will as things didn't go right for him from the get-go. That ERA, however, is a little deceiving, considering when you look at a lot of his numbers. Not only did he strike out 26 hitters, but he limited opponents to just a .164 batting average showing that his ERA was affected by just a few outings.
Looking to bounce back from that rough 2018, Reid had a breakout performance in 2019 and established himself as one of the premier JC relievers in the game. His appearances went down from 18 to 14 this season, as well as his innings down to 12 2/3, but that is the only thing that was down from 2018. Not only did he lead the team with eight saves in 2019, but he posted a 0.00 ERA while striking out 23 in the process, which comes out nearly two per inning.
An opponent's batting averaging .073 is even more impressive as he was virtually untouchable that season.
Entering 2020, teams saw the good version of Reid and the bad version of Reid, so this was supposed to be the season where he would show teams who he truly was as a pitcher. Reid continued to prove that 2019 was not a fluke and continued to dominate hitters in limited action this season. For the season, Reid finished with four saves in 9 2/3 innings of work and an incredible 20 punchouts. The uptick in strikeouts over the past few seasons is certainly something that drew scout's attention while holding opponents to a microscopic batting average.
Even though Reid hasn't seen the number of games that a lot of college arms have seen over the past four seasons, his stuff was too good for teams to pass up, and the Cubs were one of those organizations who felt the same way. Now signed to a minor league deal, Reid is reuniting with his former pitching coach, who now works in the Cubs organization.
"I'm absolutely thrilled to continue my baseball career," Reid said via Westmont. "It's been a dream of mine since I was a little kid. Being able to work with Coach Cougoule again is a blessing. He's the one who taught me how to pitch, so it seems fitting that he's going to be by my side while I continue to grow."
Reid had multiple teams that were interested in signing him but felt the Cubs were the best fit given the connection he had with Cougoule and just the way he felt in the organization. The Powerful right-hander finished fourth in program history with 13 saves and dating back to April 3, 2018, finished his collegiate career by tossing 28 2/3 consecutive scoreless innings striking out 54 batters in the process.
For his career, Reid finished with a 3.02 ERA and 78 strikeouts in just 47 2/3 innings of work while limiting opponents to just a 103 combined average. With a closer mentality already enshrined in his work ethic, this is certainly someone to keep an eye on down the road in the Cubs system as he could emerge as a late-inning threat sooner rather than later.