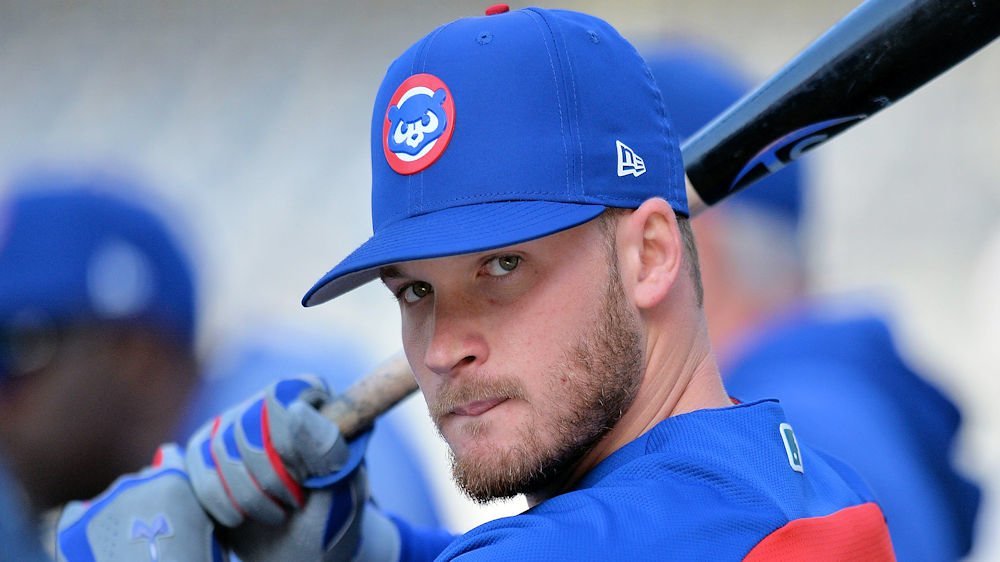 | | |
| --- | --- |
| Is 2020 the year Ian Happ breaks out? | |
---
| | | |
| --- | --- | --- |
| Monday, January 27, 2020, 6:51 PM | | |
Since the Chicago Cubs drafted him in the first round, Ian Happ has flashed potential all over the diamond. Happ has flashed potential but never sustained it for an entire season. Entering his fourth MLB season, can the former top prospect maintain a starting role and improve entering 2020?
Happ is one of the more intriguing players in the MLB. His pedigree as a top prospect and career .816 OPS display his offensive potential, while his 50 or more innings at every position besides catcher, pitcher, and shortstop cement him as one of the most versatile defenders in the MLB. This begs the question, why is Happ not an everyday starter?
While his career OPS is undoubtedly respectable, Happ has had a problem with consistency. After slugging five leadoff home runs in Spring Training of 2018, Happ was expected to lock down the leadoff spot. The plan started off well with Happ hitting a home run on the first pitch of the season. From then on, his inconsistency at the plate began.
The first pitch of the 2018 season: an Ian Happ home run! #Cubs #OpeningDay pic.twitter.com/DMmRgIXw7d

— Aldo Soto (@AldoSoto21) March 29, 2018
His boom or bust season led to him having a strikeout rate in the bottom one percent of the MLB (36.1 percent) and a walk rate in the top five percent (15.2 percent). Happ had become a player that was either going to walk, strikeout, or hit a home run. A true three outcome hitter. Below is Happ's month by month stats from the 2018 season, displaying the disparity in his season.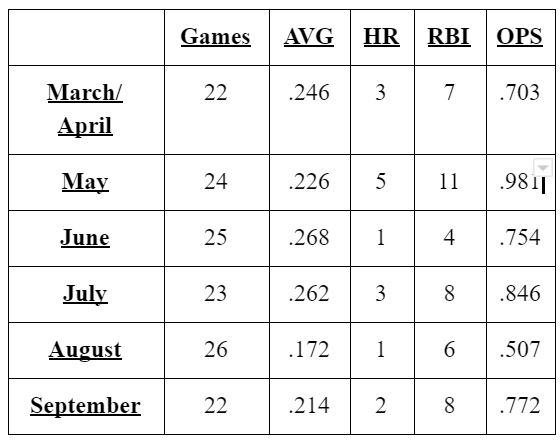 As you can see, Happ has shown the ability that made him a first-round pick, and the negatives that had his 2019 season start in the minor leagues. While there are plenty of negatives in Ian Happ's game, especially August of 2018, there is plenty of reason for hope. For starters, Happ found a nice groove after being called up in 2019.
After starting 2019 in the minor leagues, Happ was brought up for the second time that season as a bench player. In the six straight games he was brought in as a pinch hitter, Happ had a .500 batting average. From then on, Happ went on to finish the season with a .261 batting average, .890 OPS, ten home runs, and 28 RBI. Happ also finished with the best outs above average of his career with two.
While there is still plenty to want from Happ's offense, one area should be the focus of his upcoming Spring Training. Simply put, Happ is almost useless with two strikes. That's not an opinion, his stats warrant it. In any count without two strikes, Happ has a 1.337 OPS. With two strikes, his OPS plummets to a .473 OPS. When Happ is in control of his at-bat and ahead in the count, he looks like a top tier hitter. When he isn't, he turns into one of the worst.
Did Ian Happ just save the Cubs season? pic.twitter.com/gQaJhTOOhO

— This Day in Chicago Sports (@ChiSportsDay) September 21, 2019
Despite his lingering inconsistency, a .175 batting average from August 18 to September 18, Happ turned heads with his impressive finish to the season. His lowered strikeout rate and clutch hitting were among his improvements. New manager David Ross even used him as an example of how the current roster can turn the team's fortunes around, saying, "Like Ian Happ last season, he had a phenomenal last month, so maybe some other guys turn the corner."
With the unique versatility to fill roster holes in the outfield and second base, Happ can find playing time virtually anywhere on the diamond. His mix of offensive potential and defensive versatility could lead to more control over his inconsistencies at the plate. If Happ can reign in his two-strike approach, he can be a dangerous switch hitter in the middle of a lineup for a team looking to rebound.