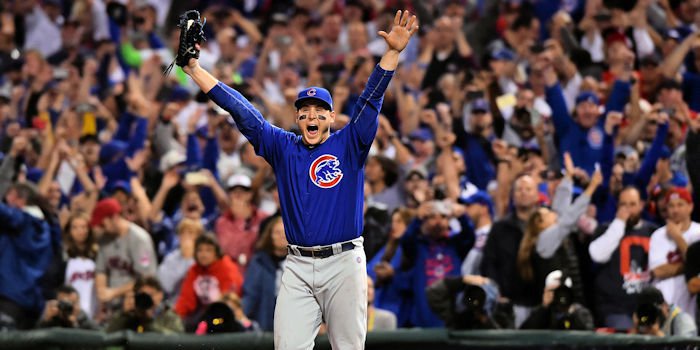 | | |
| --- | --- |
| Is Anthony Rizzo on a Hall-of-Fame trajectory? | |
---
| | | |
| --- | --- | --- |
| Saturday, May 23, 2020, 8:50 AM | | |
Here at CubsHQ we have discussed the Hall of Fame possibilities and trajectories of current Cubs Jon Lester and Craig Kimbrel as well as former Cub Cole Hamels. As we continue our series, the next up to analyze is that of Anthony Rizzo.
Rizzo is an interesting case because of how much he means to the Chicago Cubs, but in terms of the grand scheme of the MLB — his numbers do not jump off the page, nor does his personality resonate league-wide.
Rizzo, a cancer survivor, spent time with Theo Epstein when he was originally drafted by the Boston Red Sox. When Jed Hoyer was a member of the San Diego Padres front office, he went after Rizzo from the Red Sox and Rizzo eventually made his major league debut in 2011 with the Padres.
Once Hoyer and Epstein united in Chicago in the fall of 2011 with the Cubs and instituted their plan, they made it a priority to acquire Rizzo as a cornerstone of the rebuild.
The Cubs got Rizzo in a trade for Andrew Cashner with some additional, less significant pieces exchanged. What they got in Rizzo was the new Mr. Cub.
Rizzo has been a model of consistency on the field, displaying great leadership as well as performance — and off the field, Rizzo has been an outstanding philanthropist and member of society.
Rizzo has been active in the neighborhood after starting the Anthony Rizzo Family Foundation, hosting multiple fundraisers to donate money to children's hospitals, as well as making multiple visits to Lurie children's hospital every year — as well as making numerous philanthropic efforts to help aid the troubles of the coronavirus as well.
Rizzo endured the pain of losing over 100 games when the team struggled in 2012 and 2013. However, in a limited amount of at-bats in 2012 he hit .285, and in 2013 he hit 23 homers and drove in 80 runs. But it was the year after that when a star was truly born.
Since 2014, Rizzo has hit at least 25 home runs in every season, and his lowest amount of runs produced is 78. During that time, his lowest on-base percentage has been .376 and his worst batting average has been .273 — which for most major leagues is among their best numbers.
From 2014-2017, Rizzo hit 30 homers in four consecutive seasons. From 2015-2018, Rizzo drove in over 100 runs in four consecutive seasons. In 2019, Rizzo fell three home runs short of 30 and six RBIs short of 100 despite playing in his fewest amount of games since 2014 due to a few back injuries and a nasty ankle injury that he heroically returned from far too soon. That return to action showed his pride in the Chicago Cubs as well as an overwhelming amount of toughness.
Rizzo also hits with immense plate discipline. Since his first all-star year with the Cubs in 2014, he has walked almost as much as he has struck out. On top of that, his unique batting stance and incredible toughness have led to him leading the league in hit by pitches in three of those seasons.
The accolades are plentiful for Rizzo. In his nine years he has made three all-star games, won three gold glove awards, won a platinum glove award, been named a silver slugger, and finished in the top 10 in the MVP voting three times and the top 20 five times. On top of that, Rizzo was an offensive, defensive and leadership catalyst on the 2016 World Series team that broke the 108-year curse that loomed over the franchise that Rizzo has helped to save.
All of this, not to mention the fact that he is just 30 years old and still has two years (2020, 2021) remaining on a team friends extension he signed in 2013. Rizzo still has a few years of his prime left in him, which has been an extremely consistent prime at that, as well as a nice payday in his future.
So does this put him at a Hall of Fame pace?
It is a difficult question to answer because Rizzo is far younger and has less of a complete resume compared to a Lester or Hamels — and he does not have the first nine season stats of a Mike Trout either, but he has consistently been among the best in the majors over the last six seasons.
It is even more difficult because Rizzo is not the most popular on his team on a national or global view, as Javier Baez and Kris Bryant are both more popular and easier to market for the league. He also does not have an MVP on record, even though that some could argue Rizzo's 2016 with 32 home runs, 109 RBIs, 94 runs scored and a .292/.385/.544 slash line, an all-star appearance, and a gold glove is more impressive than the MVP season of his teammate Kris Bryant.
Rizzo had a bit of a longer time developing, and his career numbers sit at 1,204 hits, 218 home runs, 729 RBIs with a .273/.373/.488 slash line with a career WAR of 33.5. When you compare those numbers to the average Hall of Famer, Rizzo does not seem to be that far off, at least at his pace.
The average Hall of Famer plays 18 years, makes six all-star games, has a 69 WAR, has 2,416 hits, 226 home runs, 1231 RBIs and a slash line of .302/.376/.465.
Those numbers are obviously a bit construed considering pitchers' hitting numbers are included and the extremely high numbers of some of the all-time greats can serve as outliers.
Rizzo's career is probably a little bit closer to ending than it is beginning, but let's say he ends up playing 18 seasons like the average Hall of Famer does — here is how his career might turn out (if his 162 game average is calculated on a yearly basis).
*For 2020, we are cutting the averages in half assuming an 82 game season eventually gets played*
Rizzo would finish his career with a WAR of 67, six all-star appearances, with 2,581 hits, 465 home runs, 1,561 RBIs, and the same slash line of .273/.373/.488. While these projections may be a bit generous considering he may not play until he is 39, and he may see some injuries and decline — if he keeps the pace he is at, he seems ticketed for baseball immortality in Cooperstown.
While he would still be short of the automatic Hall of Fame numbers of 3,000 hits or 500 home runs, those numbers are close enough to earn his some strong consideration. That is where his numerous gold gloves, all-star appearances, MVP finishes, presence off the field, and role on the curse-breaking World Series team may come in.
Rizzo definitely has some work to do to eventually end up in the Hall.
However, as it stands right now, Rizzo without a doubt seems in line for his number to hang on a foul pole forever and potentially a statue to stand outside of Wrigley Field in the future.