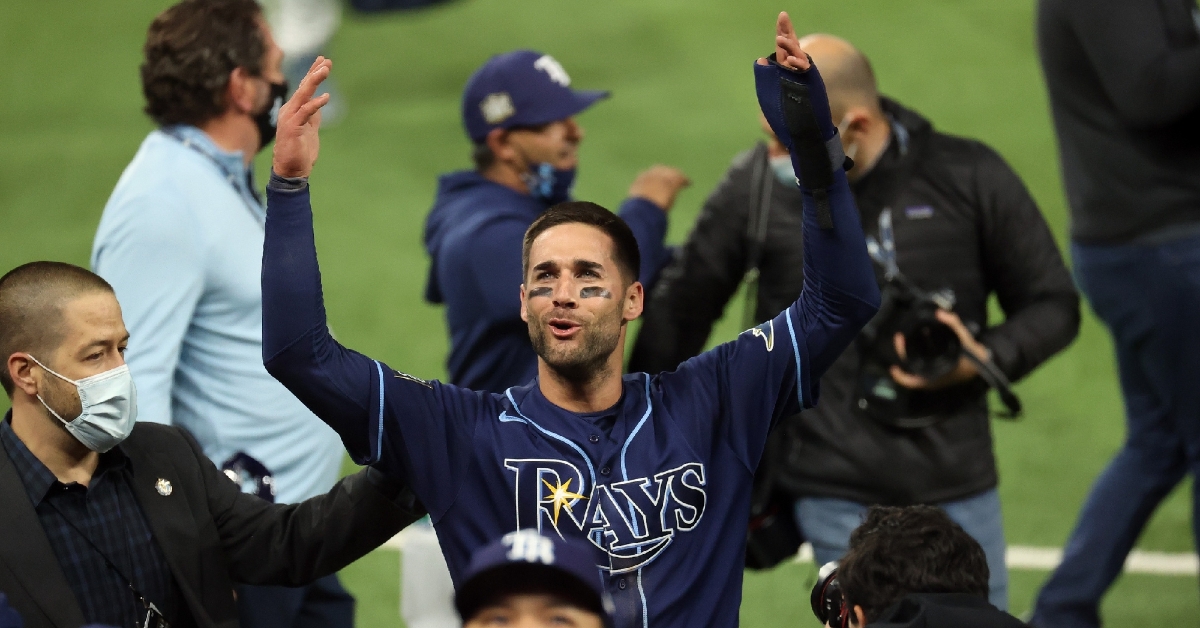 | | |
| --- | --- |
| Kevin Kiermaier could be a potential fit with Cubs | |
---
| | | |
| --- | --- | --- |
| Tuesday, December 15, 2020, 1:30 PM | | |
When the Cubs decided to non-tender Albert Almora a few weeks ago, it was meat with a heavy heart. Granted, Almora had one of the biggest plays during Game 7 of the Cubs World Series championship, he never materialized into the hitter the team expected him to be. Despite ample chances to be the Cubs center fielder of the future, Almora couldn't reach the level Theo Epstein envisioned, so parting ways with him this offseason was not a surprise.
While replacing Almora's bat, or should I say lack of a bat, will be the easy part, finding someone to replace his defense will be a different story.
Say what you want about his defense the past few seasons and his recent decline, but the fact remains that Almora had an excellent glove in center field and could have been a gold glove caliber player.
Searching through the free-agent market, and you won't find too many center fielders worth taking a shot on for a reasonable price. After all, Ian Happ played well in center last season, but with Schwarber no longer in left, Happ could ultimately be heading that way, opening a hole in the center. Ideally, the Cubs would love to find someone in free agency or add to that position within the organization. However, the harsh reality is that the Cubs may have to trade for outfield help this season.
One move that hasn't been talked about that ultimately could work is calling Tampa Bay and seeing what it would take to get Kevin Kiermaier. Now before you look at his career stats and freak out, let me tell you why this deal makes some sense. Tampa Bay is not a big market team, and they are willing to shed some of their high contracts this season.
Blake Snell has already been put on the trade block as the team is looking to see what they can get for him. Kiermaier could be next. Now in year three of his six-year 53-million-dollar extension, Kiermaier is under contract through 2024. The amount of money he is owed will be challenging for the Rays to hold on to, but the Cubs could certainly make it work long-term.
Kiermaier is a left-handed hitting outfielder. Granted, he hasn't been the best hitter in recent seasons, hitting .228 or less since 2018, so you can see why his average only sits in the .249 range across his eight-year career. However, despite his last three years going worse than he could have imagined, there is some hope that he can bounce back.
Before 2018, when the struggles began, Kiermaier was a decent hitter, hitting .263 or better in three of his first four seasons. His career-high came in 2017 when he hit a .276, but that average is much better than what many Cubs players had last season. Kiermaier is also not going to be a power guy, failing to top 15 homers in any of his professional seasons and reaching 40 RBIs just once.
Kiermaier has been able to stick in this game for two main reasons, and they are reasons for which the Cubs could use him. For starters, his defense in center field makes him a legitimate gold glove contender every time he steps on the field. He gets to balls a lot of players can't and doesn't care about his body. What that means is he is willing to do whatever it takes to make a play, even if he gets hurt in the process.
Describing Kevin Kiermaier's playing style in one photo pic.twitter.com/V1pp02V317

— Talkin' Baseball (@TalkinBaseball_) November 19, 2020
Another thing that is often overlooked with his game is his decent speed on the bases. When you watched Almora play center, he looked as if he had great speed. The reality was that he just got great reads on balls and wasn't the fastest player in the game. Kiermaier is undoubtedly not a burner by any means, but he steals 15-20 bases consistently. The Cubs had one of the lowest stolen base totals in baseball last year, so any speed would be welcomed.
Ideally, if the Cubs are to replace Almora with anyone, I would love them to be a much better hitter than Kiermaier is. However, the league has seen him at his best, and he isn't that bad of a player. If they can continue to get the glove work from him that he brought to the Rays, the Cubs would be happy to have him even as a fourth outfielder.
The Cubs will add this offseason at some point, and this is a move that wouldn't cost them a ton.