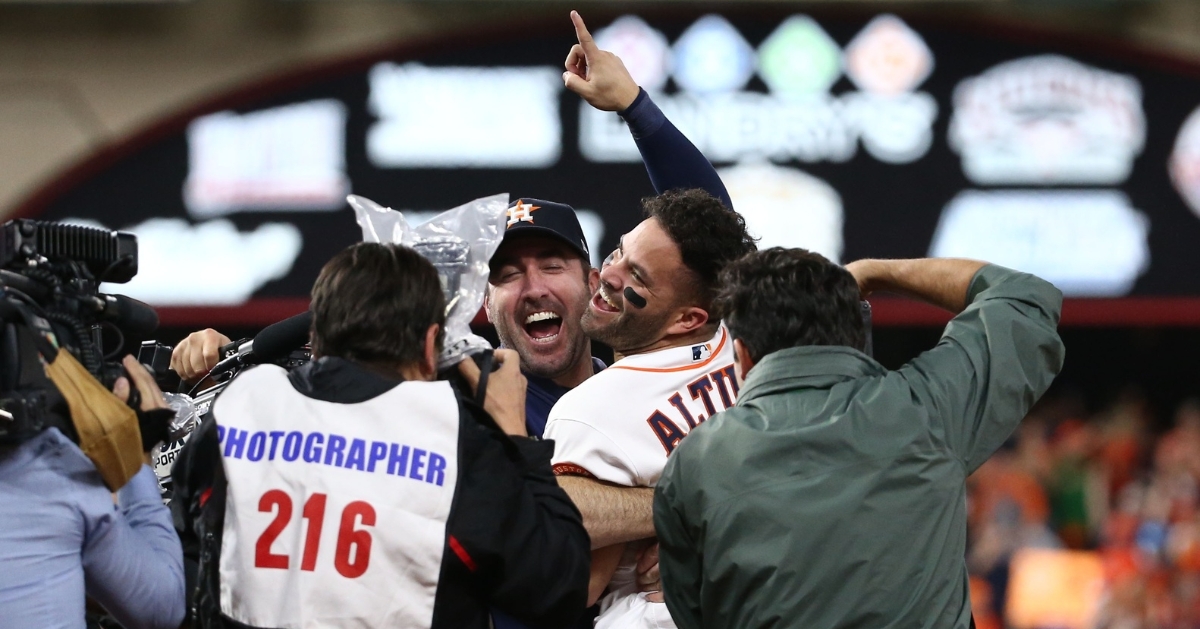 | | |
| --- | --- |
| MLB Cheaters: How much further will the sign-stealing scandal go? | |
---
| | | |
| --- | --- | --- |
| Friday, January 17, 2020, 1:25 PM | | |
The sign-stealing scandal has claimed another victim, as the Mets released newly hired manager Carlos Beltran yesterday. Beltran reportedly told the team that it was better if they parted ways, and Beltran was relieved of his duties shortly after that. I'm not sure what the shortest tenure for an MLB manager is, but Beltran never managed even a single game in his abbreviated managerial career. I suppose he'll go down in history as a perfect .500 manager though, sporting a 0-0 record.
The firing of Alex Cora in Boston and the dismissal of Carlos Beltran in New York (Mets) doesn't mark the end of this whole thing, as Rob Manfred will still be doling out punishments for both. Will there be more? As the days wear on, it may appear as though AJ Hinch and Astros' GM Jeff Luhnow got off relatively easily, compared to the punishment that Cora and Beltran may be receiving. I wouldn't be surprised to see both get lifetime bans, due to the depth of their involvement.
Carlos Beltran is out as New York Mets manager due to his involvement in the Houston Astros' sign-stealing scandal, sources tell ESPN. He is the third manager to lose his job in the fallout.

— Jeff Passan (@JeffPassan) January 16, 2020
Speaking about the Astros' cheating scandal, David Ross said (via NBC Sports Chicago), "It is disappointing. "You gotta applaud Major League Baseball for doing their due diligence and upholding the integrity of the game — super important for our fans, for our players, for our coaches. I'm glad they did their homework and made some of the decisions they made."
Rizzo also shared an opinion on the Commissioner's punishment, stating, "Obviously, Major League Baseball did a huge, monster investigation, and they decided what they thought was best. I'm sure a lot of decisions and time went into that, so we support them with the consequences they've made," Rizzo said. "It's something that hopefully gets nixed fast. There's in-game stuff that's part of the game, but some of the other stuff seems to take it too far. The commissioner, I think, did a good job handling it."
Will the scandal affect the Cubs? Although the Cubs have not been implicated at all in the cheating scandal, they may lose a team member because of it. After unsuccessfully searching for a manager's spot this winter, Cubs' coach Will Venable will be interviewing for the manager's job in Houston. There's been no word as to whether he'll seek interviews with Boston or New York.
If #Astros want to interview #Cubs 3B coach Will Venable, CHC will grant permission, source tells The Athletic. Timing of departure just before spring training would be inconvenient, but Cubs would not stand in way. Venable on list of managerial candidates, per @MarkBermanFox26.

— Ken Rosenthal (@Ken_Rosenthal) January 16, 2020
Anthony Rizzo said he was "100%" sure that teams were stealing the Cubs' signs but didn't know how far it went. Rizz also said teams would make sounds as a decoy to make it look like they were stealing. Rizzo was unsure of any cheating during the Cubs' three games in Houston last season.
For all of the commentary by the sports media on the scandal, ESPN's Jessica Mendoza had about the worst take that I've ever heard. I've made no bones about it, I'm not a fan of Mendoza, but her comments yesterday solidified and memorialized my disdain for her.
Mendoza says she has a real problem with Mike Fiers going public about the Astros' cheating scandal, saying that he should've never went public, but that he should've alerted his new teammates in Oakland.
"To go public with it and call them out and start all of this, it's hard to swallow." -Jessica Mendoza
"To go public with it and call them out and start all of this, it's hard to swallow."

-@jessmendoza on former Astros pitcher Mike Fiers revealing the Astros sign-stealing scheme. pic.twitter.com/LSQY6B0dSC

— Golic and Wingo (@GolicAndWingo) January 16, 2020
So, let me get this straight, Jessica – if you're involved with a team who cheats, it OK to alert your new teammates of the scandal, but under no circumstances, should you report the infraction to the sanctioning body? It sounds to me like she condones the cheating, with the only regret being that everyone was caught. Listen, that kind of thing may be permissible in women's softball, but MLB frowns on cheating.
The only problem that I have with what Fiers did, is that he played for the team, kept quiet during the season, "won" a World Series with Houston, collected his ring, moved on, and THEN became a whistleblower. I'm not sure how the MLBPA would have reacted to a complaint – especially mid-season – but Rob Manfred's office would have undoubtedly listened to the complaint while offering Fiers some immunity.
Such a move would've caused Fiers grief with the Astros, but I'm quite sure he could have left the team and been picked up elsewhere if integrity was what he wanted to display. Leaving the team abruptly would have constituted a breach of contract and landed Fiers on the restricted list, but under the circumstances, I'm certain MLB would have exonerated him.
Sadly, this whole thing reminds me of a lot of the steroid scandal. One player opens his mouth, and the next thing you know, dominoes are falling all over the league. Beltran – much like Pete Rose – can now kiss goodbye any chance he had of being elected to the Hall of Fame, while all three managers (Cora, Hinch, and Beltran) can probably forget any further managerial careers in MLB.
I'd like to remind everyone that this scandal is a much bigger deal than being reported. It has all the makings of MLB Steroid Scandal 2.0. There are no rules in place for Machine Learning algorithms cheating system. Much like there were no rules against steroid use in 90s-00's.

— Cody Decker (@Decker6) November 13, 2019
Left in the wake, three teams are now searching for managers – one of them now also looking for a new GM – with only a month until the start of Spring Training. While the Astros and Red Sox may have had this coming, the Mets became collateral damage, as no cheating was ever alleged, and their only tie to the scandal was a new affiliation with Beltran.
Baseball is better than this. It has to be.
Eventually, time will pass, and while the scandal will not be forgotten, it will fade into the darkest annals of MLB history. Joining the infamous players implicated in the steroid scandal and the 1919 White Sox in the "Black Sox" scandal, Cora, Hinch, Beltran, and others will now be remembered as members of yet another dirty era in baseball.
All this Astros stuff today has me thinking: what if Twitter had been around for other MLB scandals?

1919 Black Sox World Series
Pete Rose's lifetime ban
George Brett's pine tar bat
Steroid Era 2000s

The content would've been glorious y'all

— Cam Gaskins (@CamGaskinsTV) January 17, 2020