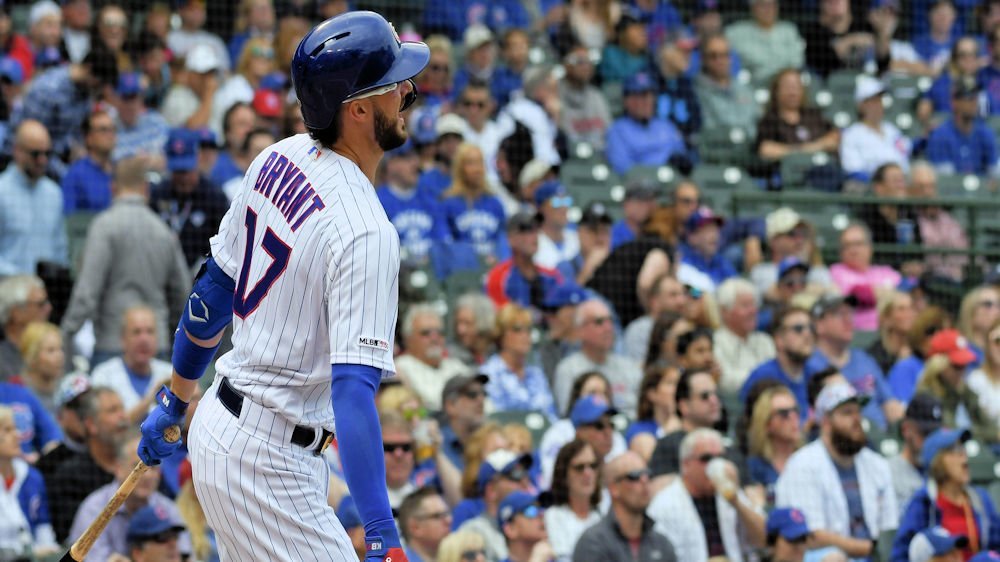 | | |
| --- | --- |
| Mookie Mess: Would a Dodgers-Cubs trade for Kris Bryant now work? | |
---
| | | |
| --- | --- | --- |
| Sunday, February 9, 2020, 11:19 AM | | |
If you're waiting on a Kris Bryant trade, you may be waiting a little longer. Remember that mega-deal between the Twins, Red Sox, and Dodgers involving Mookie Betts, Alex Verdugo, Kenton Maeda, and others that were supposed to swing the door wide open for the Cubs to trade K.B.?? Yeah, well, that's all screwed up now. This will have implications on the several teams other than those involved in the trade, including the Cubs. Here's what happened and why it affects Chicago.
Reports by credible media sources initially said that the Twins had pulled out of the deal entirely, but Ken Rosenthal set the record straight.
Not accurate to say #MNTwins are out of three-team blockbuster, but the impasse continues, sources tell me and @DanHayesMLB. #RedSox want second top 10 prospect added to Graterol. MIN will not give that much up for #Dodgers' Maeda.

— Ken Rosenthal (@Ken_Rosenthal) February 8, 2020
In current talks, #MNTwins are working hard to satisfy #Dodgers and the Dodgers are working hard to satisfy #RedSox, sources say. Two separate deals are possible (for example, Graterol-plus for Maeda and Verdugo and others for Betts/Price). But all three teams involved in talks.

— Ken Rosenthal (@Ken_Rosenthal) February 9, 2020
With the Red Sox unhappy with Graterol's medical records and pitching status (he may now have to be a reliever and not a starter), Boston has hedged on the deal. In case you're wondering, that's not considered a breach of contract, as the agreement was pending physicals for the players.
Rosenthal said in a later tweet that the Red Sox shouldn't have been surprised, as going forward, the Twins were viewing Graterol more as a reliever than a starter. With or without the Twins, Rosenthal also says that the Dodgers and Red Sox should be motivated to complete the deal. BOS could be left with Betts, Price, and all their previous financial concerns, valid or not.
If I'm Mookie Betts, I have no idea how I'm about to show up to Red Sox spring training after I had literally been traded away

— Devan Fink (@DevanFink) February 8, 2020
Meanwhile, the Dodgers orchestrated another trade which would have sent OF Joc Pederson (almost 28), starter Ross Stripling (age 30) and minor league OF prospect Andy Pages (age 19) to the L.A. Angels in exchange for 2B/SS Luis Rengifo (age 23) plus a few prospects. The Angels are tired of waiting, as that whole scenario was dependent on the Mookie Betts deal, and may now pull the plug.
In the meantime, teams are likely going to slow down on interest in dealing for Bryant, as some of them were interested in Betts as well and may now get another chance at him.
If there's any upside to the Betts debacle, it's that the Dodgers were also reportedly part of the Bryant trade scenarios just a week ago (just before the deal with Boston), but dealing for Betts likely took them out of the loop. If L.A. can't get Betts, they could possibly turn back for a shot at Bryant.
The Dodgers are rich in prospects, which is something the Cubs desperately need. The Dodgers are willing to deal a hard-hitting center fielder – something that the Cubs want. Los Angeles has a solid third baseman in Justin Turner, but they've already considered moving him to first when the idea of signing Rendon or trading for Bryant came up.
L.A.'s deal with Boston for Betts also included 23-year-old outfielder Alex Verdugo, who plays all three outfield positions and swings a pretty wicked bat – something the Cubs want. If Boston was willing to replace Betts with Verdugo, I'm quite sure that he'd qualify as an everyday guy for the Cubs.
Also included in that Dodgers deal with Boston was the 31-year-old starter, Kenta Maeda, who's locked down for the next four seasons at $3.125M a year (AAV). Maeda has been a little unpredictable at times, but he'd be a decent fifth starter if Chatwood or Mills buckle, and he can also operate as either a reliever or swingman.
As far as offense is concerned, during 377 plate appearances (343 at-bats) ) in 2019, Verdugo batted .294/.342/.475 (.817 OPS) and has improved dramatically with each passing year in the majors. Verdugo is controllable through at least 2024. Verdugo isn't a leadoff guy, but instead, does his best work batting deep in the order (7th or 8th). He's also a guy who makes contact, striking out less than 14 percent of the time in his 488 major league plate appearances.
Just my opinion, but Kris Bryant to Los Angeles for Verdugo, Maeda, and at least one good pitching prospect makes a lot of sense. The Cubs could always flip Maeda to someone- possibly Minnesota who wanted him to begin with. The Cubs and Twins currently have no common ground concerning trades, but the Phillies, Braves, Rangers, Yankees, and (less likely) Nationals are all reportedly still in play.
MLB insider Mark Feinsand compiled his own list which laughingly includes the Cardinals as a possible landing spot for Bryant. Social media was buzzing over that rumor last night, but I can assure you, in no way, shape or form are the Cubs going to send K.B. to St. Louis, nor are the Cards about to load the Cubs' farm system with promising prospects.
After laying out the Cardinals' case for possible interest in Bryant, Feinsand attempts to rationalize this ridiculous scenario by stating, "The Cardinals, after all, have been among the rumored suitors for Nolan Arenado." In part, Feinsand writes, "One would assume the Cardinals would have to overpay to pry the 2016 NL MVP away from their rivals, but in terms of "trade fits," this one makes a lot of sense."
Um, no Mark, it really doesn't.
The only part of Feinsand's absurd scenario that might even remotely tickle Theo Epstein's fancy is that it would include lefty Matthew Liberatore, who's ranked #58 overall by Pipeline.
Feinsand is generally reputable, knowledgeable, and is plugged into the rumor circuit, but this scenario… wow.
I guess I'll end this with something that I tell my son when he obsesses over the weather reports: Whatever's going to happen is going to happen. Stay tuned.