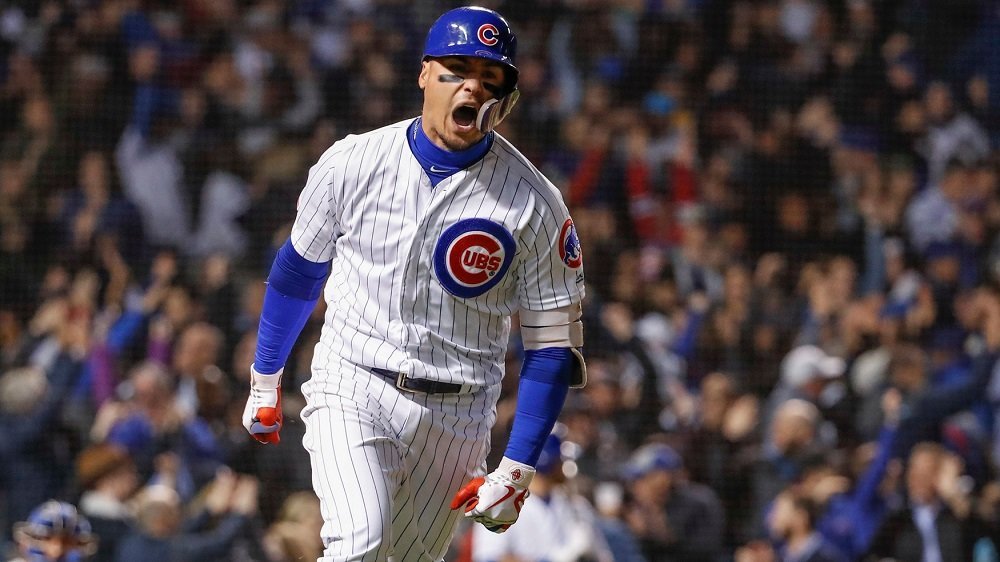 | | |
| --- | --- |
| Offseason Need: Get Javy Baez a backup | |
---
| | | |
| --- | --- | --- |
| Friday, December 20, 2019, 8:17 AM | | |
Javier Baez is one of the most magnetic stars in today's game. At 27 years old and two years left on his rookie deal, the Cubs have made it a priority to extend his stay in Chicago.
Baez has impacted the game in Chicago more than any player in recent memory, with dazzling defensive gems, electric trips around the bases, mammoth homers, and a style of play that all kids aim to replicate.
Over the past two seasons, Baez' star has only grown — propelling him to back to back all-star game appearances in which he started at different positions up the middle.
Baez has hit 62 homers and driven in 196 runs since 2018. The Puerto Rican born slugger scored 190 runs and never saw his average dip below .280. Not to mention, Baez stole over 30 bases and played gold glove caliber defense around the diamond. Whether at 2nd base, third base, or shortstop or batting second, third, fourth, or fifth Baez' contributions can not be weighed.
The Cubs especially found that out late in the 2019 season where Baez was rehired to miss the back portion of the season due to injury. The Cubs quickly found out that not Addison Russell, nor David Bote nor even Nico Hoerner, or any combination of the three could fill Javier's shoes — leaving a hole in the lineup that ultimately missed the playoffs for the first time in five seasons.
With Russell now gone from Chicago and Hoerner's future not fully known, it is apparent now more than ever that the Cubs need to search for some security for Baez.
While the number one priority is and should remain to extend Baez, finding some security to have behind Baez in case his wild style of play ends up leaving him injured for an extended period is a must for the Cubs.
The Cubs had a good start in signing utility infielder Hernan Perez to a contract. However, Perez has only played 353.2 innings out of his 3,799 career innings at shortstop, so the Cubs should look elsewhere for some shortstop security behind their all-star.
The shortstop market is relatively thin, with Didi Gregorious already signing with the Phillies for one year. 30-year-old Jose Iglesias is an option the Cubs may explore or 31-year-old Adeiny Hechavarria.
Iglesias was in the Cubs' division last year, and he hit 11 homers and batted for a .288 average in 146 games. Iglesias is a Cuban born, right-handed hitter who plays good defense and has solid contact skills. If nothing else, he could provide a security blanket for the Cubs behind Baez.
For Hechavarria, 2019 was a year in which he only played 84 games, but he did club nine homers. The average was not excellent for the right-hander, but only six errors defensively is a number the Cubs would like.
Aside from those to players, the next most valuable shortstop free agent, according to WAR, is Addison Russell, who the Cubs may choose to bring back on a cheap deal, but it certainly is not likely.
Speaking of potential returns to Chicago, the Cubs also may choose to roll the dice and re-sign fan favorite Starlin Castro, who has been playing more second base as of late — but has also proven that he can play shortstop at Wrigley Field.
Castro would be coming off a year of hitting .270 with 22 home runs and 86 RBIs — numbers that may be attractive to a team looking for a full-time second baseman. It is unknown if the righty would be willing to take a pay cut to be a backup, my guess is no.
While money is also a factor, as the Cubs have some known budget constraints, it appears that the in house option is also one of the most team-friendly options as well.
If Nico Hoerner does not end up as the Cubs opening day second basemen, he does serve as an enticing option to relieve Javy if he were to get hurt.
The hope is that the Cubs can extend Javier Baez for the rest of his career in Chicago and that that career does not consist of a lot of injuries — but just in case — it's good to have some security.