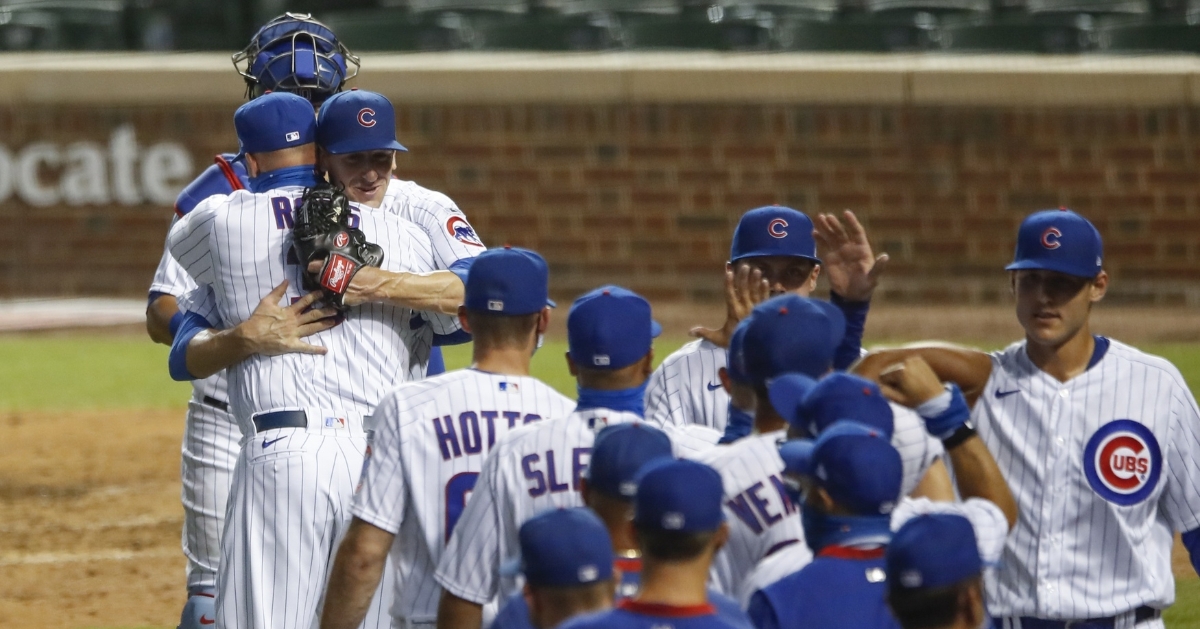 | | |
| --- | --- |
| Playoff Preview, X-factors and Prediction: Cubs vs. Marlins | |
---
| | | |
| --- | --- | --- |
| Wednesday, September 30, 2020, 11:11 AM | | |
As the AL postseason got underway yesterday, the NL will take center stage today as game one of the NL Wild Card series will get underway. The Cubs may not have played their best ball the last month or so, but managed to win the NL Central and took home the No. 3 seed in the NL. They will now host the
No.6 seed Miami Marlins as they need no introduction to the postseason.
The history of these two teams in the postseason may be brief but is very well documented. It was in 2003 the last time these teams met in the postseason, and the Cubs watched the Marlins really from a 3-1 deficit to celebrate on their mound. Miami has also made the postseason just twice as a franchise, and oddly enough, both times they made it, they went on to win the World series as a wild card.
The Cubs hope the Marlins' past postseason success don't continue this week as we look at the matchups and predictions.
Wednesday at 1:08 p.m. CDT on ABC: Sandy Alcantara vs. Kyle Hendricks
Class will be in session today as the professor toes the rubber for the Cubs. Pay attention as there will be many sinkers, fastballs, and change-ups, and the Marlins will get tested later. The Cubs couldn't go wrong with either Yu Darvish or Hendricks in game one, but keeping Hendricks on normal days rest was critical.
Across 11 career postseason games, Hendricks has posted a 2.98 ERA, which is even better at Wrigley Field. To this day, no one has been better at home than Hendricks since 2016, and he closed out his September going 3-1 with a 1.45 ERA. Hendricks is precisely who you want on the mound in game one as he never gets too high or too low emotions wise.
You know who loves Wrigley Field?

Kyle Hendricks. pic.twitter.com/zVQfMv4seL

— Marquee Sports Network (@WatchMarquee) September 30, 2020
Alcantara will get the ball in game one, and the definition of polar opposites are starting. You have a guy in Hendricks that may hit 88 MPH on a good day, whereas Alcantara averages 97 on his heater. From an experienced side of things, Alcantara certainly doesn't have the experience, but he does have the ability to make life miserable for Cubs hitters.
Not only is he a high-velocity arm, but he can shut down any lineup, which is the main reason he is getting the ball in game one. The 2019 All-Star missed a month this season after testing positive for COVID 19, but still managed to finish the season 3-2 with a 3.00 ERA across 42 innings of work.
Wednesday at 1:08 p CDT ABC: Sixto Sanchez vs. Yu Darvish:
Darvish was the ace of the Cubs staff this season, but David Ross has elected to go with him in game two. A significant factor in making that decision is Darvish's track record on extra rest, which is indeed what he will be on here. Darvish hasn't had the best luck in the postseason, posting a 5.81 ERA in six career starts. Take out his rough world series, and the ERA was in the 3.4 range, so he is better than the numbers show.
After winning seven consecutive decisions, Darvish did show some cracks in the armor in September but managed to finish the season with a team-high 8 wins and a 2.01 ERA. Dating back to the second half of last year, Darvish has pitched to the tune of a 2.40 ERA, 21 walks, and 211 strikeouts across 157 innings of work.
#Cubs Wild Card Series Game 2 Starter: @faridyu.

Darvish's 2020 regular season:
8 W (1st in NL)
2.01 ERA (2nd)
6.64 K/BB (2nd)
76 IP (3rd)
0.96 WHIP (4th)#FlyTheW pic.twitter.com/Ldr9unSLfp

— Chicago Cubs (@Cubs) September 29, 2020
Opposing Darvish will be another flame-throwing young arm in 22-year-old Sixto Sanchez. The rookie out of the Dominican Republic burst on to the scene this year and has inserted himself as an arm the Marlins can count on. Across his seven starts and 39 innings of work, Sanchez went 3-2 with a respectable 3.46 ERA. His 33 strikeouts are a bit low, but he can mow hitters down consistently. Fastball command will be the key for him.
Thursday at 1:08 p.m. CDT on ABC: Pablo Lopez vs. Jon Lester
Saw what you want about Lester's season, but if this series comes down to an elimination game, there is no one else the Cubs would rather have. This is the postseason, and Lester's resume speaks for itself. Not only is he one of the best to ever perform on the big stage, but those numbers are even better in an elimination game. Take away his start against the White Sox to end the season, and Lester put together a strong finish to his season. If he does get the ball, it could be the final time he touches the Wrigley Field mound as a Cub.
Jon Lester: "You can put me on the moon for all I care. I just compete, man. That's all I care about, competing. I thrive off competing."

— Jesse Rogers (@JesseRogersESPN) September 27, 2020
Young arm talent is the name of the Marlins game, and 24-year-old Lopez is just another one. He is penciled in to start game three right now, but if things go south in one of the other two games, you may see him sooner. Despite not having the same velocity as Alcantara or Sanchez, he still touches 94-95 with his heater, so the Cubs are better ready.
Lopez not only led the team in starts but led the staff in innings pitched as he finished the season 6-4 with a 3.61 ERA. His 59 punch-outs in 57 innings are also telling as this will be the first postseason start of his young career.
X-Factor: If the Cubs could have asked for the perfect matchup, this would be the one. They avoided the three teams from the Central and now focus on Miami. On paper, this should be a relatively easy series, but the Marlins are legit and are a team that knows how to fight.
We have talked all season long about the Cubs offense and their lack of consistency, but we did see signs of life against the White Sox, so hopefully, that carries forward. Pitching is the ultimate X-Factor here. The Marlins have predicated themselves on young pitching talent and almost remind me of the 2015 Mets that eliminated the Cubs from the NLCS that season.
Sure, they don't have the names Matt Harvey, Noah Syndergaard, Jacob DeGrom, and Steven Matz, but they have a rotation built on young arms who can throw major heat. High velocity is something the Cubs have struggled with this season, and the Marlins could exploit that from game one on.
Prediction -- FLY THE W
This series certainly won't be easy, but it would be the easiest of all the matchups they would have seen. From an experienced side of things, the Cubs have the edge as they have been there done that. The Marlins have history on their side as every time they make the postseason, they win the series. I don't see that happening this season, and I see the Cubs advancing 2-1. I would love to see a sweep, but the Marlins have proved to be a tough out all season. I think they steal one game, but in the end, that is it.
Let's get [W]ild. #FlyTheW pic.twitter.com/I93IXPDsDa

— Chicago Cubs (@Cubs) September 30, 2020