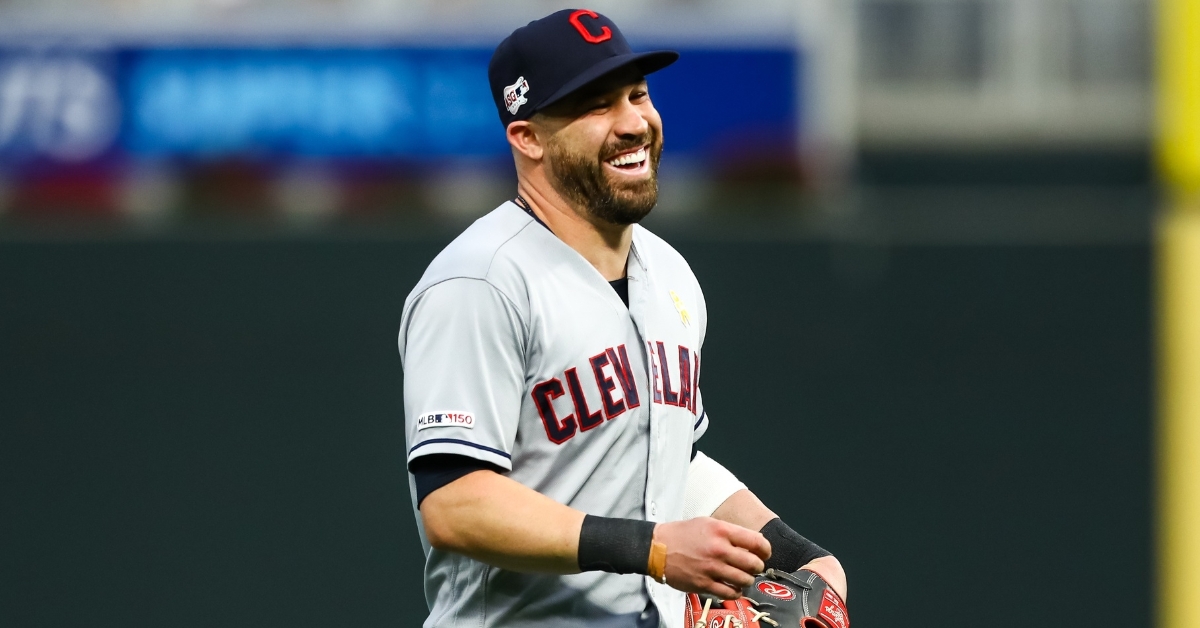 | | |
| --- | --- |
| Prediction on the Cubs' second base situation | |
---
| | | |
| --- | --- | --- |
| Sunday, February 16, 2020, 12:46 PM | | |
Recently the Cubs inked a minor league deal with Illinois native Jason Kipnis, worth one million plus incentives for the 2020 season.
As the team begins to report to Arizona for Spring Training, the already crowded but not decided second base position just got a little more cluttered.
Kipnis added to the mix makes it six second basemen with major league experience with a legitimate chance to log innings there this season. However, I think the Kipnis move actually adds a bit of clarity to the second base position if David Ross' thinking is the same as mine.
Signing the 32-year-old Kipnis adds a cheap veteran presence to a roster that is aiming to get younger and more affordable. Not to mention, Kipnis' defense is anything but a liability, so some consistency on the defensive side up the middle is a good thing for the Cubs.
Not to mention, Kipnis has spent a majority of his career leading off for the Indians — a position in the lineup the Cubs have been searching for a permanent answer since 2016.
The left-handed batting Kipnis has had success in his career against right-handers, which would be an interesting platoon option for the Cubs as they attempt to ease Nico Hoerner into a role on the big league team, and allowing Hoerner to hit against lefties primarily would be an excellent way to do that.
It is important to note that Hoerner skipped triple-A last season and was thrust into playing shortstop in a pennant race, and while he held his own, there is still some development to be done for the Cubs' top prospect. However, since Hoerner appeared so poised in his brief stint with the Cubs in September, a good Spring Training could earn the 22-year-old a spot on the roster and in the starting lineup.
Having Hoerner and Kipnis as a one-two punch at second would allow the Cubs give both the veteran and the rookie the best chances to succeed — whole also allowing Hoerner to learn from Kipnis and Kipnis to stay fresh, especially since his last few seasons have been injury-ridden. All of that in addition to giving David Ross some reliable right-handed and left-handed options for either the top or the bottom of his lineup.
That leaves David Bote, Daniel Descalso, Robel Garcia and Ian Happ without a definitive role on this team as the season approaches.
Bote serves the role of a prototypical utility man pretty well. He is typically known for crushing lefties and playing above-average defense, although last season he struggled in both of those areas. The right-handed hitting Bote is a career .251 hitter with some pop in his bat and defensive utility at second base, shortstop and third base. A more productive season from Bote on both sides of the field would be key for the Cubs in 2020.
Descalso is left almost without a role on this team, which seems fitting after his injury ridden season in which he batted just .173. However, Descalso is known for being a contact-oriented hitter who provides some defensive utility in the field. The 33-year-old is looking to rebound in 2020, which would certainly add some depth to the roster. In my eyes, Descalso would be the 26th man.
Garcia seems to be the guy left out in terms of his role on the major league roster. Garcia lit up the minor leagues last year, and sparked the major league squad — but was ultimately figured out pretty quick as he struggled against breaking pitches. In his 31 game stint with the big league team last year, Garcia hit .208 with five homers and 11 RBIs. I would predict Garcia will start in triple-A when the season begins, but as the season goes on and injuries occur, Garcia may find his way to the big league squad.
Happ's role will likely be primarily in the outfield. If the season started tomorrow, I would predict him to be the opening day center fielder. Although he could provide some valuable defense at second or third base, Happ's focus over the last calendar year has been to work on his defense in center field. During his time in the minors a year ago, Happ had worked on his approach offensively as well and ultimately saw some of that work come to fruition toward the end of 2019.
Happ hit .264 with 11 homers last season and tallied a 1.2 WAR in just 58 games. Happ ended the season on such a hot streak that he was named NL Player of the Week during the last week of the MLB regular season.
After the Kipnis signing the 2020 second base picture for the Cubs looks a little more clear. A good spring training for David Bote or some struggles from Nico Hoerner in Arizona could drastically change it, but this is how I see second base shaking out for opening day.