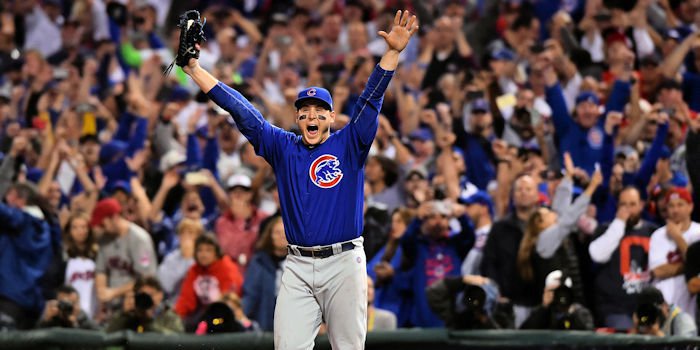 | | |
| --- | --- |
| Ranking the Chicago Cubs teams from 2010-2019 | |
---
| | | |
| --- | --- | --- |
| Friday, November 29, 2019, 5:22 PM | | |
With 2020 set to begin next season, that means it will be the start of a new decade in Cubs baseball history. As we sit and reflect on the past decade itself, although some good and some bad, we can safely say that Chicago had the most sustained success over a decade than they have had in quite some time.
Here is how I would rank the past decade's teams from the worst team to the best one.
No. 10: 2012 (61-101 record):This was the first season of the Theo and company regime, and boy was it a rough season from the day he stepped into the Cubs front office. From trading away tons of high paid salaries to acquire role players and building blocks for the future, the Cubs never really had a chance to get going, which was evident by a 12-game losing streak early in the season that took them from 15-20 to 15 -32.
The rest of the season continued to be a struggle as the Cubs ranked near the bottom in runs scored and team ERA as you knew that the next few seasons could be a bumpy ride. The only positive sign that comes from this season was Anthony Rizzo's debut, which set the tone for his great run in Chicago.
No. 9. 2013 (66-96 record): Although second-year manager Dale Sveum made some improvements, the Cubs still hovered around 100 losses to finish last in the division for a fifth straight season. It was once again a season of building to the future as contracts were made to acquire some young talent. However, it was in the middle of summer when the Cubs acquired a huge piece for the future when they were able to nab Kris Bryant with the second pick in the MLB draft.
Once that pick was made, you could start to feel the energy around the ball club as you could see how great their farm system was becoming. This was also the same summer that we acquired Kyle Hendricks in a trade as this may prove to be the best in-season trade and sign period Epstein has had with the Cubs.
No. 8 2011 team (71-91 overall): Following a rough ending to the Lou Pinella Era, Mike Quade won the managerial job after closing out 2010 with a solid 24-13 record. The two months of magic he put together in 2010 was a far cry from what he would be experiencing in 2011 as Quade appeared overmatched as an MLB manager resulting in his termination following the season.
Saddled with several bad contracts that Jim Hendry and company signed the past few seasons, Quade was set up to fail from the beginning as the Cubs' previous title-contending window slammed shut in a hurry with no real answer as to when it would open again. This was just the beginning of a string of the last-place finishes for this organization, as it was truly a rough patch in the past decade.
No. 7 2010 team (75-87 overall): If you look at the record, you may ask yourself I ranked this season this low based on other teams putting up worse numbers. Well, the answer was quite simple as this was the beginning of the end for a franchise that was in contention mode the three years before this before falling off in 2009.
Ultimately, Lou Pinella and his health got in the way, and he was forced to resign late in the season as the Cubs finished 75-87 good for fifth place and their first of five straight last-place finishes. The one positive that the Cubs could take away from the season was their 24-13 finish under Mike Quade, which game them some positive vibes for 2011.
No. 6 2019 team (83-79 overall): To say last season was a disappointment was an understatement as this team failed miserably to reach the levels anyone expected from them. After four consecutive 90 plus win seasons resulting in three NLCS appearances, a World Series title and a wild card berth, the Cubs fell flat on their faces once again in September. Still, it was a series of season-long problems that never gave the Cubs much of a chance.
Starting from and inconsistent offense yet again, to a revolving bullpen door, Joe Maddon was dealt a hard draw in what proved to be his final year as manager for the Cubs. Cap that with their sudden inability to win away from Wrigley Field, and it was a recipe for disaster right from their 2-7 road trip to start the season.
Even when the Cubs found themselves sitting 15 games above .500 and on the verge of a wild card berth, a nine-game losing streak in September put that to rest as the Cubs settled for a third-place finish and their first missed postseason since 2015. Although another winning season was under his belt, it wasn't good enough to save Maddon as he lost his job at the end of the year.
Part 2 coming tomorrow with No. 5 to No. 1 Cubs team from the last decade.