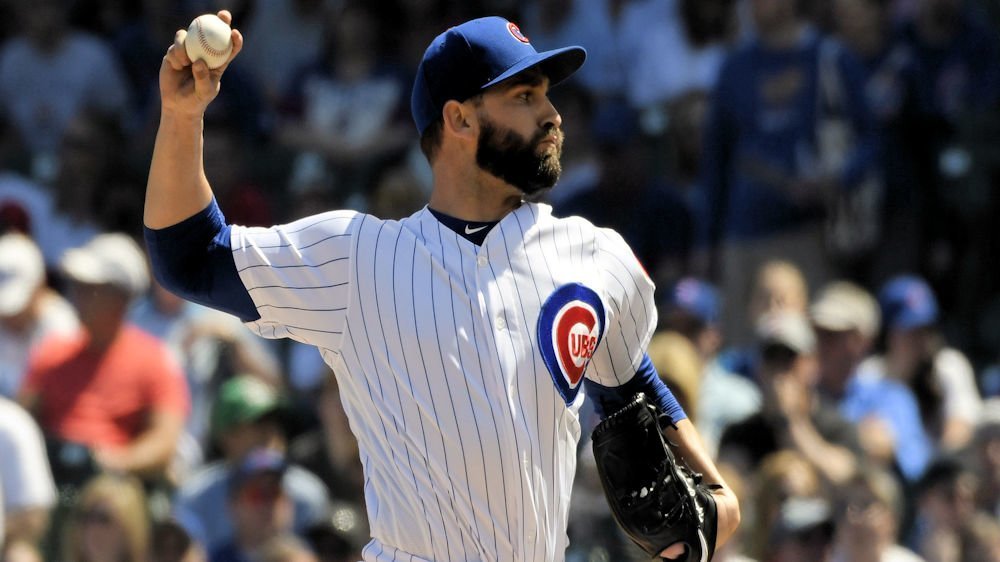 | | |
| --- | --- |
| Report Card Grades: Cubs long relievers | |
---
| | | |
| --- | --- | --- |
| Saturday, October 19, 2019, 11:56 AM | | |
We continue our 2019 season report cards on the Cubs pitching staff by moving to that dreadful bullpen. With some many pitchers coming and going throughout the season, the relief report cards will be broken down into Long, Middle, and Late inning relievers with Long relief going first.
Oddly enough, this was one area of the Cubs bullpen that didn't seem to struggle all that much in 2019. Even with Mike Montgomery having the worst year of his career with the Cubs before eventually being traded to Kansas City, the Cubs had plenty of stable arms in this part of their bullpen that not only ate innings but had success doing so. Here are the grades for the Cubs' long relievers.
ALEC MILLS: Acquired a few seasons ago from the Kansas City Royals, Mills has always been an intriguing piece for the Cubs given his position on the team. Brought through both the Cubs and Royals system as predominantly a middle of the rotation guy, Mills has settled for more of a relief role with Chicago that has turned into a few starts along the way.
After suffering an elbow injury during spring training, Mills was sent to AAA Iowa, where he opened the season as the team's No. 4 starter. Mills showed that he was healthy as the season went on, making 18 starts for Iowa and going 6-4 with a 5.11 ERA. That was under league average in terms of ERA as the PCL had a combined 5.43 ERA for the season.
Mills eventually earned a middle season call-up with the Cubs after putting together a seven start stretch with Iowa that saw his ERA sit around 3.7. Once he got to the Cubs, Mills proved he could be both a reliever and a starter making nine total appearances, four which were starts. He went on to finish the season 1-0 with a stellar 2.75 ERA while pitching to 11B and 42K.
Grade B+: Mills certainly proved he deserves a shot on the opening day roster, but that depends on what part. Yes, he has been a starter most of the season, but his lack of velocity makes it hard for him to get through five innings. Ideally, I do like him in the pen as a swing reliever who could give you multiple innings or give you a spot start here and there. Should they decide to give him a starting chance next year, players like Duane Underwood and Adbert Alzolay could fill the role of Mills in the pen.
DEREK HOLLAND: Acquired via trade from the San Francisco Giants in late July, the former starter was looked at filling the lefty reliever spot vacated from the Montgomery departure. Hoping to prove his worth to the Cubs, Holland never was able to find his footing proving once again why he was not only demoted from the Giants' rotation and released by them before the Cubs picking him up.
In 20 games with the Cubs, including his game 162 start, Holland struggled from the first appearance to his final batter faced in a Cubs uniform. His 0-1 record is not that bad, but a 6.89 ERA and 10BB 11K ratio shows you just how much he struggled to get anything done on the mound. Already known for struggling against righties, Holland quickly became phased out of the Cubs bullpen rotation as he couldn't get anyone out by seasons end.
Season Grade F: This was a bust of a trade in which the Cubs were hoping a change of scenery would help Holland. Instead, Holland proved he was a much worse option than Montgomery at the time. He was continuing to put the Cubs in a bind against lefties. With a six-million-dollar option on the table for next season, it can already be assumed that there is no way Holland returns to Chicago next season as he will be looking at reviving his career with someone else in 2020.
DAVID PHELPS: Another former starter turned reliever, Phelps was acquired in a trade with the Toronto Blue Jays as he spent 2019 recovering from Tommy John. Not knowing what to expect from him in Chicago, Phelps became one of Maddon's most used arms down the stretch pitching better in Chicago than he did in Toronto before the trade.
In 41 total games this season, Phelps was 2-1 with a respectable 3.41 ERA. That included 3.18 ERA on the Northside to go with 17BB and 36K as Phelps quickly established himself as a reliable seventh-inning option for Maddon. Known for his ground ball abilities, Phelps did have some trouble with that early on with the Cubs before getting back to his tendencies later in the season.
Grade B: Phelps remains an intriguing piece for the Cubs moving forward, especially since he has an option for around 3 million next seasons. Ideally, I do expect the Cubs to make a ton of bullpen moves this offseason, hoping to solidify that for the first time since 2017 finally. Phelps could be one of those guys being brought back. Not only is a cheap option that could fill the middle and long relief roles, but he is a veteran who would know his place on the team.
Tyler Chatwood: Perhaps the MVP of the Cubs bullpen this season was, surprise Tyler Chatwood. After enduring the worst season of his career in 2018, Chatwood was bumped from the rotation to a long-relief role in 2019 before thriving as a swingman down the stretch.
Not knowing what his position on the team was entering the year, Chatwood quickly became someone Maddon could count on as he appeared in 38 games, including five starts. The results in not only his starts but his overall effectiveness showed up all season as he finished the season 5-3 with a 3.76 ERA. His command continues to be an issue at times with 37 BB and 74K, but it was way better than last season, and Chatwood started to resemble the pitcher the Cubs thought he could be when he came over from Colorado.
Season Grade A -: I was tempted to give him a B+ for his grade, but he indeed was a savior in the pen this season. Yes, I would love for his command to be better long term, but Chatwood continued to show that even if he walks hitters, he can pitch around those by inducing a lot of double-play balls. The biggest question for him moving forward will be what his role in 2020 will be. Entering the final year of his three-year 39-million-dollar deal, the Cubs are in an interesting predicament with him as they have a variety of options.
With success, he had out of the pen last year, ideally, the Cubs may want to leave him in his current role instead of messing with the progress he has made. Given the age of the Cubs starters and knowing that one, if not more, will not return, could the Cubs give him another shot at the No. 5 spot or piggyback him with whomever that No. 5 man is. The final option the Cubs have would be trading him to a team that needs a starter. They wouldn't get an elite return for him, but I do think a team would take a chance on him and would send the Cubs something to help the team out in return.
Other pitchers who performed the long relief role but were not graded based on appearances were Alzolay, Tony Barnette, Danny Hultzen, Duane Underwood, and Tim Collins.