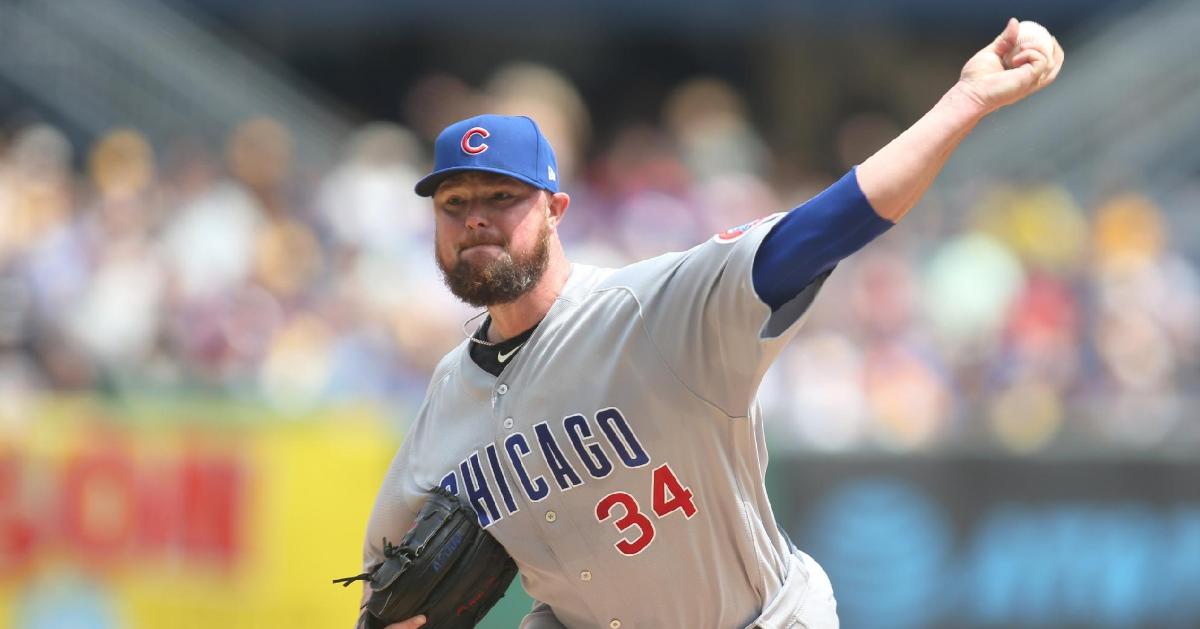 | | |
| --- | --- |
| Report Card Grades: Lester, Darvish, Hamels, Hendricks, more | |
---
| | | |
| --- | --- | --- |
| Thursday, October 17, 2019, 12:12 PM | | |
One of the biggest question marks heading into 2019 was that of the Cubs starting rotation. Declining Velocity, Age, and 100 million dollars invested in their rotation was something to watch as the season went on.
What started as a strength for this team began to fade in the final two months as age certainly caught up to some of these guys in a hurry. Now with 2020 on the horizon, this once again could be a glaring hole if certain things are not addressed the way they should be.
However, the Cubs did wind up with several excellent performances from their starters despite most of their numbers being less than expected this season. Here is how I would grade the Cubs rotation based on what they did in 2019.
JON LESTER: The Bulldog, Big Jon has been the ace of the Cubs since arriving back in 2015. If you have followed his trend since coming to Chicago, the odd-numbered years have not been too kind to him. In 2015 Lester was 11-12. He was 11-8 in 2017, and this season, he was 13-10. Compare that to 2016 going 19-5 and then 18-6 last year, and 2019 should come as no surprise.
His ERA during the even seasons with the Cubs has also been crisp, posting a 2.76 ERA those seasons as opposed to 3.92 in the odd seasons. His 3.34 ERA saved that 3.92 in 2015 otherwise, you would be looking at a guy that was around 4.30 in his three odd-numbered seasons. Whether this has been a weird coincidence is still in the air, but if that trend continues, Lester should be in for another solid season in 2020, which could be his last in baseball.
Season Grade C+: Coming into the season, I brought this trend up many times as I warned fans of a possible regression year. It didn't look that way early on as Lester posted a team-best 1.13 ERA through his first six starts, which helped the Cubs surge into first in the division. Once Lester went down with a sore hammy against Pittsburgh in May, things changed as he was never himself the rest of the way.
Yes, he still posted a solid 13-10 record with better than a 1/3 BB/K ratio, but his 4.46 ERA was especially scary. What made things worse was just how hard Lester got hit in some of his games as his stuff is not good enough anymore to blow hitters away. With how much mileage he has generated in his career, I think father time has caught up to him at the back end of this contract. Lester now must face the reality that he is no longer an ace in this league and must reinvent the way he pitches.
COLE HAMELS: Another elder statesman in terms of MLB experience, the Cubs traded for Hamels in 2018, hoping he would rediscover his old CY Young self. In 12 starts with the Cubs in 2018, Hamels may have gone just 4-3, but his 2.36 ERA is what was the center of attention, which in return allowed him to remain in Chicago following the front office picking up his expensive 20-million-dollar option.
Some people continue to be mixed on whether that was the right choice or not, but given the way, Hamels pitched when he arrived in Chicago, it made that decision a whole lot easier. Much like Lester, Hamels was off to a great start in 19, going undefeated in his first five decisions while hovering around a 2.85 ERA during that time.
Once the season began to hit the midway point, it almost seemed as if Hamels was out of sync with his mechanics as he began to get hard. A few starts later, and Hamels hit the IL with an oblique injury, which kept him out for over a month before returning to the rotation in August. Once back, he still wasn't right mechanically as he just seemed out of whack the final three months of the season. Despite that, a 7-7 record with a 3.81 ERA is not all that bad for a 35- year old middle of the rotation guy who has seen his best days fly by.
Season grade B: This was a tough one for me given his record, but Hamels does deserve a B for a grade. The reason I graded him this high was because I don't think he was ever fully healthy coming back from that oblique injury. His mechanics were off, and he just was not able to consistently through strikes, which knocked him out of games earlier than most of his career.
However, Hamels still gutted things out and proved to the Cubs how much of a veteran leader he indeed was. Had he been healthy, I think the Cubs win more than 83 games because Hamels would have been a big part of that. His days in Chicago may be over, but a team will most likely give him a one year offer this season as he proved he still has something left in that arm.
KYLE HENDRICKS: The only started under 30 years old in the Cubs rotation, The Professor continued to be Mr. Consistency despite him too missing time with a minor shoulder injury. Sure the 11-10 record was less than appealing, but his 3.48 ERA was best on the team but was still slightly higher than his career 3.14 ERA.
Known for his Greg Maddux style of pitching, Hendricks will not blow you away with his 87 MPH heat. Instead, he relies on working the corners and consistently keeping hitters off balance with his deadly straight change that has him near the top in terms of lowest overall exit velocity. His strikeout numbers were down this season, but he also walked a career-low 32 men in 177 innings of work. With a new four-year contract set to take effect this season, Hendricks should find himself in the top three slots in the Cubs rotation for years to come.
Season Grade B+: Record aside, Hendricks continues to do his thing as he has remained the Cubs' most consistent starter since 2017. Whenever the Cubs needed someone to give them some innings, he always seemed to answer the call despite his record hovering around 500. The only knock I have on him is something he has no control over. When he is not getting the calls on the corner is when he struggles. He needs to continue to work the edges because eventually, hitters and umpires will cave. Look for him to enter 2020 as the team's number 2 or 3.
JOSE QUINTANA: The biggest mystery in the Cubs rotation moving forward is that of Quintana as technically he is a free agent. With an 11-million-dollar team option on the table, one would think it would be an easy decision to bring him back a plug him in the back end, especially coming off a season in which he picked up a career-high 13 wins. Is the decision that easy, though?
Despite coming his second consecutive 13-win season, Quintana did not help his cause of coming back down the stretch as he was awful. Known as an inning eater who sits around .500 much of his career, Quintana was the Cubs best starter out of the gate before watching his ERA rise to 4.42 around the All-star break.
Coming out of the break, it seemed as if he was starting to figure things out as he won seven straight decisions at one point, helping bring his ERA back to 3.84. Then September came, which was a month for him to forget. Not only did he fail to win a game in September, keeping him stuck at 13, but his ERA rose nearly an entire run from 3.84 to 4.68 once the season ended. That was all stemming from a September ERA that was over 13.00 the month. Yes, 13 wins and a nearly 4/1 BB/K ratio is good, but the way his season ended has me worried about what to expect next season.
Grade C-: I can't believe I am giving a guy who won 13 games this low of a grade, but it must be done. For his entire career, Quintana has always been a .500 pitcher who has the potential to win 18 games. The problem for him, however, is that he can never consistently put things together. When he is on, he is on as he went 9-2 with a 2.56 ERA during 18 starts this season.
On the flip side, when he is off, it is a nightmare as he was 4-7 with a 6.73 ERA the rest of the season. Quintana will never be a top of the rotation type of an arm, but for what the Cubs gave up for him, anything short of a reliable number 3 is a disappointment.
YU DARVISH: The nightmare of 2018 couldn't have ended any faster for Darvish as he looked to start fresh in 19. Well, two months into the season and once again, that 126-million-dollar contract seemed to be a bust as Darvish was sitting at 2-4 with an ERA in the upper 4's.
Once the July began, Darvish figured things out and not only became the Cubs best pitcher but perhaps the best pitcher in the National League despite finishing the season 6-8 with a 3.98 ERA. Looking at those numbers don't tell the whole story as Darvish led the team in strikeouts with 229 while walking just 56. What is the most remarkable part of that all is that he went nearly 100 innings without walking a man in the second half and totaled only 12 walks to go with over 110 punchouts in the second half while posting a low 3 ERA.
Season grade A-: Darvish has always had Ace stuff in that arm but never seemed up to the task mentally. For some reason, the mental side of things came together this season, and he showed exactly why the Cubs invested so much money in him. Typically, a good starting pitcher has a four or sometimes five-pitch mix that is aimed to keep hitters off balance. Darvish has ten pitches he can use anytime in the count and makes hitters look silly doing so.
The way he pitched in the second half has both the Cubs organization and fans excited to see what he can do moving forward as he honestly did look like an ace. With the Cubs fully expected to be in on Gerritt Cole and other aces this winter, look for Darvish to be the No. 2 starter in 2020 with the possibility of becoming the teams ace should no big-name be brought in.
KENDALL GRAVEMAN: Signed to a one-year deal last season, Graveman never saw action at Wrigley as he was recovering from Tommy John. Knowing that would be the case, it almost becomes a guarantee that the Cubs pick up his 3.5-million-dollar option to give them some flexibility in the back end of the rotation. Graveman has the potential to be a reliable starter as he did show some flashes with Oakland, especially in 2016, where he won 10 games.
Season grade B-: I gave him a grade simply because he did work his way back and saw action in the minors the final month of the season. Although a limited sample size, Graveman pitched in six innings this season, posting a 3.00 ERA in the process. His 1BB and 8K line shows that he may have some improved command, which would be him moving forward.