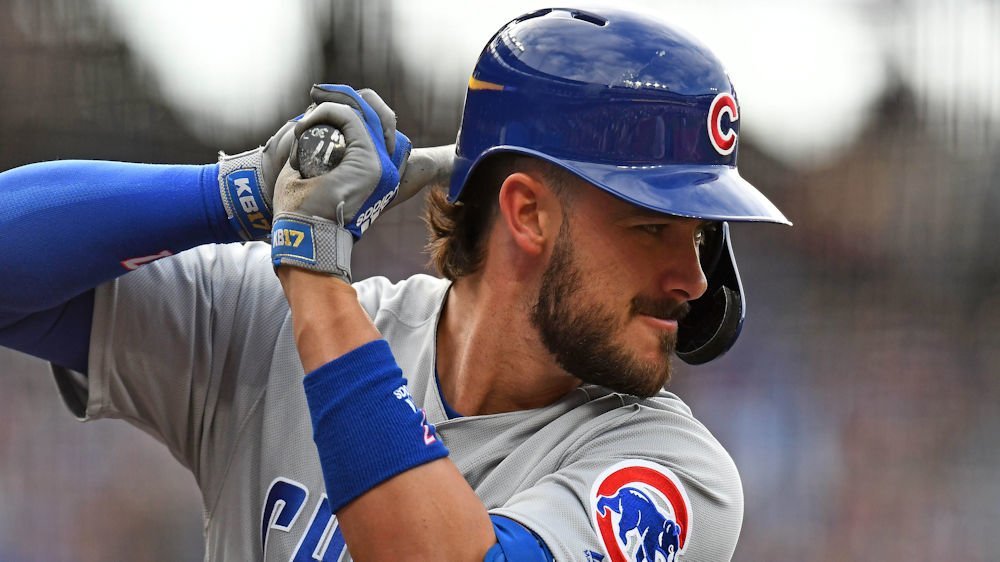 | | |
| --- | --- |
| Report: Red Sox emerging as potential suitor for Kris Bryant | |
---
| | | |
| --- | --- | --- |
| Monday, November 23, 2020, 2:55 PM | | |
Now that Theo Epstein has stepped down as President of the Cubs Baseball operations, Jed Hoyer is taking over to leave his mark. The ownership did their part by extending him through the 2025 season, but now it is time for Hoyer to get down to business and not only find a GM but make some tough decisions that will affect this team moving forward.
Perhaps the most important role of business this offseason is trying to figure out what to do with this roster and who to keep moving forward. For what seems like an annual question at this point, Kris Bryant appears once again to be the Cubs top priority in terms of trade as they look to get something in return to help this roster.
Although we have reports of how serious teams are at this point, it does appear that two teams are the most interested in Bryant's service right now. Both the Washington Nationals and Boston Red Sox have reportedly contacted the Cubs about Bryant, and the sides have discussed possible trades. It is unknown how serious those talks are, but the fact that negotiations are in place shows the Cubs are serious about moving him and other starts.
Starting with the Red Sox and their discussions. Despite a rough 2020 season that saw them go 24-36, Boston did try to add significant pieces at the Aug 31 deadline and may again look to do that this offseason. With Alex Cora back in the managerial seat and former Cubs, third base coach Will Venable as his bench coach, Boston is already in a better position than they were one year ago.
According to Mark Gonzalez of the Chicago Tribune, the Red Sox have discussed a trade with the Cubs about Bryant.
"Two sources confirmed the Red Sox and Cubs discussed Bryant this summer, but those talks faded," Gonzales said. "Rafael Devers is the incumbent at third base, which means the Red Sox would envision Bryant as a left fielder."
However, those talks didn't seem to get much traction to this point. When you consider that Rafael Devers is already stationed at the hot corner, the Red Sox showing interest was a bit out of left field, but Gonzalez feels their interest was in the line of trying to get him to convert to left field.
The Red Sox and Cubs have discussed a potential trade that would send Kris Bryant to Boston, per @ChicagoTribune. pic.twitter.com/1u3zPRuO8J

— Guy Boston Sports (@GuyBostonSports) November 23, 2020
After banking on current left fielder Andrew Benintendi, the 26-year-old has significantly regressed after posting career numbers in 2018. Over the past two seasons, Benintendi has played in just 152 games and has hit only 255 with 13 homers. The lefty missed considerable time with a rib cage injury this past season, and fans wonder if his best days are behind him. Bryant would be considered his replacement even though he is a right-handed hitter and third baseman by trade.
Another interesting thing to note about these possible discussions could be the desire to potentially move Benintendi to center field and move on from Jackie Bradley Jr. He is a free agent this off-season. The Cubs and Boston recently discussed Bradley Jr in the past, so it would be interesting to see if the Red Sox reengage talks this offseason and what they would be willing to give up.
The other team that appears to be in the mix for Bryant and perhaps the most serious are the Washington Nationals. They are looking for a long-term replacement for Anthony Rendon. With a pitching rotation of Max Scherzer, Stephen Strasburg, and Patrick Corbin, it shouldn't come as a surprise to see them interested, especially when they engaged in month long talks last season. As much as I hate to say this, this seems like a perfect landing spot for him.
Both Ken Rosenthal and Jon Morosi have reported that the Nationals are interested in Bryant, but more context has been added. The Cubs are clearly in line to make trades to not only clear up cap space but to change up the mix. With several key players in their walk year, it is not a matter of if but who will be dealt this season.
Bryant makes the most sense given his $18.6 million tender coming up. That is also the hang-up with Bryant's trade as there won't be many teams willing to pay that contract. It would also be unthinkable for the Cubs to non-tender the MVP as they wouldn't get anything for him at that point, so something has to give.
With Rendon now anchoring the middle of the Angels lineup, Bryant would fill in nicely in the Nations Capital and precisely do what Rendon did to a point. It makes sense for this move to happen as the Nationals have a great relationship with Scott Boras, and the Nationals would be willing to take him on as a short-term fit given their rotation.
After once seen as a player who could net a gigantic return, the Cubs shouldn't expect to get that from him anymore, but they should still get something. Instead of asking top-tier players or prospects, the Cubs should instead look for prospects who have big-league experience but have recently fallen off the radar. Guys like Spencer Kieboom and Victor Robles are names that come to mind, even though the Nationals may find it hard to part with Robles.
Both Kieboom and Robles are 23 years old and have plenty of time left on their bodies. Kieboom was once a middle of the Nationals road prospect but has never shown his abilities consistently at the big-league level. In 44 career major league games, Kieboom has mustered a lowly .166 career average with two homers and 19 RBIs. Looking at his minor league numbers and finding a guy who hit in the .260s or .270s, averaging around nine homers per season. That is certainly nothing to rave about.
Robles, on the other hand, is the key name to watch if the Nationals are serious. Often viewed as one of the organization's top prospects for a while, Robles burst onto the scene in 2018 at just 21 years of age. He slipped a little bit offensively in 2019 but still offered elite defense in center field. However, 2020 was a year to forget as he was flat out terrible.
Through his first 34 games across 2017 and 18, Robles was roughly a .270 hitter connected for three homers and 14 RBIs. Not the greatest of numbers, but certainly numbers that show potential. In his first season in 2019, Robles saw his average drop to .255 but did manage to slug 17 homers with 65 RBIs to go with 28 steals. Things got even worse last season as his average fell to .220 with just three homers and 15 RBIs in 52 games.
Entering the final year of his pre-arbitration salary, both the Nationals and the Cubs would love to see him reach the level they expected him to reach. It would be great for the Nationals as it gives them an outfielder to pair next to Juan Soto for years to come. For the Cubs, it gives them a legitimate trade piece to move Bryant for and would allow Cubs to stash him in center while Moving Ian Happ to left.
Both Robles and Bryant were viewed as can't miss prospects coming through the system, and through their first few seasons, it appeared experts were right. Now, both seem to be in the post-hype phase as neither of them has lived up to expectations. I am sure more rumors will come in the coming months, but Bryant to the Nationals makes too much sense to ignore.