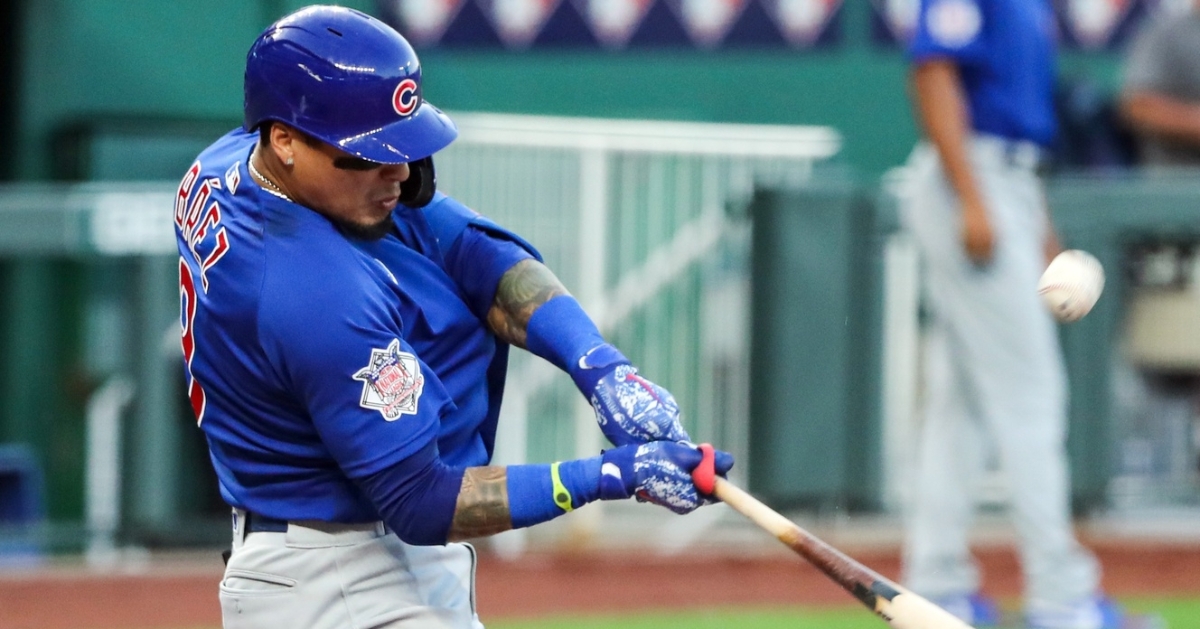 | | |
| --- | --- |
| Royal flush: Cubs sink Royals, win their sixth straight | |
---
| | | |
| --- | --- | --- |
| Wednesday, August 5, 2020, 11:25 PM | | |
KANSAS CITY, Mo. — Winning their sixth in a row and becoming the first National League to reach the 10-win mark, the Chicago Cubs (10-2) defeated the Kansas City Royals (3-10) for the third straight night. After sweeping the Royals in two games at Wrigley Field, the matchup shifted from Chicago to the Royals' home ballpark, Kauffman Stadium.
Cubs hurler Yu Darvish gave up just one run in a solid seven-inning start. The North Siders went down 1-0 in the bottom of the third but outscored the Royals 6-0 the rest of the way. A pivotal bloop single by Javier Baez in the top of the fourth and clutch two-out hitting in the final two innings highlighted the Cubs' offensive efforts. In the end, Chicago downed Kansas City by a final score of 6-1.
---
Inning-by-Inning Breakdown:
---
T1: Kris Bubic started on the bump for the Royals and pitched six innings of four-hit ball, in which he struck out six. Two of those punchouts came in the opening inning.
Score: Cubs 0, Royals 0
---
B1: Darvish fanned four and gave up five hits in his seven innings of work. He started off by working a scoreless first.
Score: Cubs 0, Royals 0
---
T2: Bubic tallied two more Ks in a three up, three down second.
Score: Cubs 0, Royals 0
---
B2: The Royals collected a pair of singles in the bottom of the second, but an inning-ending 4-6-3 double play bailed Darvish out. David Bote made a rare start at second base on the night, and he flipped a ground ball to Baez to start the double play.
Score: Cubs 0, Royals 0
---
T3: Two flyouts and one groundout made up a scoreless top half of the third. One of those flyouts came by way of Nico Hoerner, who played college ball with Bubic at Stanford.
Score: Cubs 0, Royals 0
---
B3: An excellent defensive play by Bote helped limit the Royals to one run in the third. Maikel Franco led off with the Royals' sole extra-base hit of the affair, a double, and an ensuing single put runners on the corners with nobody out. Whit Merrifield then hit a chopper that ricocheted off Darvish's glove. Bote charged the ball and snagged it with a foot on second base before firing a throw to first base to turn two. Franco scored on the play, but former Cub Jorge Soler struck out soon after that to end the inning with fairly minimal damage inflicted upon Darvish.
Score: Cubs 0, Royals 1
More slick defense from @DavidBote13! pic.twitter.com/8E9BJiUZol

— Chicago Cubs (@Cubs) August 6, 2020
---
T4: The Cubs wasted no time at taking the lead themselves. Kris Bryant led off with a single, and Anthony Rizzo then drew a walk. Baez scored Bryant with a bloop hit that landed just fair near the right field line. Baez did not run hard out of the batter's box, seemingly thinking that the baseball would land foul, and earned only a single on what could have been a double. The next at-bat saw that baserunning mistake come have an effect, as Willson Contreras grounded into a 6-4-3 double play. Rizzo scored from third on the grounder. Kyle Schwarber walked after that, but Bote struck out to end the half-inning.
Score: Cubs 2, Royals 1
---
B4: A two-out walk of Alex Gordon was Darvish's only blemish of the fourth inning.
Score: Cubs 2, Royals 1
---
T5: A two-out single by Victor Caratini was Bubic's only blemish of the fifth inning.
Score: Cubs 2, Royals 1
---
B5: Darvish continued to show out into the fifth, preventing the Royals from hitting the ball out of the infield.
Score: Cubs 2, Royals 1
---
T6: Rizzo led off with a single before Baez grounded into a double play. Contreras struck out swinging thereafter.
Score: Cubs 2, Royals 1
---
B6: Merrifield reached base via a leadoff single and then took second on a wild pitch. Next, Soler fouled out, with Rizzo tracking down the popup and catching it near the seats. Merrifield tagged up and reached third. Darvish did not give up the lead, though, recording a strikeout and drawing a groundout.
Score: Cubs 2, Royals 1
---
T7: Bubic was replaced by Scott Barlow, who sat the Cubs down in order in the seventh.
Score: Cubs 2, Royals 1
---
B7: Darvish threw heat in his final inning on the mound, and the Royals failed to reach base.
Score: Cubs 2, Royals 1
---
T8: A costly two-out error led to the Cubs netting two insurance runs in the penultimate inning. After fielding a routine ground ball hit by Bryant, Franco, the Royals' third baseman, came up short in his throw to first baseman Ryan O'Hearn, who did not exactly make much of an effort at scooping up the poor throw. Rizzo and Baez proceeded to line back-to-back singles through the infield. For the second time in the contest, Baez plated Bryant. Rizzo motored home from second on the base knock from Contreras that followed, and Baez reached third. Contreras stole second prior to Schwarber striking out to wrap up the two-out rally.
Score: Cubs 4, Royals 1
A little insurance never hurt anyone. pic.twitter.com/2xZptjXGx0

— Marquee Sports Network (@WatchMarquee) August 6, 2020
---
B8: Jeremy Jeffress pitched the eighth frame for the North Siders, and he prevented Kansas City from getting on base.
Score: Cubs 4, Royals 1
---
T9: Another two-out surged enabled the Cubs to pad their lead. Ian Happ smacked a leadoff double, which was the Cubs' lone extra-base hit of the game. Later, Happ scored on a two-out base knock by Caratini, who then showed off his wheels by motoring all the way home from first on a hit by Bryant. Caratini slid in just ahead of the tag at the plate. Bryant advanced to third on a wild pitch, but Rizzo struck out and left him stranded.
Score: Cubs 6, Royals 1
Wheels Caratini scores all the way from 1st to give @Cubs a 5-run lead in the 9th.#GoCubsGo pic.twitter.com/XxJ8devUn6

— Billy Krumb (@ClubhouseCancer) August 6, 2020
---
B9: Reliever Colin Rea, who was recently recalled to the big leagues, made his Cubs debut. Soler led off and reached base because of a fielding error suffered by Hoerner at second base. Hoerner started the contest in center field before moving to second. Rea stayed composed and garnered three consecutive outs, though, including two swinging strikeouts.
Final Score: Cubs 6, Royals 1
---
Statistical Breakdown:
Chicago Cubs: Batting: 1 2B, 4 RBI, 3 2-Out RBI, 2 GIDP, 4-9 RISP, 5 LOB; Baserunning: 1 SB; Fielding: 1 E, 2 DP; Pitching: 5 H, 1 R, 1 ER, 1 BB, 7 K, 0 HR, 0 HBP, 0 IBB, 1 WP
Kansas City Royals: Batting: 1 2B, 2 GIDP, 1-6 RISP, 4 LOB; Fielding: 2 E, 2 DP; Pitching: 10 H, 6 R, 3 ER, 2 BB, 6 K, 0 HR, 0 HBP, 0 IBB, 1 WP
---
Studs of the Game:
Chicago Cubs: Yu Darvish (SP): 7.0 IP, 5 H, 1 R, 1 ER, 1 BB, 4 K, 0 HR, 0 HBP, 0 IBB, 1 WP; Javier Baez (SS): 2-4, 0 R, 2 RBI, 0 BB, 1 K, 1 2-Out RBI, 2-2 RISP, 1 defensive assisted DP
Kansas City Royals: N/A
---
Duds of the Game:
Chicago Cubs: Nico Hoerner (CF-2B): 0-4, 0 R, 0 RBI, 0 BB, 1 K, 0-1 RISP, 1 E
Kansas City Royals: Ryan O'Hearn (1B): 0-4, 0 R, 0 RBI, 0 BB, 2 K, 0-1 RISP, 2 defensive assisted DP
---
Up Next: The last of the four consecutive meetings between the Cubs and the Royals will take place on Thursday, Aug. 6. Royals righty Brad Keller (0-0, 0.00) will make his first start of the season and square off against Cubs righty Tyler Chatwood (2-0, 0.71). On a warm evening at Kauffman Stadium, the contest will begin at 6:07 p.m. CDT.
---
Box Score:
Chicago Cubs at Kansas City Royals
Aug 5, 2020
1
2
3
4
5
6
7
8
9
R
H
E
Chicago (10-2)
0
0
0
2
0
0
0
2
2
6
10
1
Kansas City (3-10)
0
0
1
0
0
0
0
0
0
1
5
2
W: Yu Darvish (2-1) L: Kris Bubic (0-2)
---
Highlights:

Tags: Chicago Sports Baseball
,
Yu Darvish
,
Javy Baez
,
David Bote
,
,
Jorge Soler
,
Kris Bryant
,
Anthony Rizzo
,
Willson Contreras
,
Kyle Schwarber
,
Victor Caratini
,
Jeremy Jeffress
,
Ian Happ
,
Colin Rea
,
Tyler Chatwood