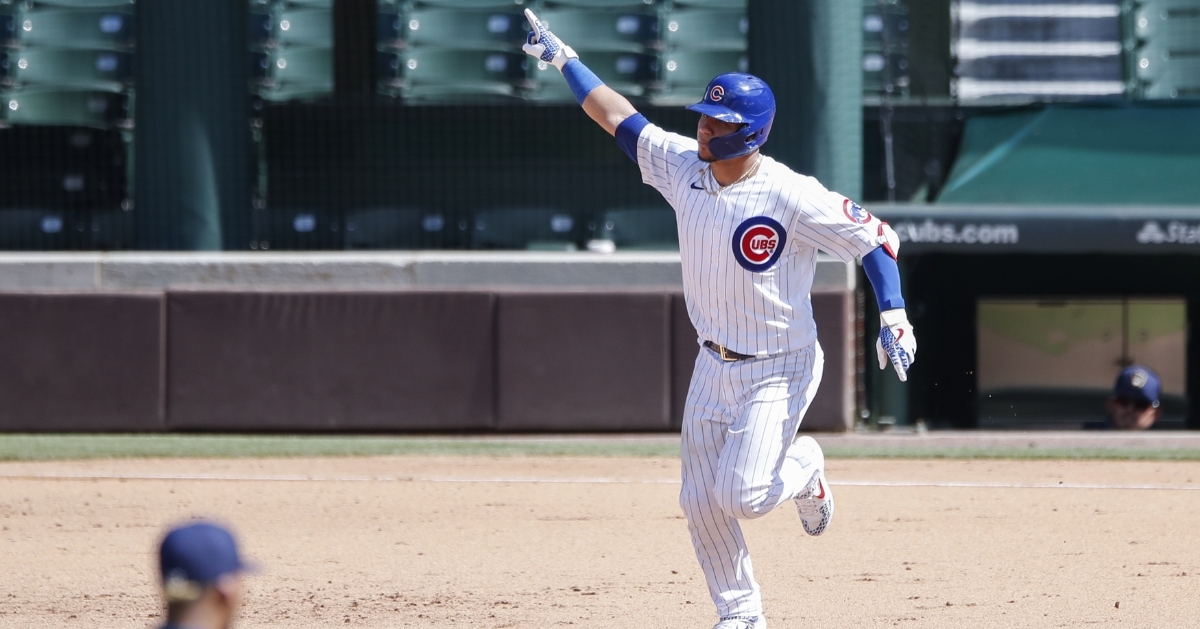 | | |
| --- | --- |
| Season in review: Catcher grades for Cubs | |
---
| | | |
| --- | --- | --- |
| Monday, October 5, 2020, 6:52 PM | | |
We would still have 100-plus games to go and four months of watching this team in a regular baseball season. However, 2020 is not normal, and now that the Cubs have been eliminated from the postseason once again, it is time to sit and wait. Should this offseason proceed as planned leading into spring, you're looking at 135 days until we see Cubs baseball once again.
That is over four months from now, as this team is sure to undergo some significant changes. What those changes are remain to be seen, but at this point, Chicago can't afford to keep everyone in this core together if these are the results we will keep seeing. Over the next couple of weeks, I will be looking at what the players did this season and grading them on their performance. Some may be more lenient than others given the season, but it is still worth noting and discussing at this point.
Willson Contreras: Contreras is the Cubs No. 1 catcher, and no one is going to question that. Coming off a 2019 season where he hit .272 with a career-high 24 homers and 64 RBIs, Contreras had a lot to prove in 2020 as he not only viewed himself as the best catcher in the National League but as an MVP candidate in his mind.
Throughout his career, the Cubs have seen what Contreras can do when he is hot. Look at 2017 when he single-handedly carried the team for a month straight. The Cubs also saw how much he could struggle as he did in 2018. If you were to judge his season based on his spring training and summer camp production, Contreras was on a mission. Not only was he squaring up everything, but it seemed as if every hit was leaving the yard.
That hard contact transferred for about a week into the regular season where he had two homers in the team's first nine games, but after that, things went south in a hurry. Things got so bad for him that he saw his average dip below 200 for the first time in his career and was left with more questions than answers. Thankfully, Contreras was able to bounce out of it a little bit, using a strong September to put together a better season than most thought he would end up with.
For the year, Contreras hit just .243 but managed to hit seven homers and 26 RBI. That is equivalent to a 17 homer, 63 RBI season, so that part of his game was still there. The average is what is most concerning at this point.
Grade C: Contreras worked on his pitch-framing a lot this season, and it certainly helped get more strike calls. However, his offense was way to sporadic this season, and he certainly didn't have the year he was expecting. He was one of the team's better hitters the final month of the season, but that doesn't say much when you see the production. Contreras needs to get back to his old self this offseason.
"This is one feeling that, I don't want it to come back next year. I'm going to take this hard feeling, put it in my workouts and get even better offensively and defensively." - Willson Contreras pic.twitter.com/k9ClwREVkk

— Cubs Zone ™? (@CubsZone) October 3, 2020
Victor Caratini: For a guy once seen as only a backup catcher, Caratini plays perhaps the most critical role on the team. Not only was he primarily a DH this season, but he serves as the personal catcher for Yu Darvish. As long as Darvish is on this team, Caratini is on this team.
I always have like Caratini's bat, given he is a high contact hitter with switch-hitting ability. The Cubs saw what can happen with more playing time in 2019 as he not only hit a career-best .266 but connected for 11 homers and 34 RBIs. With the DH playing a role this season, Caratini found himself in the lineup consistently yet again, but couldn't deliver much this year.
His .241 average is what it is as he is just a .250-career hitter. It was the rest of his offensive game that was concerning. Caratini drove in just 16 men for the season, which would have translated to around 40 for a full season. That part of his game is fine. The one homer equates to approximately three for a 162-game set, but the 12 walks and 31 strikeouts were concerning.
Caratini has been known to have a good eye at the plate with the ability to foul off pitches. Granted, he didn't walk or strike out a ton this season; it seemed as if his eye wasn't as good as past seasons, and he couldn't foul off pitches consistently. A player who was hoping for more of an everyday role in the future may be the backup once again as his offensive game hasn't translated enough.
Grade B-: I will give Caratini a slightly better grade than Contreras for a couple of reasons. First, you must look at the job he has done with Darvish and the transformation he's made on the mound. Caratini and Darvish work well together, and a lot of that has to do with his ability to call games.
Secondly, Caratini is never going to have the offensive ceiling of Contreras, so by in large, he had a better season numbers-wise this year than in the past. Take away the home runs, and average and Caratini would have set a career-high for RBIs, which is enormous for a backup.
Victor Caratini - Chicago Cubs.

2 point stance throwout from knees. Vic creates an anchor w/ his R toe, while turning in the L knee creating hip turn. His anchor allows him 2 drive thru his target 2 provide carry on the ball. In line throw,gr8 tag by Baéz. #catchers #catching pic.twitter.com/REo4eHnxiW

— Goodro Catching (@goodrocatching) September 26, 2020
Josh Phegley: Signed as a minor league free agent in February, Josh Phegley broke summer camp on the big-league roster after an impressive spring and summer showing. Once on the team, the 32-year-old struggled to get anything going picking up just one hit in 16 at-bats across 11 games. That hit was a home run, but that is about all he offered this season statswise.
Josh Phegley - Chicago Cubs (1) pic.twitter.com/u90MziVmGs

— MLB HR Videos (@MLBHRVideos) August 19, 2020
Season Grade F: Phegley was coming off his best season as a pro so signing him brought a lot of intrigue. Once the season announced that 30 players would be on the active roster, Phegley made a ton of sense to give the Cubs some added flexibility. He was also added to the postseason roster for the same reasons.
Everyone knew going in that the only way Phegley would see any action would be if his bat produced the way it did in camp. That never happened, and he brought no value to the team and was sent to South Bend midseason.
Now a free agent again, it will be interesting to see his destination for 2021.