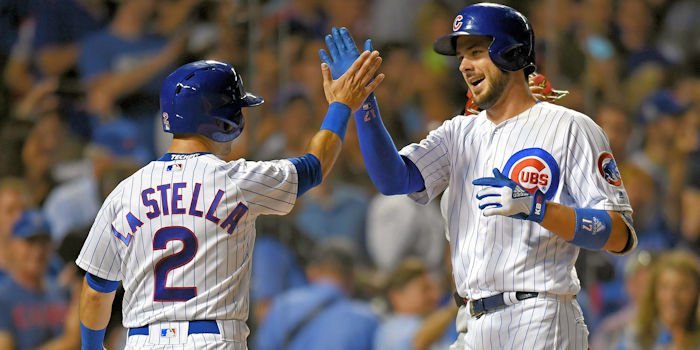 | | |
| --- | --- |
| Second base market including Tommy La Stella gives options for Cubs | |
---
| | | |
| --- | --- | --- |
| Saturday, October 31, 2020, 8:43 AM | | |
Following Ben Zobrist's retirement from baseball last season, the Cubs were left with a hole at second base that they needed to fill. Guys like Tony Kemp and Robel Garcia were used sparingly in 2019, while Daniel Descalso never got going across two years with the team.
Last season, the Cubs were hoping Nico Hoerner could be the one to take over the position, but it was clear that he wasn't ready for a full-time job just yet. David Bote was always an option, but as fans have seen with him, he is more of a platoon player than an everyday player.
Jason Kipnis was signed to a minor league contract last season but earned a spot on the team following a strong spring. He then used that to his advantage by making the opening day start at second and ended up with the most starts at second on the team. He is precisely the type of player that the Cubs would love to have back but given what he did last year, look for him to get a more lucrative deal on the market elsewhere.
That will leave the Cubs with a question mark at second base once again as Bote appears to be the only one locked to the roster that can play the position. Hoerner will be considered come spring, but if he doesn't show improvement with his development, then look for him to start the year in AAA. Ilderamo Vargas is an intriguing piece as more of a bench player, but he is not an everyday piece.
If the Cubs are looking for an everyday second base, or at the worst of one who can play that position better than they currently have, the free-agent market could be an option as two names have emerged in recent days. Those names would be division rival Kolton Wong and former fan favorite Tommy La Stella.
Starting with Wong, the Cardinals GM has already made it clear that his team will be slashing payroll this offseason. Wong was a victim of that as he was set to make 12 million dollars. Instead, he finds himself with a one-million-dollar buyout and is now on the open market. Adding a guy like Wong is an excellent choice for the Cubs, especially when you look at things' defensive side.
Back when the Cubs won the World Series, they had Addison Russell and Javy Baez patrolling the middle of the infield. Every game, the duo turned heads with their defensive plays as both of them providing gold glove quality work. After Russell's issues earned him a suspension, Baez shifted over to short but has never had a mate like Russell to help him at second. That is where Wong comes into play.
Wong has a gold glove in his pocket already and is in the running for yet another one. Defense is his specialty, and the kind of work that he and Baez could do together could be miraculous. At 30 years old, Wong has plenty left in the tank, and he should be able to be had for a reasonable multi-year deal. Offensively, he gives the Cubs a much-needed left-hand hitter who has been up and down in his career.
A 262-career average isn't something to get excited about, but Wong has shown the ability to work professional at-bats and do the little things the Cubs don't. He is a true ballplayer, and the Cubs need to do their homework on him. How sweet would it be to see the Cubs burn the Cardinals by plucking him away?
The one name I am most interested in following this season is La Stella. Given the nickname 3 AM by Joe Maddon for his ability to hit in any situation, La Stella was a fan favorite for the Cubs despite his failure to report to the minor's incident. Never given a fair share at a starting role, La Stella could hit and was a master at coming off the bench as a pinch hitter. He led the major leagues in pinch hits and batting average in 2017 and 2018 combined.
Acquired in 2014 from the Atlanta Braves, La Stella opened 2015 as the team's starting second baseman before an Oblique injury sidelined him for months. Russell was shortly called up after that, and La Stella never got another opportunity with the Cubs. He did, however, showcase what he could do in a full-time role with Anaheim and Oakland the past two seasons showing more pop than anyone expected, although his average was down.
La Stella is not a long-term answer, but if the Cubs want to give Hoerner more time to develop, he is a perfect fill-in option. Another left-handed hitter, La Stella, loved the Cubs and loved the organization. He is someone who will grind out at-bats and can be counted on in any situation. Although his power went up the past two seasons, it wouldn't surprise me at all if he sacrificed his power to get back his 280 average.
It only seems fitting that the Cubs are showing interest in him when they traded him away two seasons ago. As hard as it was to do, it was the right thing to do for La Stella as he needed more playing time. Now, given the Cubs' situation, La Stella could return and finally show the Wrigley Fans he was worth more time.