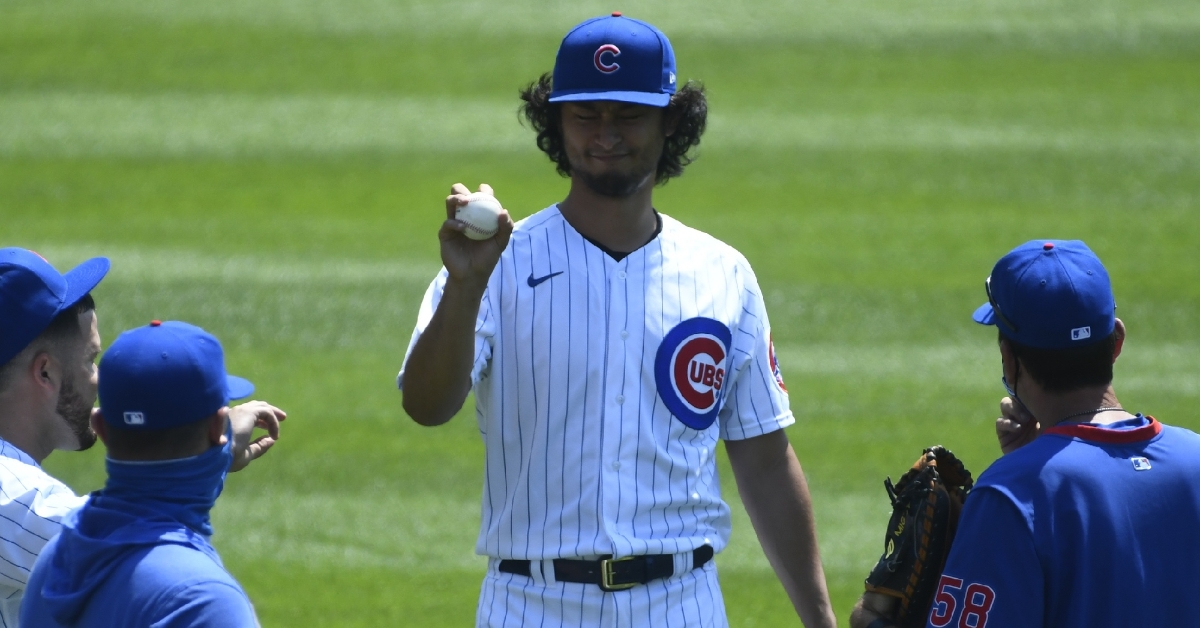 | | |
| --- | --- |
| Series Preview, X-factors and Prediction: Cubs vs. Cardinals | |
---
| | | |
| --- | --- | --- |
| Friday, September 4, 2020, 1:57 PM | | |
This is by far the biggest series of the season for the Cubs as it is a make or break series that could set the tone for the rest of the season. At 22-15, the Cubs are in first place by three games ahead of the St. Louis Cardinals (14-14), and barring the Cardinals sweeping them, they will leave this series in first place.
Should the Cubs take four of five, they would open the division lead to 6.5 games, and with so many doubleheaders left, that could be the Cardinals breaking point. If the Cubs manage to go 3-2 once again, you're still looking at a comfortable 4.5 game lead with three weeks left until the season ends. This will be a big one and will have the feel of postseason all weekend long. Here are the matchups and predictions on the series.
Friday at 7:15 p.m. CDT on Marquee Network: Jack Flaherty (2-0 1.93 ERA 17 SO) vs. Yu Darvish (6-1 1.47 ERA 52 SO)
You want to talk about a pitching matchup to open this series, you won't find a better one than this. Not only were Flaherty and Darvish the two best pitchers in the National League after the All-star break last season, but they are off to great starts once again with Darvish coming off the NL pitcher of the Month.
Flaherty hasn't been defeated this season yet but also hasn't lasted too long into games. I wonder if the Cardinals have been taking things easy with him knowing the number of games they have left. In his previous start against Chicago, Flaherty lasted just two innings and threw 41 pitches. It was his first start in 16 days, so expect more length this time out.
Despite all the hatred from the Cubs fan base early on in Darvish's tenure, he has not only proven to be the Cubs ace but the Cubs stopper in the rotation. Whenever Chicago has needed a win, Darvish has put the team on his back and pitched them to victory. It would be a great day for him to do that once again and set the tone for a busy weekend. If Darvish can neutralize Paul Goldschmidt, Matt Carpenter, and Tommy Edman, he will have a great chance. Darvish defeated the Cardinals earlier this season.
Saturday Game 1 at 4:15 p.m. CDT on Marquee Network: Adam Wainwright (3-0 2.65 ERA 25 SO) vs. TBD:
Very quietly, the 39-year-old Wainwright is turning back the clock and pitching exceptionally once again. He threw a complete game on his birthday last time out, allowing two runs and striking out nine to remain unbeaten. He will look to continue his solid season as this will be his first look at the Cubs this season.
The Cubs are going to run into an issue on Saturday, as this will be a doubleheader. Not only were they expecting to call up one starter, but without Tyler Chatwood or Jose Quintana in the rotation, the Cubs will now need two arms with one looking to stick in the rotation long term. Look for Adbert Alzolay to get the ball in one of these games after allowing just one run in six innings against the Cardinals in his only start this season.
Saturday Game 2: Dakota Hudson vs. TBD
Game two of the doubleheader is up in the air regarding what the Cardinals will do for starting pitching. With so many doubleheaders to come, you may see them go with a bullpen game and use Alex Reyes as they did a few weeks ago at Wrigley, but right now, it looks as if Dakota Hudson is getting the ball. Hudson is 1-2 on the season, but a sparkling 2.77 ERA means he could go deep in this one.
The Cubs are in a similar spot to the Cardinals needing starters, especially with two being hurt. I expect Alzolay to get the ball in one of these games, but you could see a bullpen type of game for the other. Collin Rea would be a short three-inning option if that were the case. Otherwise, look for Tyson Miller to get his second start of the season or Cory Abbott and other South Bend names to get the call.
Sunday at 6:08 p.m. CDT on ESPN and Marquee Network: Kwang-Hyun Kim (2-0 0.83 ERA 11 SO) vs. Jon Lester (2-1 5.11 ERA 25 SO)
It will be the battle of the Southpaws on Sunday as Kim and Lester toe the rubber. The Free Agent Kim was brought along slowly this season but is now starting to show why the Cardinals went after him. Yes, he has a great ERA, but his command has been sketchy, so the Cubs need to take advantage of that.
The Bulldog Lester will face him as he needs a great start to get some confidence back. Despite the Cubs winning his last time out, Lester cruised along through five innings before coming unglued in the sixth. High pitch counts early in the game have been an issue for him all season, so he needs to avoid that from a patient Cardinals team.
Monday at 3:00 p.m. CDT on ESPN and Marquee Network: Johan Oviedo (0-1 4.30 ERA 10K) vs. Kyle Hendricks (4-4 3.78 ERA 40 K)
In a rare wrap-around series, this is the final makeup game of the previous series in St. Louis. This will feature a matchup of the Cardinals up and coming Oviedo versus the Professor in Hendricks.
Oviedo is starting to go longer and longer into games the more experience he gets as he has demonstrated some elite stuff on the mound. This is a matchup that could go either way for the Cubs as they struggle with unknown arms. However, if they can show patience at the plate and not let Oviedo beat them, they can do damage.
On the other hand, Hendricks was able to end a three-game losing streak last time out despite not having his best stuff. He walked more than one batter in a game for the first time this season but has only allowed six free passes to go with 40 punchouts. The biggest issue with Hendricks as of late has been the long ball as his location has been slightly off.
He is not a flame thrower who can get away with that, so any small margin of error cost him games. Hendricks not only has great success against the Cardinals but is one of the toughest pitchers to crack at home. Last time out against the Cardinals, Hendricks took the loss allowing three runs in 6 1/3 innings.
X-Factor
This will not only be a long series but a challenging series. The Cardinals pitching staff is lined up nicely for this series as they have more options to turn to. While the Cubs have their ace going Friday and some workhorses to end the series, not having Chatwood and or Quintana on Saturday will hurt as the Cubs are now down two starters for the foreseeable future.
If the Cubs figure out a plan for Saturday, then expect to stick in play for the remainder of the series. Starting pitching will be the key to the series this weekend as the Cubs not only need length from their top three but need quality outings too.
Prediction
We know how bad the Cubs want this series or, at the very least, to take three of five. The problem is I don't see that happening. Friday is the series's turning point for me as whoever wins that game will win the series. I don't think the Cubs win either game on Saturday, and I think the Cardinals find a way to beat Lester, Hendricks, or Darvish at least one. Right now, I look for St. Louis to take the series 3-2, but they very easily could go either way.