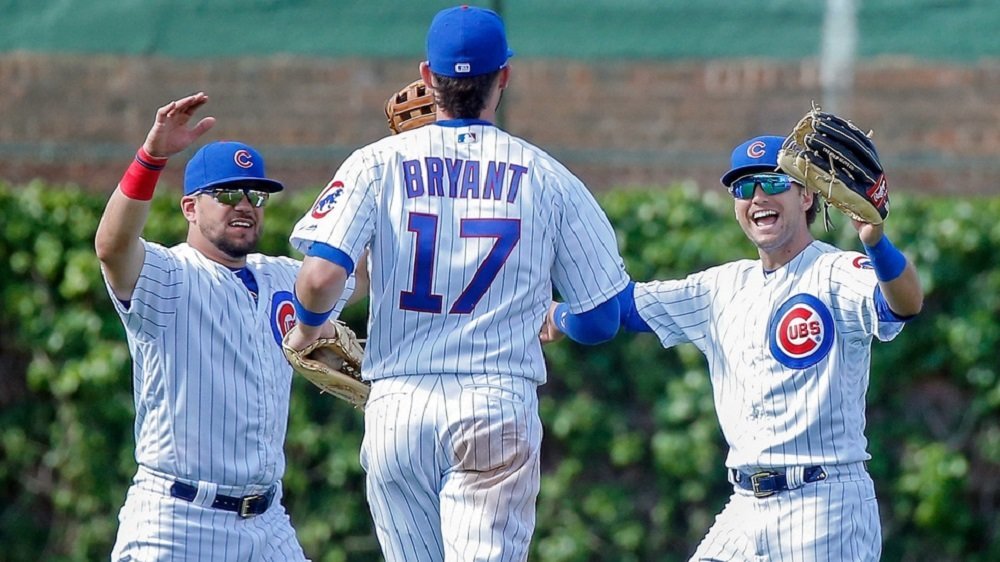 | | |
| --- | --- |
| Six reasons why I miss Cubs baseball | |
---
| | | |
| --- | --- | --- |
| Friday, March 27, 2020, 12:06 PM | | |
As the MLB season was supposed to start yesterday, fans are left with not only wondering what to do now but wondering when baseball will be played again in 2020. If you're like me, opening day is sort of celebration as it marks the beginning of a marathon of a baseball season and the beginning of so many storylines that make this the greatest game on the planet. From the warm weather during the summers to the fantastic food and smells of a ballpark, baseball will always be the go-to game for fans across the country as it is the perfect family sport.
As we can forget about a traditional opening day this year, I have come to realize that I can live without hockey, basketball, soccer, and football. However, the harsh reality is that I miss watching the Cubbies play baseball. Whether it be for 81 games, 45 games, or 162, anything is better than nothing. I have put together a small list as to why I will miss Cubs baseball this season.
1. It is the Cubs: Whether you the Cubs as the Lovable Losers, the choke artists, know them from the Steve Bartman days or the team that won it all after 108 years, the Cubs are one of baseball most iconic franchises.
Whether at home or away, the Cubs will always draw big crowds because of how popular they have been over the Years. Yes, WGN played a significant role in that, but so has history. People like to follow a team chasing history, and for the longest time, that team was the Cubs as they tried to win the World Series for the first time since 1908. Once they did, five million people showed up to the party, proving once more how close the fans are to this team.
2. The fan base: Going back off the end of question 1, and no fan base is as loyal as the Cubs fans. Whether the team is in last place losing 100 games or in first place fighting for a playoff spot, it always seems like the stadium is at capacity or near capacity as the fans continue to pile in. When 40,000 plus shows up each day, it is a big party that everyone wants to be a part of.
3. Wrigley Field: Make no mistake about it, Wrigley is one of the three most notable professional sports venues and is now considered a historical landmark. While teams continue to build all these new technological sound stadiums in large metropolitan areas, Wrigley remains special in two ways that not many organizations can duplicate.
For one, Wrigley Field is not in a metropolitan area, and it is not even in a city for that matter. Instead, it is nestled right in the heart of Wrigleyville, which is a neighborhood outside of downtown Chicago. Walking around on game day, it gives you a college-like atmosphere feel to it as that is what it closely resembles.
Secondly, Wrigley Field is how baseball should be played. Look, I get it, as times change so does technology and teams do their best to keep up with that. However, does a team need to be so futuristic that they are having video boards all over the place and have their stadium looking more like a space station than a baseball field. That is why I love Wrigley. Yes, they have added upgrades such as new video boards, new clubhouses, and bleachers in left field, but the rest has stayed the same.
The old school look, feel, and mystique of Wrigley is still there and always will be. Not only do you still get the green Ivy-covered walls during the summer, but the original hand-operated scoreboard in center is still in use, making it the only hand-operated scoreboard in Wrigley. That alone is magical as you get to watch the wind change on an inning basis. Watching a game in what feels like someone's backyard is so special.
4. The Food: Whether you enjoy eating foot-long Chicago Dogs, sinking your teeth into a large Giordano's piece of pizza, or any of the other selections at Wrigley, the food is terrific. While pricy in some instances, baseball food is the best there is because every stadium has a unique specialty that they are known for. That has always been my goal, and when I have the money to do, so I plan to travel to every stadium in baseball to enjoy their specialty food.
5. Baseball represents summer: Whether you live in Chicago or the surrounding areas around Chicago winter is never pleasant over the five months it hangs around. That is what makes baseball so enjoyable. Yes, it may start cold and finish cold depending on how long your season goes, but baseball represents summer, which is most everyone's favorite time of the year.
Whether people go to baseball games to watch the game, enjoy the beautiful weather, or take in the surroundings makes no difference. What matters is that it generally brings families closer together. There is no coincidence that it is called the national pastime for a reason.
6. Cubs baseball gives people hope: The last reason I will miss Cubs baseball, among other things, is that Cubs baseball offers people hope. Sticking by a team that hadn't won a World Series in 108 years is hard enough, but to Cubs fans, they never gave up. They always came in with the mindset that this was their year, and even when it wasn't, they never turned their back on the franchise.
When the time finally came for the Cubs to be crowned World Series Champions once again, it made the impossible possible and made doubters believers. People who gave up hope that they would witness such a thing realized that anything is possible. With what our country is going through during this COVID 19 time, this is the mindset people need to take. They need to believe that things will get better, and we hope it does sooner rather than later.
I can tell you this. Once baseball does come back, it will be the beginning of something more. It will not just be the beginning of a new season, but it will mark the end of a dark time where time stood still.