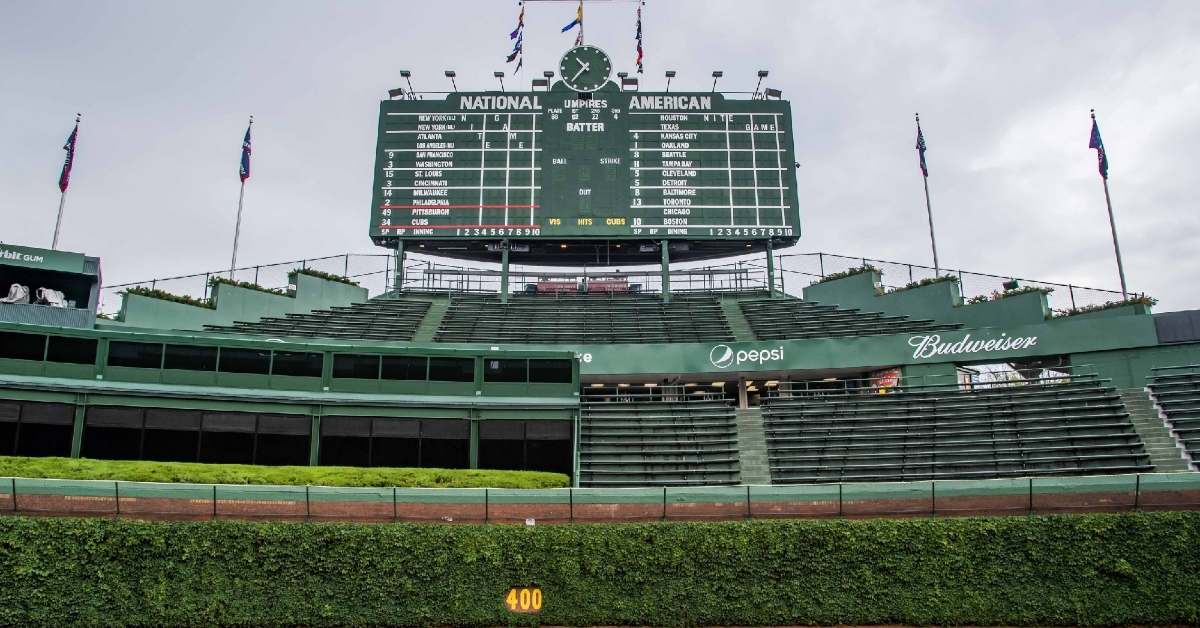 | | |
| --- | --- |
| This Week in Chicago Cubs History: Fergie Jenkins' shutout, Harry Caray, Sosa, more | |
---
| | | |
| --- | --- | --- |
| Friday, May 15, 2020, 5:08 PM | | |
As we almost close out another work week, we have something to look forward to in the sports world this weekend. Unless you have watched the KBO as I have over the past two weeks, the first American sport returns to action this Sunday as Nascar is set to resume racing at Darlington. Once that happens, the pieces will start to fall in place as baseball appears to be the next one, along with golf, to return to action soon.
Until we get to that point, we will continue to enjoy many great moments from Cubs history, especially in May, where it happened to be one of the craziest months in franchise history. From Glennallen Hill launching one on the roof to Kerry Wood's 20 K game, the May memories are something most Cubs fans will hold onto the rest of their lives. Here are some of the events that took place this week.
May 11 : There wasn't much going in terms of excitement this day, but May 11 did mark a historic day in MLB history. It was back in 2000 when the Cubs and the Brewers faced off as their new annual rivalry was starting to pick up more steam. Known for several high scoring affairs, this one was no different as the Cubs bats outslugged the Brewers 14-8 in front of the Wrigley faithful.
That isn't what stood out on this day, however, as the two teams set a record in the process. No, it wasn't a home run record. No, it wasn't a strikeout record, but instead a record, some of us don't follow. This matchup took 4 hours and 22 minutes to finish and lasted just nine innings. That is the longest nine-inning game in terms of total time, which says something when you look at some baseball games in terms of length.
May 12 : Moving to May 12, and we shift our focus to the olden days as we travel back in time to 1969. Fergie Jenkins was worth the remembrance on this day as Cubs fans often view him as the greatest pitcher in franchise history. In a matchup against the Cubs at Wrigley Field, Jenkins twirled a five-hit shutout for the win and was part of a strong pitching run for the Cubs.
Over a five-game stretch from May 11-16, Cubs pitchers allowed a total of just two runs and recorded four complete-game shutouts in the process as Jenkins was part of that group. Ken Holtzman recorded two of those four shutouts, and Dick Selma recorded the other one to join Jenkins in an impressive feat that we haven't seen since.
May 13 : If you like offense, then May 13 was your day as the Cubs had a pair of strong offensive showings on this day. From Steve Trachsel's one-hit shutout of the Astros in 1996 to the two grand slam day by the Brewers in 2002, the offense was not an issue on this day. However, it was a generational moment in 1991 that goes down as the key event on May 13.
Despite losing to the Braves 5-3 that afternoon, it became a three-generation family affair in the broadcast booth as Harry, Skip and Chip Caray all broadcasted the game together. The beloved family of announcers have been a part of baseball for over half of the century, and two of them called countless Chicago Cubs moments that will never be forgotten.
May 14 : The Cubs opened the decades of the 2000s with some nice players and a competitive team that was able to play with most teams they faced. While the results didn't lead to wins, it was during this time when the Cubs began to establish their eventual core that helped mold their 2003 NLCS appearance.
One of my favorite players on the Cubs roster in 2000 was that of second baseman Eric Young as he brought a rare element of speed to the top of the Cubs order. In a wild game north of the border against the Expos, Young ran wild on Montreal stealing five bases to become the first Cub post-1900 to accomplish that feat. Chicago went on to win 16-15 in what became one of the highest-scoring games in Olympic stadium history.
May 15 : Speaking of the Brewers once again, the teams loved to play each other in Early May as this was another afternoon that saw these two teams matchup. We have seen plenty of great strikeout performances in the past, including Kerry Wood's 20 K game against the Astros, but on this afternoon, the Cubs set a record that was more of a futility thing for the Brewers.
The year was 2003, and the Cubs had a staff of Wood, Mark Prior, Carlos Zambrano, and Matt Clement, so strikeouts were piling up. The Brewers found out firsthand how many strikeouts these pitchers rack up as the Cubs went on to set an NL record with 24 strikeouts as a team that afternoon as the Brewer bats struggled to make contact.
The game, however, went to extra innings as fans in attendance at Miller Park were greeted to nearly two full games on the afternoon. It wasn't until the 17th inning when Corey Patterson blasted a two-run shot that proved to be the game-winner in the 4-2 Cubs win.
May 16 : May 16 was a rather quiet day, but it still brought fans some excitement. We saw Rick Monday hit three homers against the Phillies in 1972. Sammy Sosa became the first Cub to ever hit two homers in an inning in 1996. However, it was on that same day Sosa hit those two homers where we saw an impressive MLB Debut.
22-year-old Amaury Telamaco made his MLB debut against a tough Astros squad as he looked to impress. Boy, did he impress as Telamaco allowed just one hit in seven impressive innings for the Cubs that afternoon. Backed by those two Sosa homers, the Cubs rewarded the Telamaco performance by crushing Houston 13-1.
May 17 : We finally reach the day I've been waiting for as most diehard Cubs fans remember this date in 1979. In a game where the wind was howling out of Wrigley, the Philadelphia Phillies came to town as it looked like July 4 at the plate.
With Dave Kingman belting three long balls to go with six RBI's, to Bill Buckner's seven driven in the Cubs offense was on full go as the Phillies pitching couldn't stop the Cubs. Unfortunately for Chicago, their pitching wasn't any better as Mike Schmidt belted two homers of his own, including a game-winner in the 10th off Bruce Sutter to give the Phillies the 23-22 win in one of the highest-scoring games in MLB history.