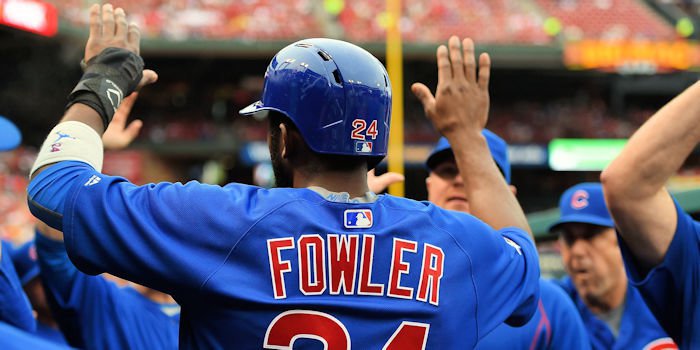 | | |
| --- | --- |
| Top 3 Cubs center fielders of all-time | |
---
| | | |
| --- | --- | --- |
| Tuesday, November 26, 2019, 7:28 PM | | |
The Cubs are one of the World's most storied franchises and have had their fair share of all-time greats over the years.
An offseason of reckoning is underway, and change occurring from coaching staff to the minor leagues to the roster at the major league level.
We here at CubsHQ decided to chronicle each position's three top players in Cubs history. This is all just for fun, as you probably have your own opinion on the best Cubs players at each position.
Here are the best of the best in center field.
Disclaimer, this is one of the weaker positions in Cubs history — but we believe these three players deserve some accolade.
Adding to our tradition of putting the players who were on the field for the final out of the 2016 World Series in our lists, Dexter Fowler is included in our top three centerfielders.
Fowler played reasonably good defense and ran the bases well - but will forever be remembered for the 'you go - we go' energy he brought to the Cubs — something they have truly missed without him.
Fowler has bounced around teams, but his best years were in Chicago. He was named an all-star in 2016 and had near career highs in every category.
Nobody will ever forget the leadoff home run Dexter launched in game seven - and - we'll never forget him on our list of best Cubs centerfielders.
RICK MONDAY
Although Monday did not play his entire career on the Northside of Chicago, his contributions to the game of baseball and for America when they needed it was too large to omit Monday from our list.
Monday had a reasonably successful career for a variety of teams, including the Cubs for five of his 19-year career. His best five years came in Cubbie blue, hitting 106 of his 241 career dingers, driving in almost 300 runs, and hitting for a .270 average.
However, Monday is most well known for an action that he committed on a baseball field — that wasn't necessarily baseball-related. A few fans took an American flag out to the field and began pouring gasoline on it to burn it. But before they could, Monday swooped in and rescued the flag — and won over America.
HACK WILSON
Wilson takes the cake in our countdown of top centerfielders in Cubs history. Hardly anyone reading this will have remembered Wilson's play, but he was an absolute force for the Cubs in the 1920s and 1930s.
He hit 190 of his 244 career home runs and drove in 769 of his 1063 career RBIs while playing for the Cubs. He finished his career with a .307 batting average and was a sound center fielder throughout his career.
Hack had a career war of 38.9 in the early ages of baseball and was recognized by the MLB by being named to the Hall of Fame in 1979, over 30 years after his way too early death in 1949.
He is also recognized here, in our best centerfielders in Cubs history countdown.
Honorable mention: Bobby Dernier