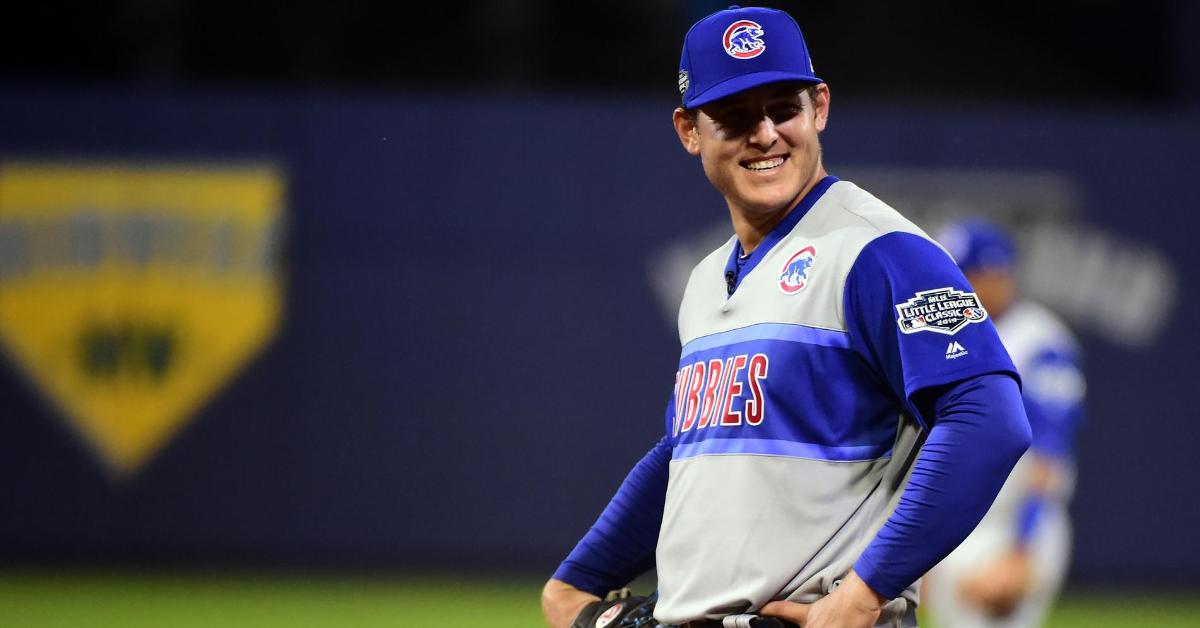 | | |
| --- | --- |
| Top 3 Cubs first basemen of all-time | |
---
| | | |
| --- | --- | --- |
| Sunday, November 17, 2019, 12:30 PM | | |
The Cubs are one of the World's most storied franchises and have had their fair share of all-time greats over the years.
An offseason of reckoning is underway, and change occurring from coaching staff to the minor leagues to the roster at the major league level.
We here at CubsHQ decided to chronicle each position's three top players in Cubs history. This is all just for fun as you probably have your own opinion on the best Cubs players at each position.
Starting us off is first base.
Rizzo is an all-time great right in front of our eyes. He cemented his place in Cubs lore forever by securing the final out of the 2016 World Series in his glove and placing it in his back pocket.
The Italian epitomizes what it means to be a Cubs fan — he dealt with the heartbreakingly bad seasons — and got to cherish the true triumph of winning the World Series.
Rizzo is a philanthropist and humanitarian in terms of cancer research, mainly because he is a survivor himself.
But if we are calling Rizzo the best first baseman ever, we've got to justify that with his play on the field.
In just nine seasons, Rizzo already has hit 218 home runs and driven in 729 runs. Rizzo is a surefire bet from year to year to hit 25-30 hr and drive in around 100 runs.
Rizzo brings an old school approach to the plate that has put his batting average at .273 in his career, with a .373 on-base percentage due to his great eye and his 145 hit by pitches all time.
Rizzo has some accolades to go with that sparkly ring, including three gold gloves, a silver slugger award, a platinum glove, and three trips to the all-star game.
Rizzo has set himself up well to get a flag on a foul pole and a statue out front — and earning himself the number one spot on our first baseman list.
MARK GRACE
Grace was one of the 90s bests hitters, and never truly got the recognition he deserved. When you ultimately look at the statistics, Grace was the player with the most hits in the decade of the 1990s.
Grace ended his career with a 46.4 war, 2,445 hits and a .303 batting average. In his 13 year playing career in Chicago, Grace made three all-star teams and won four gold gloves.
The left-handed Grace often gets forgotten in Cubs history, but I would encourage you to remember this number 17 (there may be another one on our list).
Cap Anson
Odds are you may not have watch Anson play, mainly since his 27-year playing career saw the beginning of the Chicago Cubs and ended in 1897.
Anson did not showcase a ton of power, but his contact skills were ahead of his time. He had 3,435 hits and finished with a career batting average of .334. Not to mention, Anson won four batting titles in his career as a Chicago Cub.
Although his playing career ended before the Cubs won their three World Series in the early 1900s (yes, the ones that were 108 years apart from the next one), his contribution to the franchise should not go overlooked.
There are other great candidates to be included on the Top Cubs first basemen list. What's yours?