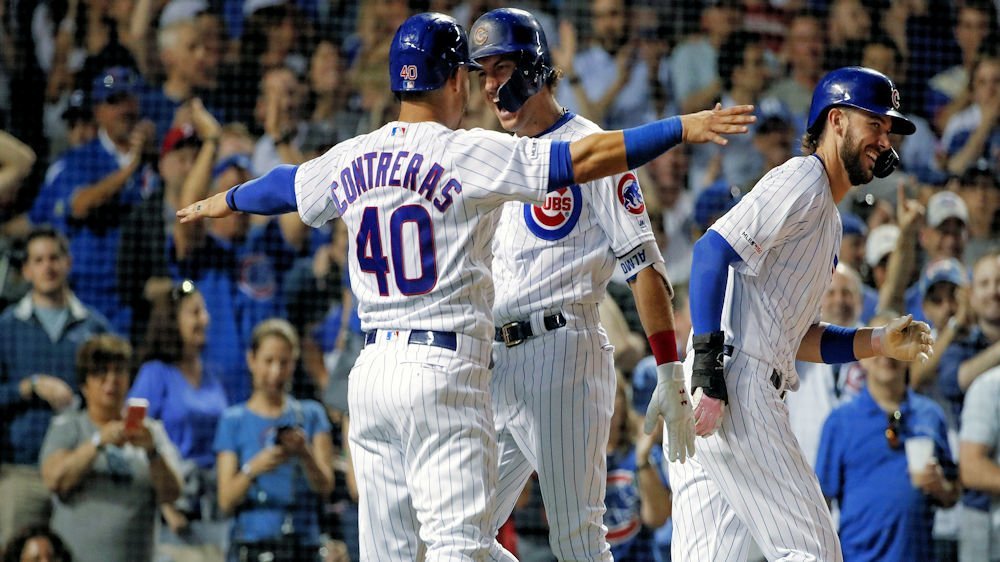 | | |
| --- | --- |
| What does the Full-strength Cubs look like? | |
---
| | | |
| --- | --- | --- |
| Tuesday, August 27, 2019, 11:19 AM | | |
With September 1st rapidly approaching and the Cubs players slowly trickling back on to the active roster off of the injured list, let's take a look at what a full-strength 25 man roster will be for the Cubs.
Tony Kemp
Nicholas Castellanos
Jonathon Lucroy
Craig Kimbrel
David Phelps
This roster has 26 players instead of the usual 25. The reason being is if Willson Contreras returns the Cubs will have to decide between carrying a third catcher or a 13th member of the bullpen.
If they choose a 13th member of the bullpen, David Phelps is the most likely candidate to fill that role while either Victor Caratini or Jonathan Lucroy gets released or sent to Iowa.
The Cubs pitching staff was quite easy to assemble. The rotation has mostly been the same all year long, and the bullpen has defined roles for Strop, Kintzler, Cishek and Wick in high leverage roles, Ryan as the lefty of the bullpen and Kimbrel as the closer. Then the Cubs would most likely value Tyler Chatwood's versatility and David Phelp's experience over that of a younger Duane Underwood or a less consistent Derek Holland.
Offensively, Ben Zobrist will undoubtedly take a role on the roster upon his return, and same goes for all-star catcher Willson Contreras.
It seems like the Cubs have value for the contact prowess and defensive versatility of Tony Kemp for the time being over underachieving hitters in David Bote and Daniel Descalso. It also seems like Addison Russell is needed as a back-up shortstop more than Albert Almora as a defensive replacement on the roster as well.
This roster seems to be the best-case scenario full-strength roster for the Cubs, but a lot can change before the Cubs need to make a decision come post-season time.
They will undoubtedly be able to weigh their options when they bring up reinforcements on September 1st in Zobrist, Almora, Bote, Descalso and potentially Robel Garcia or Mark Zagunis.
The Cubs could also carry three catchers and choose to bring up an assortment of pitching options in Dillon Maples, Alec Mills, Albert Alzolay, Duane Underwood or Randy Rosario to name a few.
Once fully healthy, the Cubs seem to have the depth they've searched for all year long. It will ultimately fall on Theo Epstein's shoulders to piece together the best roster possible for Joe Maddon to mix and match to earn his team the most wins and continue to play baseball as the leaves change colors.

Tags: Chicago Sports Baseball
,
Anthony Rizzo
,
,
Ben Zobrist
,
Addison Russell
,
,
,
Kyle Schwarber
,
Jason Heyward
,
Willson Contreras
,
Victor Caratini
,
,
Cole Hamels
,
Kyle Hendricks
,
Yu Darvish
,
Jose Quintana
,
Pedro Strop
,
Tyler Chatwood
,
Steve Cishek
,
Brandon Kintzler
,
Rowan Wick
,
Kyle Ryan
,
Duane Underwood
,
David Bote
,
Daniel Descalso
,
Robel Garcia
,
Mark Zagunis
,
Dillon Maples
,
,
Randy Rosario
,
Joe Maddon
,
Theo Epstein