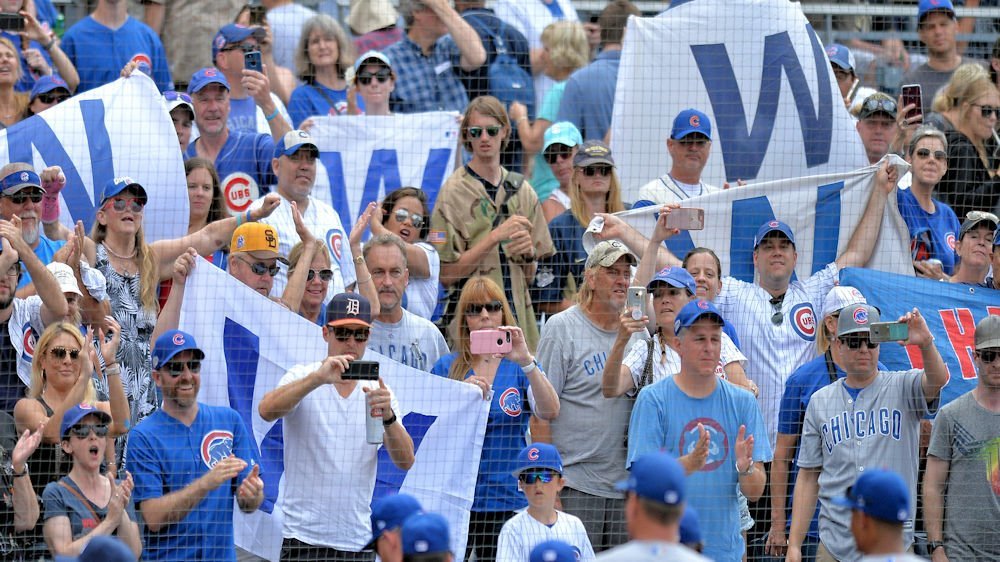 | | |
| --- | --- |
| What to expect from Cubs in Dominican Summer League | |
---
| | | |
| --- | --- | --- |
| Tuesday, February 4, 2020, 5:20 PM | | |
Much like the Arizona Rookie League, the Dominican Republic has its own rookie league called the Dominican Summer League. The difference between the two is marginal at best, but the Dominican League tends to be the first stop in the Cubs minor league system, especially for those who startout from the Dominican Republic.
Also, the Cubs have two teams in this league with DSL 1 and DSL 2 playing in separate divisions allowing the Cubs to have plenty of talent on display. Much like in our previous story, the Dominican Rookie League is in danger of being canceled out completely following this season. That will leave the likes of a lot of young and promising foreign-born players in limbo when it comes to deciding their baseball futures. Until that entirely comes into picture, this is what I will be looking for from the DSL Cubs this season.
DSL 1:
The DSL 1 team was competitive throughout but finished with the worst of the two records at 34-37. Even with that record, it still didn't take away from the fact that the Cubs are loaded with some young and promising foreign talent that they hope will make their way through the system.
17-year-old outfielder Yohendrick Pinango is undoubtedly a name to watch this season, especially when you consider how young he still is. During his first season of pro ball, Pinango played in 62 of the teams 71 games, he batted an incredible 358 and drove in 36 runners. Despite not hitting a homer, Pinango raised eyebrows with his high average, speed, and plate discipline, especially for someone at such a young age. His 27 walks and 20 strikeouts are certainly promising, along with 27 steals in 34 attempts. This is all something the Cubs lack in their system even though he may never duplicate that again.
Looking to improve on a great season of his own will be 2B Juan Mora, who batted a 271 in 63 games. Another patient hitter at the plate, 34 BB and 34K., Mora cracked six homers to go with 26 RBI's and stole 19 bases. Paired with Pinango, the duo could wreak havoc on the bases for a long time. Add in 23 more steals from Rafael Morel, and DSL 1 has more speed than nearly any team in the system.
Pitching is where DSL 1 certainly struggled, but then again, most teams do this early in the development process, so nothing to get upset about yet. Andy Hernandez is one of the few who doesn't seem to struggle despite a 2-7 record last year and position a 4.13 ERA. That was after a year in which he went 3-0 with a 2.80 ERA, so he has shown signs of success in the past. The only thing holding him back at this point is consistent control.
At just 19, Alberto Sojo may have as much upside as anyone on the DSL 1 staff. No one knew what to expect from him last year in his first season of pro ball, and he went out to make 13 starts while posting a 3.12 ERA. Yes, his record may have been 0-3, but the 10BB to 45K ratio is why he has so much upside. That is flat out incredible command at such a young age. These are just a few of the names that will make DSL 1 tick in 2020.
DSL 2:
DSL 2 had a much better season last year, going 40-31 and battling for a postseason berth until the final week of the season. Duplicating that same kind of success may be a bit harder as some of their components may be moving on through the system. As of now, those moves are not certain, but should the roster remain what it is now, this is what I look for in 2020.
Right away, when talking about offense, you move to the outfield and look at Felix Stevens. Another first time pro in 2019, Stevens hit a solid .280, but his six homers and 31 RBI's both tops on the team were promising. That shouldn't come as a surprise given his 6'4 235-pound frame as he has a similar build and approach to that of Jorge Soler. The rest of the outfield remains a mystery apart from Samuel Duarte, who clubbed five bombs last year.
The infield is where DSL 2 remains strong, and 3B Orlando Zapata highlights that. Through two seasons of pro ball, Zapata has yet to hit a home run but has driven 36. His 34BB to 40K proves he is a contact hitter who saw his average move from .213 in 2018 to .298 last year. Let's hope for more of the same. Another high RBI man was fellow 3B Ronny Simon, who finished second on the team with 28 knocked in. One of these two will be the starting 3B, but the other will see significant time elsewhere on the diamond.
The Cubs are focused on Miguel Amaya as their future star behind the plate, but let's not push Malcom Quintero to the side in the process. I get it, people tend to look at Rookie Ball and think it is a joke, but the reality is this is very important to the growth of players. Quintero fits that profile perfectly, bringing his average from 243 in 18 to 320 last year, while nearly doubling his RBI total in the process. Once he starts filling out his frame a bit, there is no telling what he may be able to do.
Of all the pitchers in the DSL system, Alejandro Carillo made the most headlines last season despite making just two starts. He did, however, pitch 15 games out of relief and accumulated a perfect 7-0 mark with a 2.28 ERA. 12BB to 35K, and you can see why he stole some headlines last year. Another strong arm was Luis Devers, who led the team with 14 starts. His 4-4 record is nothing to write home about, but a solid 2.66 ERA and ridiculous 14BB to 61K ratio is outstanding for anyone, especially a 19-year-old still learning his craft. He will be on the move up at some point in 2020.
A bit older (24), Marcos Encarnacion established himself as a dominating reliever in 2019. Through 17 games, Encarnacion tallied 31 innings and posted a 5-0 mark with a 0.89 ERA. That includes 12 straight scoreless appearances during the season. What made him so dominating was his command as he walked just two hitters during the season while punching out 40. Let that sink in and think about what could happen if that stays the course long term.
Projection:
The hardest league to follow is the Dominican Summer League, so giving a season record projection is not easy. Given the early start time, generally, 9 or 10 AM central time, and no media outlets to watch the game, it is challenging to follow these players. I have been fortunate enough over the past year now to watch a lot of these players come up through the system. At this level is where the teaching begins, and the game is played right.
I love watching teams utilize their strengths instead of falling into bad habits. Don't get me wrong, MLB is great, but sometimes watching the Rookie program and Minor Leagues brings more enjoyment because not only do they play the game right, but do the little things which is fun to watch.