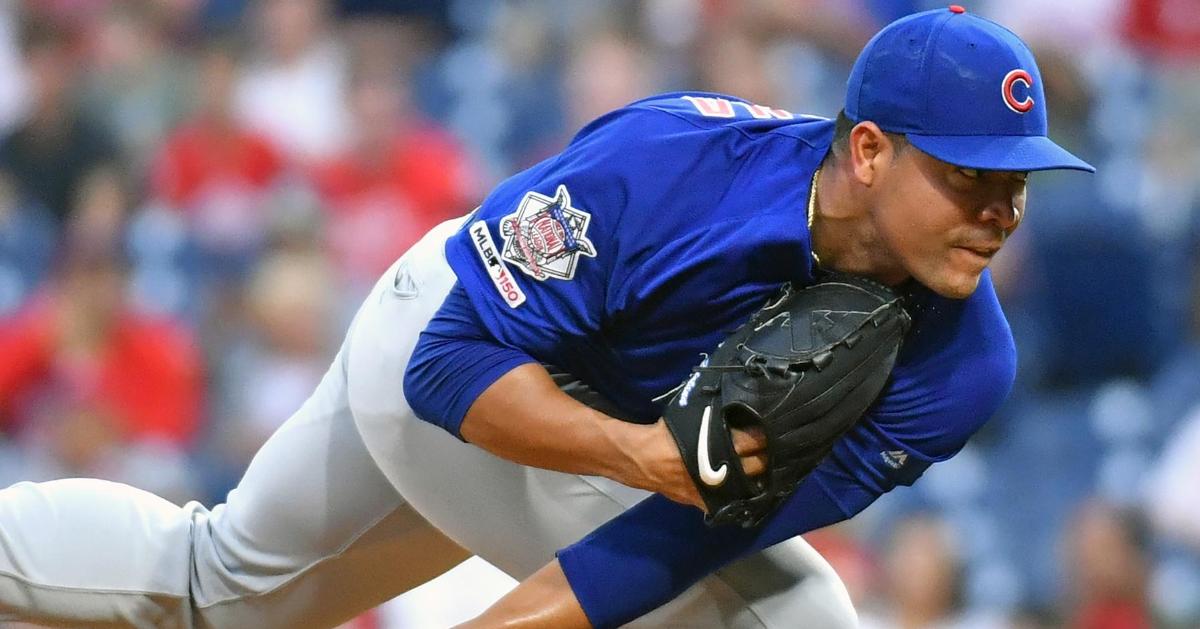 | | |
| --- | --- |
| What to make of the unexpected Jose Quintana situation? | |
---
| | | |
| --- | --- | --- |
| Tuesday, July 7, 2020, 8:12 AM | | |
As teams have now assembled to start what they are calling Summer Camp (Spring Training 2.0), we are beginning to see more players opt out of the season as more COVID 19 cases are surrounding the league. Fortunately for the Cubs, the cases they have had are over and knock on wood that we don't see any more return, so they have been able to conduct business as usual for the most part.
One player that is not part of the mix right now and may not be for a while is left-handed starter Jose Quintana as he recently underwent surgery to repair nerve damage suffered from a cut while washing dishes at home. As hard as it is to believe, those freak injuries tend to be the worst as you never know how serious they are.
With Quintana now shut down for a minimum two weeks before he can begin throwing again, the Cubs are forced with a difficult choice of deciding what to do with him both in the short term and long-term scenarios.
I have put together a list of some options as to how the Cubs could handle the current situation regarding Quintana.
1. Wait the two weeks and see if he is ready to throw: Before this injury, Quintana was penciled in to be the teams No. 4 starter and should have no trouble solidifying that spot if healthy. Performance-wise, Quintana has not lived up to what the Cubs gave up for him, but at a reasonable 11 million dollars this season, he was a no brainer to retain for the 2020 season.
Not only is he an innings eater who has reasonable control, but he very seldom finishes with a below .500 record, meaning he will keep you in most games. Not to mention he is a reasonable lefty, and you can see why the Cubs are hoping he returns from this injury quickly and gets back to throwing.
2. Insert Alec Mills: Coming into Spring Training, Mills was set to battle Tyler Chatwood for the fifth and final spot in the rotation. If you look at the numbers he put up this spring, Mills would have been named the teams No. 5 starter in any other season, but Chatwood matched him and even performed slightly better as he appeared to have the inside track at the final spot moving Mills to a bullpen or swingman role.
There was a good chance that with this short condensed season and having 60 games in 66 days that the Cubs may use a six-man rotation this season, but now with the Quintana injury it gives Mills the inside track to not only step in but run with the job as a possible replacement long term.
Quintana was set to become a free agent following this season, meaning the Cubs would have not one, but two openings in the rotation to fill next year. Mills could be one of those guys and could have the opportunity to audition this season. Similar to Kyle Hendricks in terms of velocity, Mills is not going to overpower you on the mound. Instead, he uses a variety of off-speed and breaking pitches to offset a hitter's timing, and that has given him some success as a starter.
In two seasons with the Cubs, Mills has started a total of six games and has posted a respectable 3.67 ERA in those outings. That is a small sample size, but it is a positive thing to look at should he get a chance this season.
3. Six-man rotation: If Quintana is indeed unable to pitch until August or later, depending on how he bounces back, the Cubs will be one bullpen arm short as Mills will take his spot. However, another option the Cubs could elect to do to save some of their bullpen options is to go with a temporary six-man rotation until Quintana is deemed ready to go.
If that is the case, the Cubs have two logical options lingering in camp in offseason acquisition Jharel Cotton and last seasons PCL pitcher of the year Colin Rea. Just like Mills and Chatwood, Rea was in the mix to battle for the final starting spot in the rotation this spring, but a pair of rough outings ended that. Still, the Cubs are giving him a chance to make the team out of camp and are hoping the season he had last year is something they can use.
Cotton, on the other hand, hasn't pitched in the bigs for a couple of seasons now and saw the brunt of his success in the Athletics organization. He was signed as a depth option this offseason, which may end up paying off sooner than the Cubs expected.
4. Call up a prospect and see what the future holds: We all know the Cubs pitching help in the system is not where they want it to be, and that needs to change fast. However, the Cubs do have some arms starting to assert themselves, and when you have a shortened season like this, why not give some of them a look to fill in for Quintana.
The primary prospect option would be Adbert Alzolay, who will open the season in minor league camp. The former top pitching prospect in the Cubs system had taken a significant dip recently as injuries have not helped his cause. Still, Alzolay has made four big league appearances two which were starts as he is the only prospect to see MLB time thus far as a starter.
Some other options would be, Tyson Miller who is starting to establish himself as the back of the rotation arm, Cory Abbott who is coming off one of the best seasons in the Cubs farm system history as a starter and of course the team's top pitching prospect Brailyn Marquez who is just 21 right now. While Abbott and Miller would be the most likely to see big league time first, keep an eye on Marquez this season.
Not only is he young, strong, and big, but he is armed with a triple-digit heater, which gives him a leg up on other prospects. When you have big-time velocity like that, it makes it next to impossible for a team to pass on you regardless of how young you are. I still think his long-term outlook may be as a Josh Hader style reliever, but now would be an excellent time to see what he has. Mexican League rookie Juan Gamez is another name to watch this season.
5. Trade Quintana and get something back: The less likely of the five options could be a possibility now considering how Quintana is a free agent following this season. Know that, and the fact that Chicago still wants to get under the Luxury Tax now would be as good of a time as ever to trade Quintana. Not only would that move put you under the Tax allowing the team to spend more next season, but it would give the Cubs something back in return instead of losing him via Free Agency for nothing.
The type of prospects the Cubs gave up for Quintana will certainly not be coming their way if they trade him, but at least one mid-tier level prospect will be warranted in this deal. The Cubs could also push for MLB pitching depth with a deal and may land a starter that they could plug in Quintana's place to finish the season.
If I were to guess in terms of what pitchers would be sent back if the Cubs were to inquire players on a Quintana deal, it might be pitchers who are nearing the end of their current deals or careers, much like Cole Hamels coming to Chicago in 2018.
All these are certainly possibilities that need to be weighed in the upcoming weeks, but unlike most teams, the Cubs appear to be better positioned to make adjustments to their rotation that could benefit them both in the long and short-term.

Tags: Chicago Sports Baseball
,
Jose Quintana
,
Alec Mills
,
Tyler Chatwood
,
Kyle Hendricks
,
Jharel Cotton
,
Colin Rea
,
Adbert Alzolay
,
Tyson Miller
,
Cory Abbott
,
Brailyn Marquez
,
Cole Hamels