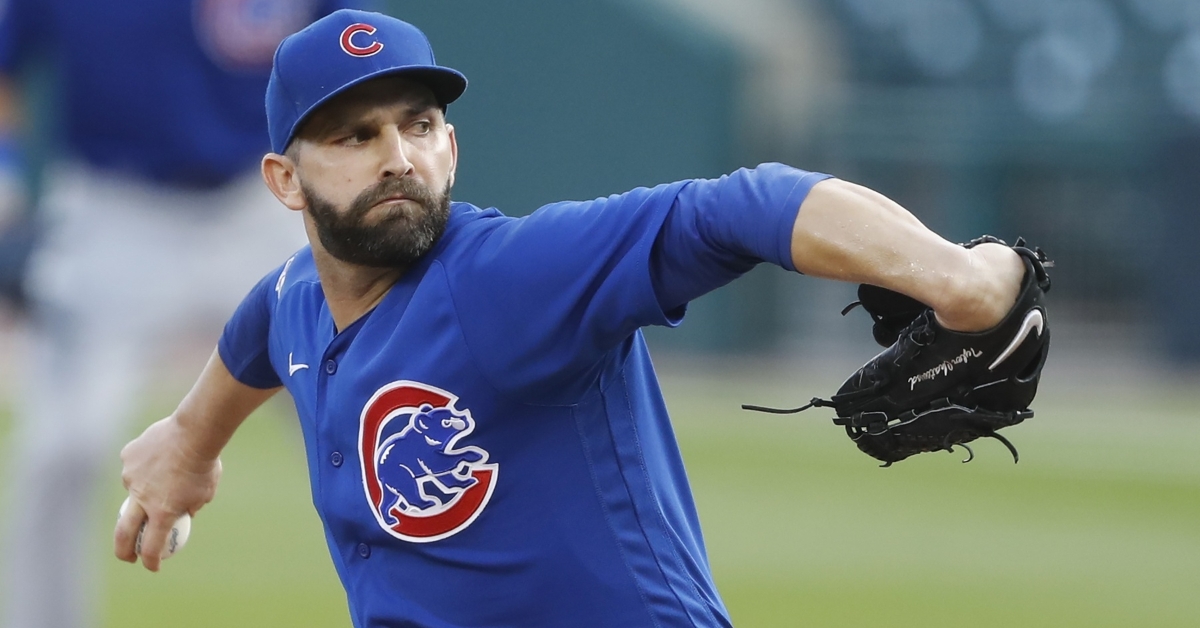 | | |
| --- | --- |
| Who stays, who goes with Cubs free agents? | |
---
| | | |
| --- | --- | --- |
| Thursday, October 29, 2020, 5:46 PM | | |
This week is the beginning of the 2020 offseason which means that the free-agent period is underway unofficially. While the Cubs only have eight players as impending free agents, they have several players with team or player options, making this off-season an intriguing one.
While I would love for many of these players to return, I expect most of them to be let go or at least test the Free Agent market this winter. First, we will look at the Cubs eight free agents and see who I think will stay and who I see moving on this winter. Then we will switch to the options players.
Free Agents: P Andrew Chafin, P Jose Quintana, P Tyler Chatwood, P Jeremy Jeffress, C Josh Phegley, CF Billy Hamilton, 2B Jason Kipnis, and OF Cameron Maybin. When you look at this list, it is clear cut which should be moving on this season. Chafin, Chatwood, and Phegley most likely played their final game in Chicago, so seeing them move on wouldn't be a surprise.
Quintana from a performance-based aspect should also be gone, but given the Cubs' need to start pitching this season, he may be available for a cheaper deal than expected. The two players who I feel are the top priorities of the group are Kipnis and Jeffress. He was signed as a free agent this past winter starting with Jeffress and emerged as the Cubs most trusted arm in the pen all season.
Bringing back Jeremy Jeffress is a no-brainer. #Cubs @JMontana41 pic.twitter.com/zQd0iVYfev

— Cubs Zone ™? (@CubsZone) October 28, 2020
Not only did he provide reliable relief out of the setup role, but was phenomenal in save situations when he replaced Craig Kimbrel. Granted, most of his outings were not pretty, Jeffress knew how to pitch and was exceptional. He is due to get a nice little payday this offseason, and the Cubs should be first in line. Kipnis is another player I would love to have back.
A minor league free agent deal a season ago, Kipnis earned a spot on this roster out of camp and saw significant playing time. Not only does he play above-average defense, but Kipnis is a veteran who gives you professional at-bats every time. Much like Jeffress, he will be seeking more money this offseason, but his tag shouldn't be out of the Cubs reach.
.@TheJK_Kid in September:

?? 7-for-15
?? 2 2B
?? HR
?? 5 RBI pic.twitter.com/JxPdcgSPYe

— Marquee Sports Network (@WatchMarquee) September 7, 2020
Maybin and Hamilton are the two wild cards to me, and it would be interesting to see them back. Maybin and the Cubs have been linked for years, and to see them finally acquire him made a ton of sense. He is a fourth outfielder at best but is a great bat to have against left-handed pitching. He can also play all three outfield spots.
Last night, @CameronMaybin made his @Cubs debut.

You may know Maybin as a player.

This is who he is as a person. ??? pic.twitter.com/5lFN02OTI4

— Infield Chatter (@InfieldChatter) September 2, 2020
Hamilton is a one-trick pony, but it is a trick the Cubs lack. Hamilton brings pure speed to the table, and the Cubs could use it. He is a base-stealing threat at any moment and will offer you great defense in center field. Hamilton would most likely take a minor league deal at this point in his career, and if that is the case, the Cubs need to pounce.
Without looking it up, we're going to say this is the first time @BillyHamilton has homered and stolen home in the same game. pic.twitter.com/znoBgAngNm

— Chicago Cubs (@Cubs) September 27, 2020
The Cubs also have plenty of others to consider one way or another, and that all starts with Jon Lester. Entering what will be a 25-million-dollar team option, it seems very unlikely that the Cubs bring him back on that sort of deal. However, given what he means to the Cubs, returning on a short-term cheaper deal is certainly in the equation. The Cubs need rotation help, and they could bring him back on a one-year deal to anchor the staff to develop more arms.
Jon Lester with the @Cubs.

?????????????? ????????????????????
171 GS 10
77 W 3
1,002.2 IP 70.0
3.64 ERA 2.44
940 SO 60

7 of his 10 playoff starts were QS. pic.twitter.com/iH05BDnwSD

— Marquee Sports Network (@WatchMarquee) October 19, 2020
Pedro Strop is another curious option. Much like Lester, Strop has an option for 2021 that the team would need to pick up. However, he will be much cheaper, and the bullpen would need more arms. Strop hasn't pitched well the past two seasons, but a lot of that is injury-related at this point. His best years may be behind him, but he was terrific during his tenure with the Cubs. Both sides have a track record, and if healthy, he is worth a shot.
Pedro Strop is coming home and I want to run through a brick wall right now.

(Video via @MemHighlights / YouTube) pic.twitter.com/1YBPM97ATH

— Cubs Live (@Cubs_Live) September 6, 2020
Daniel Descalso has a vesting option for 2021, but there is no way the Cubs don't buy him out. His two-year run with the Cubs was a joke and was almost as bad as the Brandon Morrow signing. Descalso missed all this season with an injury and missed a good chunk of last season too. Despite getting off to a great start in 2019, Descalso fell apart and never found his footing again.
The one player who without question will be back is Anthony Rizzo. He is in the final year of his team option and will cost them around 20 million to keep him. Rizzo is the captain of this team and the heart and soul, so this is a no brainer move. The question I have is what happens to him after next season. He will be going on 32 years following the 2021 season and will be up free agency then. He will be looking for a nice payday and a three- or four-year deal. Would the Cubs be willing to invest that in an aging player with back injuries?
Anthony Rizzo, not focused on the $16.5 million option the Cubs hold on his contract for next season: "I'm not worried about that stuff. Everything will take care of itself the way it's supposed to. I'll just leave it at that."

— Patrick Mooney (@PJ_Mooney) October 3, 2020
Regardless of what is about to happen this offseason, the Cubs will have to replace some familiar faces. It starts with the eight free agents and trickles down to these other four. Once the team sorts through options and who they would like back, fans should get a sense of the direction they are heading.