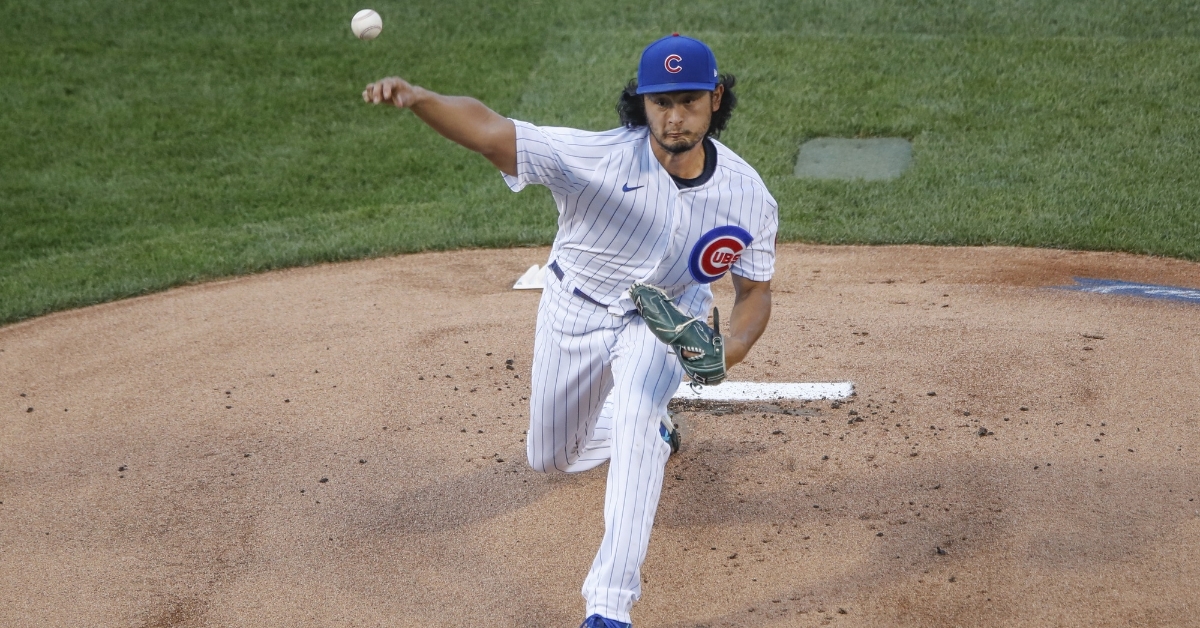 | | |
| --- | --- |
| Yu Darvish takes no-hitter into seventh inning as Cubs down Brewers | |
---
| | | |
| --- | --- | --- |
| Thursday, August 13, 2020, 10:36 PM | | |
CHICAGO — Taking a no-hitter into the seventh inning on Thursday, Chicago Cubs (13-3) ace Yu Darvish vindicated himself from a lackluster outing against the Milwaukee Brewers (7-10) in his first start of the season. Darvish dominated the Brewers in his second return to the mound against the rivals from Wisconsin, giving up just one hit, a solo home run, in a seven-inning gem that saw the right-hander strike out 11 batters.
A couple of critical leadoff hits braced the Cubs at the plate. Filling in for Kris Bryant as the leadoff man, Nico Hoerner slugged a double into the left field corner in the North Siders' first at-bat of the evening and scored soon afterward. The next inning saw Kyle Schwarber swing at the first pitch he faced and drive it into the seats for a solo jack. In the end, the Cubs tabbed a 4-2 victory in the opener of the four-game series at Wrigley Field.
---
Inning-by-Inning Breakdown:
---
T1: Darvish struck out two in the top of the first but also hit Christian Yelich with a pitch. Yelich stole his first base of the season but was left stranded.
Score: Brewers 0, Cubs 0
---
B1: Bryant was scratched from Thursday's lineup due to a minor hand ailment. Hoerner's aforementioned two-bagger was followed by two straight groundouts. The second one, which was hit by Javy Baez, plated Hoerner and provided the Cubs with a lead that they did not relinquish.
Score: Brewers 0, Cubs 1
---
T2: The Brewers mustered only a two-out walk in a scoreless top half of the second.
Score: Brewers 0, Cubs 1
---
B2: With the first pitch of the bottom half of the second, Brewers starter Brett Anderson offered up a sinker over the plate that Schwarber hammered 373 feet to the opposite field. The dinger to left marked Schwarber's third long ball of the season. Schwarber was held out of Wednesday's starting lineup because of a knee contusion but received limited action as a pinch hitter. The Cubs went on to accrue three singles in the inning, but a pair of ground balls, including a double play groundout hit by David Bote, kept them from adding to their lead.
Score: Brewers 0, Cubs 2
---
T3: The Brewers went down in order in the third.
Score: Brewers 0, Cubs 2
---
B3: Anderson beaned Contreras with two outs. Schwarber then struck out swinging.
Score: Brewers 0, Cubs 2
---
T4: Darvish continued to mow through the Milwaukee batting order, putting together a 1-2-3 inning.
Score: Brewers 0, Cubs 2
---
B4: The Cubs did not take advantage of a leadoff walk of Ian Happ.
Score: Brewers 0, Cubs 2
---
T5: Aside from issuing an inconsequential two-out walk, Darvish did not suffer any damage in the fifth.
Score: Brewers 0, Cubs 2
---
B5: After walking Anthony Rizzo with one out, Anderson was replaced on the mound by Corbin Burnes. Burnes forced Baez to ground into a double play.
Score: Brewers 0, Cubs 2
---
T6: Two strikeouts and one flyout made an uneventful half-inning.
Score: Brewers 0, Cubs 2
---
B6: Burnes walked Contreras to kick things off. A few at-bats later, Happ hit a double to the wall in center field that plated Contreras, who ran through a stop sign at third base. Happ reached third on the throw home. Next, Bote tallied a base knock that scored Happ. Two walks led to a bases-loaded situation with two outs, which saw Rizzo strike out swinging.
Score: Brewers 0, Cubs 4
---
T7: With one out, Justin Smoak smoked a cutter 382 feet out to right field to break up the no-hitter. Darvish remained composed and finished off the top of the seventh.
Score: Brewers 1, Cubs 4
---
B7: The Cubs went three up, three down against Burnes in the bottom of the seventh.
Score: Brewers 1, Cubs 4
---
T8: A leadoff single recorded by Orlando Arcia against reliever Casey Sadler was followed by a a 6-3 double play that Brock Holt grounded into.
Score: Brewers 1, Cubs 4
---
B8: Burnes tossed a scoreless eighth.
Score: Brewers 1, Cubs 4
---
T9: Rowan Wick pitched the ninth. Avisail Garcia notched a two-out single and made it all the way around to third because of fielder's indifference. Smoak then scored Garcia with a ground rule double that landed near the right field line before bouncing into the seats. Following a mound visit, Wick finished the Brewers off by forcing Omar Narvaez to fly out. Narvaez responded by breaking his bat in frustration. The win improved the Cubs to 13-3 for the franchise's best start since the 1907 team that won the World Series.
Final Score: Brewers 2, Cubs 4
---
Up Next: The second installment of the four-game set is scheduled for 7:15 p.m. CDT on Friday, Aug. 14. Cubs righty Tyler Chatwood (2-1, 5.40) will square off against Brewers righty Brandon Woodruff (1-1, 2.53). Expect a clear, warm night at the Friendly Confines.

Tags: Chicago Sports Baseball
,
Yu Darvish
,
Kris Bryant
,
,
Kyle Schwarber
,
Javy Baez
,
Brett Anderson
,
David Bote
,
Ian Happ
,
Anthony Rizzo
,
Casey Sadler
,
Rowan Wick
,
Tyler Chatwood
,
Willson Contreras