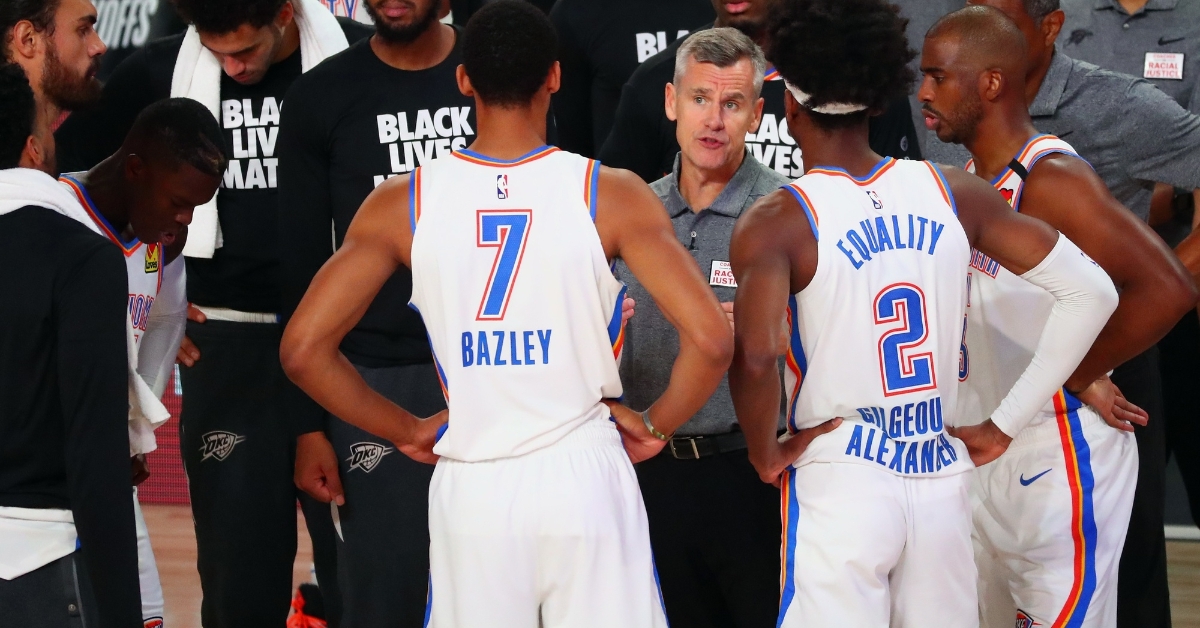 | | |
| --- | --- |
| Chicago Bulls rounding out coaching staff | |
---
| | | |
| --- | --- | --- |
| Tuesday, November 3, 2020, 10:58 AM | | |
While most of the current NBA news is surrounding the upcoming NBA draft and free agency, you also have to look at the owners and discuss with Adam Silver. The 2020-2021 season's goal was for it to start before Christmas and carry over to what they hope is as normal of a season as possible.
It looks like time is running out for them to start on that date, and next season may begin in January, making it just a 2021 season. If that is the case, expect the season to flow similar to the lockout season nearly 10 years ago, where teams will play roughly 56-60 games instead of the standard 82 with hopes of getting back on a normal track by 2021-22.
In Chicago, the Bulls are making headlines of their own, although more local as Billy Donovan is rounding out his new coaching staff in order to focus on the rest of the roster. Like most coaches, Donovan came in with the mindset of starting fresh and wanted to bring his own guys into the mix. That meant calling former Bulls assistants and conversing with them that they wouldn't be needed this season.
However, not all of them were shown the door as Donovan elected to keep Chris Flemming on the staff. Flemming was looked at as someone who may get an interview for the Bulls opening but instead will remain on the bench as an assistant. He is highly trusted and regarded by much of the league, and Donovan loves what he has in him. Flemming was also the assistant that put the team workouts together in Orlando, so the roster trusts him, which is a huge plus.
Another hire for Donovan shouldn't come as a surprise as hometown kid and Hall of Famer Maurice Cheeks is coming aboard. One of three new faces that will be on the Bulls staff this season, this comes as the least surprising hire. Cheeks was one of Donovan's assistants at Oklahoma City the past five seasons, and most expected him to join forces with Donovan again.
The former NBA player and head coach has been around the league for a long time going back to 1983. His first head coaching opportunity came in 2001 with the Portland Trailblazers before being let go in 2005. Shortly after that, he joined the Philadelphia Sixers as their head coach, but once again didn't last long, being let go in 2008.
2013 saw him land another head coaching gig with the Pistons, but once again, it was not a good situation lasting just one season in the Motor City. Since then, Cheeks has spent his days as an assistant, including the last five with Donovan. This hire could be an excellent thing for both Zach Lavine and Coby White as he could be a coach to help push them to the next level.
Outside the apparent hire in Cheeks comes the somewhat surprising hires, and the Donovan made two of them. One of those surprising names was Josh Longstaff, the former Milwaukee Bucks assistant. With Darvin Ham as Mike Budenholzer's lead assistant on the bench, the 38-year old Longstaff often gets lost in the mix. Once again, familiarity makes a difference as Longstaff has spent time in OKC before going to Milwaukee. However, he never worked with Donovan as he went to New York right before Donovan arrived and was surprisingly let go in 2016.
This move makes a ton of sense for Longstaff as it allows him to elevate himself to a lead assistant on the bench. That is the final process before becoming a head coach. While most of his time has been spent as an assistant, Longstaff has some head coaching experience going back to the Erie Bayhawks. His performance was strong enough there to have Budenholzer offer him a deal in Milwaukee.
The final new face joining the coaching staff as of now is former Sixers assistant John Bryant. If you're getting a sense of what is happening, the Bulls are filling out their coaching staff with players they know, and no one knows Bryant better than GM Marc Eversley as the two worked together in Philly. Bryant was behind Ime Udoka on the Sixers bench, but one Brent Brown was let go in favor of Doc Rivers, he elected to try his luck elsewhere and is now on the Bulls bench.
Bryant has spent his entire coaching career in the Sixers organization, starting as an assistant with the Delaware 87ers. He was then promoted to Brown's staff in 2016, where he had been ever since. He doesn't have a ton of experience, but he is a beloved guy who comes from a winning culture in Philly from all accounts.
Bryant is entering a team that is in a similar situation to what Philly was like when Bryant was there. Bryant seems to have similar philosophies to both Donovan and Eversley. Bryant's success as a coach is centered around building relationships with his players, and that is what this Bulls staff wants to do.