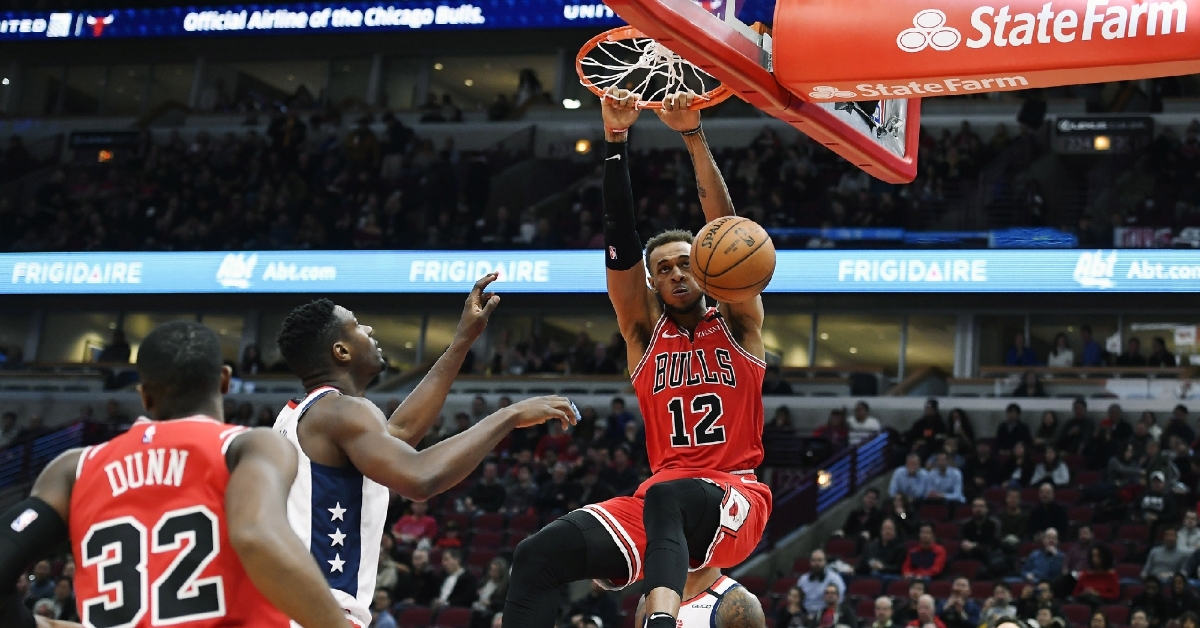 | | |
| --- | --- |
| Season in Review: Daniel Gafford | |
---
| | | |
| --- | --- | --- |
| Friday, May 1, 2020, 9:05 AM | | |
Chicago has done an excellent job finding value in the second round in recent drafts as some of their selections have panned out to have decent NBA careers. Hoping that is the case once again, the Bulls used their second-round pick and NO. 38 overall selection in last years draft to select Arkansas University big man Daniel Gafford.
What seemed like a reach by some, the 6-10 234-pound post player, is an intriguing prospect given his overall athletic ability on the floor. Listed as a C in college, Gafford was able to use his size and athleticism to his advantage as he quickly became a matchup problem for teams in the SEC. In just two seasons, Gafford was a force for the Razorbacks, putting together a career 14.5 PPG average and 7.4 RPG effort. If you look at his sophomore season, which he posted 16.9 PPG and 8.4 RPG, those were the numbers, the Bulls saw, and it was good enough to warrant a second-round selection.
Not your typical center size-wise, Gafford would be better suitable as PF in the NBA game. However, Jim Boylen often played him out of position if you ask me, using him as a center to fill in for injured players, which I feel hurt Gafford's development as a player.
Not expected to make an immediate impact, Gafford did spend some time with Windy City before coming to Chicago this season. In just three games, Gafford showed the Bulls what he showed during the summer league posting a solid 16.7 PPG average and 7.7 RPG during those contests. That type of production was near the top of the Windy City roster all season and was enough for him to earn the shot on the Bulls roster the rest of the way.
Once Gafford arrived in Chicago full time, Boylen took a little while to get him in the lineup, but once he did, he started to make immediate impacts early before fading off the rest of the season. The rookie finished the season playing in 43 games, with 15 of those games being starts. Like 70% of the Bulls roster, however, Gafford also missed about a month of action after suffering a thumb injury on a put-back dunk in January.
For the season, Gafford put up the numbers you would expect from a second-round role player posting 5.5 PPG and 2.5 RPG mainly off the bench. As a starter, those numbers were a little better as he averaged 8.3 PPG and 4.1 RPG as a starter. Like most rookies, Gafford went through peaks and valley's as a player, but he did have a five-game stretch where he was averaging double figures, so the potential is there for him to make a more significant impact next season.
Season Grade C: I cannot blame Gafford for his lack of production this season as Coach Boylen certainly had something to do with that. For some reason, not only does Boylen not trust rookies, but he doesn't play them as much as he should even if they have proven to be top-notch scorers (Coby White). That, in the long run, can hurt a player's development as they do not see enough minutes on the floor to improve as a player.
In Gafford's case, that was true early on, but after his thumb injury, he was not the same player. It was almost as if all that progress he made before the injury went away as he became a liability on the floor. In all honesty, I am shocked he wasn't sent back to Windy City for a bit to regain confidence, but the Bulls at least stuck with him throughout the season.
Gafford is an intriguing piece for the Bulls moving forward as he is not only a big young man but a very athletic big man also. While he played center during his college days, I feel to get the most success from his skillset, Gafford will have to move to the PF position as that is more suitable for his size. From an athleticism standpoint, he should have no problem doing that, but he will have to put on some weight to play against the more physical bigs in the paint.