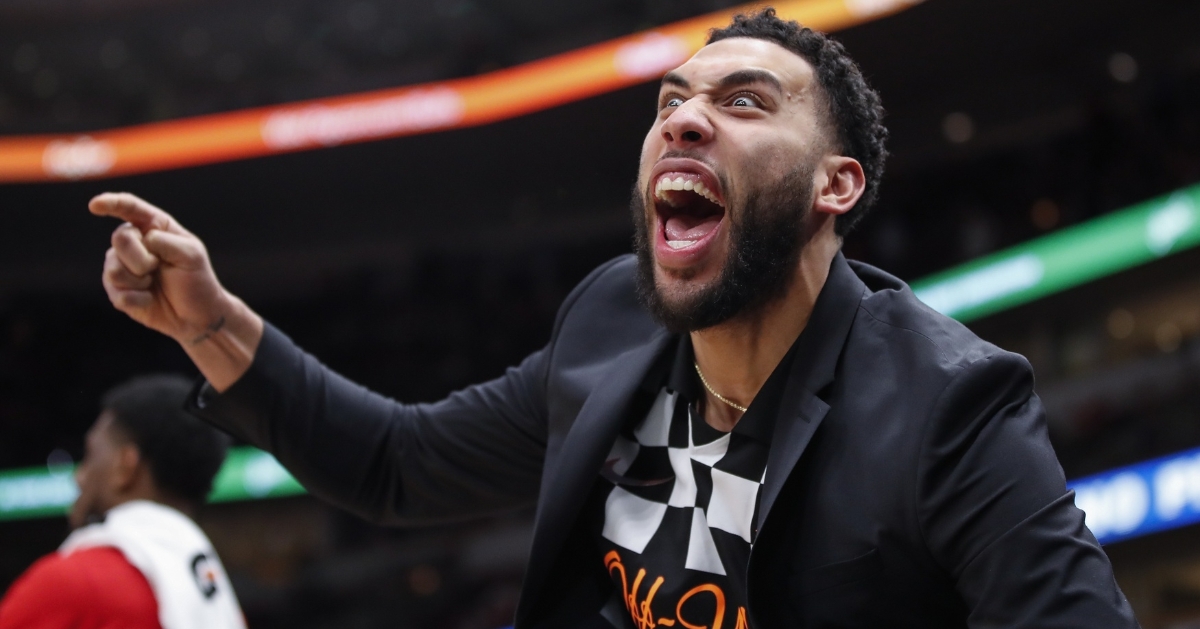 | | |
| --- | --- |
| Season in Review: Denzel Valentine | |
---
| | | |
| --- | --- | --- |
| Tuesday, April 14, 2020, 4:39 PM | | |
One of the biggest offseason questions for the Bulls is what to do with shooting guard Denzel Valentine. The 26-year-old, and 14th pick of the 2014 NBA draft put together one of his better seasons in Chicago but certainly has not lived up to his first-round billing since entering the NBA.
A four-year star at Michigan State University, Valentine had a decorated career with the Spartans that saw his draft stock continue to rise following each season of college. After a mediocre first two seasons, teams started to see what Valentine could do as a junior when he averaged 14.5 PPG, nearly doubling his career-high to that point.
Then came his senior season in which Valentine not only established himself as one of the best players in the BIG 10 but in the country also. It was in that season in which Valentine averaged 19.2 PPG, 7.5 RPG, and 7.8 APG, all ranking in the top three of the BIG 10 that season. His 85% free throw percentage and 44% from three made him a deadly shooter that no one wanted to leave open. That senior season showed scouts a lot and landed him with the final pick of the lottery going 14th to the Bulls.
Not expected to start during his rookie season, the Bulls front office expected a lot from Valentine as they used a first-round pick on him. What they would get is a guy who has battled injuries from day one, even missing the entire 2018-19 campaign and parts of the 2019-20 with more injuries causing him to be a question mark going forward due to durability.
When given a chance to see time on the court, Valentine struggled with consistency but did show some signs of potential. That was mostly prevalent during his second season when he played in a career-high 77 games that season, averaging 10.2 PPG, 5.1 RPG, and 3.2 APG. He also shot 38.6% from deep, which were all career highs to that point. It was that type of season that had the Bulls hoping for a bright future, but once again, the injury bug hit him hard, forcing him to miss the entire next season erasing all previous progress he made.
The injury bug struck Valentine once again in 2019, as he missed early parts of the season dealing with ankle issues following the preseason. Once he was deemed healthy enough to play, Valentine was eased into action, but still wasn't in a regular rotation spot until February when the Bulls began to be riddled by injuries. For the year, Valentine saw action in 36 games (14), which were starts.
He averaged just 6.8 PPG, but that was mainly because he saw limited minutes off the bench. During his time as a starter, Valentine got back to what the Bulls expected of him, as he averaged 10.9 PPG as a starter, including a nice stretch where he was averaging 14.7 PPG late in the season giving the Bulls a nice lift when stars were going down. It is that kind of play that Bulls were looking at from him all along, which leaves a huge question mark going forward.
Season Grade C: While there is nothing you can do about injuries, that continues to be what Valentine is known for during his time in Chicago. Had I strictly been grading him based on his starting performances, it would be inclined to give him a B – C+ range as he performed well in the starting lineup. However, I must grade him as a whole, and he didn't do much early in the season to earn more minutes on the court.
I love the toughness and determination Valentine brings to the table as he has refused to give up despite dealing with ample leg injuries. With a new GM coming in and most likely a new head coach to follow, I don't see how anyone is going to invest any more time on a first-round pick who couldn't stay healthy during three of his four seasons in Chicago.