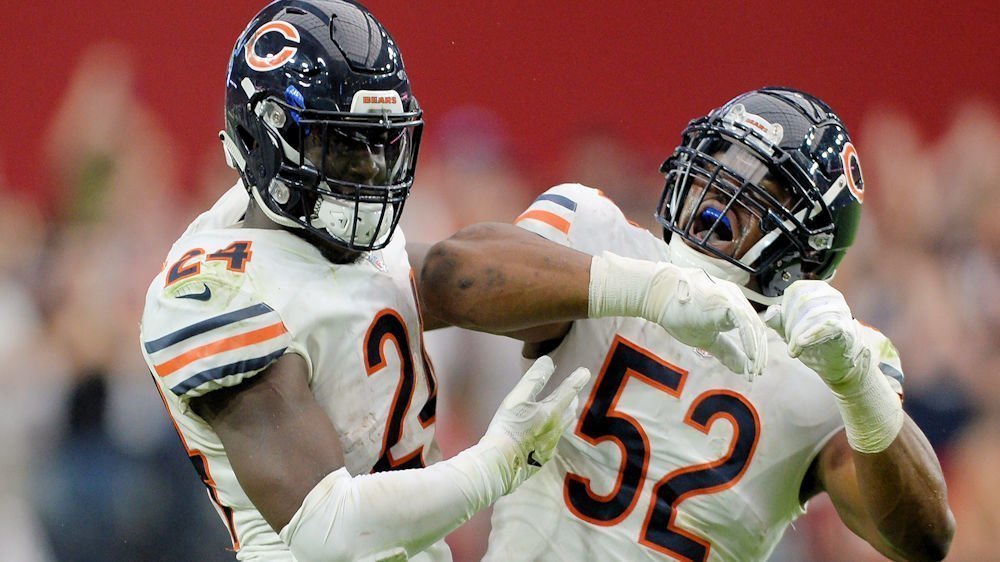 | | |
| --- | --- |
| Main takeaways from Bears' Day 1 of pads | |
---
| | | |
| --- | --- | --- |
| Tuesday, August 18, 2020, 11:28 AM | | |
With no fans allowed to attend training camp, and no preseason games in 2020, it may be hard to keep up with the Bears right now.
Let me try to fill you in with what has been going on.
The Bears not only worked out one but have now worked out three quarterbacks in camp the last week as I would anticipate one of them being added to the practice squad at some point. Eddie Goldman and Jordan Lucas opted out of the season while the Bears released Tre Roberson with an injury. Yesterday was also the first day of padded practices, and there were a few things that stood out.
The first thing we noticed is the quarterback battle between Nick Foles and Mitch Trubisky. Expected to be a competitive battle to week 1, both QB's have looked good and appear to be even at this point. Both Head Coach Matt Nagy and Offensive Coordinator Bill Lazor have been pleased with how the QB's are handling the situation.
Ultimately, both men's decision-making process will be the deciding factor as to who will earn the No. 1 job. Whatever quarterback can run the offense the best and make the fewest mistakes in camp will win the starting gig for week one. Both quarterbacks have had their issues with decision making in the past, which would be the time to get over those problems.
The second and third thing we notice continues the offensive side of the ball as we look at the running back position. After the first few practices, David Montgomery appears to be in line for a bounce-back season. Considering he was a rookie last year, it wouldn't be called a bounce back, but instead a breakout season. He is looking fit, running hard and just playing with a lot more confidence now. He will be looking to take the next steps as a runner this season.
All-Pro returner Cordarrelle Patterson may be listed as a receiver on the roster, but he has yet to practice with the WR unit. Instead, he spent a ton of time with the running back room and was practicing with them on Monday. Patterson is known as a playmaker who can do a lot on the field, but he could get yards as a runner in the open field that has me hoping he is used more in the Bears offense this season. He reminds me of Ty Montgomery, who transitioned from receiver to running back. Both had great athletic ability but struggled in the passing game. If running the ball gets Patterson on the field more, I am all for it.
In case you wanted to see the video of @ChicagoBears' Cordarrelle Patterson working with the RBs.

Heck, you can even get yourself a look at Ryan Nall (enjoy that while you can ??). #BearsCamp pic.twitter.com/V5pOPadeUt

— The Chicago Audible (@ChicagoAudible) August 17, 2020
Switching over to the other side of the ball is where we noticed one of the biggest surprises: Artie Burns was on the field with the first-team defense. Brought in as a free agent from Pittsburgh, Burns was looking to compete with rookie Jaylen Johnson and Kevin Toliver to win the cornerback spot alongside Kyle Fuller. Monday saw Burns on the field with the first-teamers giving Nagy and Chuck Pagano a look at what he can do. Just because we saw him on the field doesn't mean he is the favorite at this point, but getting extended reps with the first team is worth noting.
Day 1 of pads on for the Chicago Bears. pic.twitter.com/2OmhaxrGxx

— Jeff Dickerson (@DickersonESPN) August 17, 2020
The final takeaway from the first padded practice is that Bilal Nichols looks to be the favorite to replace Goldman on the defensive line. Nichols has also been a role player on this team who has contributed to a high level. The problem has always been getting him on the field consistently, and this could be the season where he breaks out.
Now fully healed and entering his third season, this will be an excellent season for Nichols. Granted, I am sure his view of starting would have been by earning the job instead of default, but now is his chance to win it for the season and run with it long term. Nichols is ready to step up this season and has the quickness and versatility to become a problem for offenses alike.
I like this move if he is indeed tabbed as Goldman's replacement. Let's say he goes out and has a career year. Not only do you have a diamond in the rough in Nichols, but you just made your defense that much better when Goldman returns next season. Can you imagine a defensive line of Akiem Hicks, Nichols, and Goldman with Khalil Mack, Robert Quinn, Roquon Smith, and Danny Travethon behind them? That would be problematic for any team to prepare for.