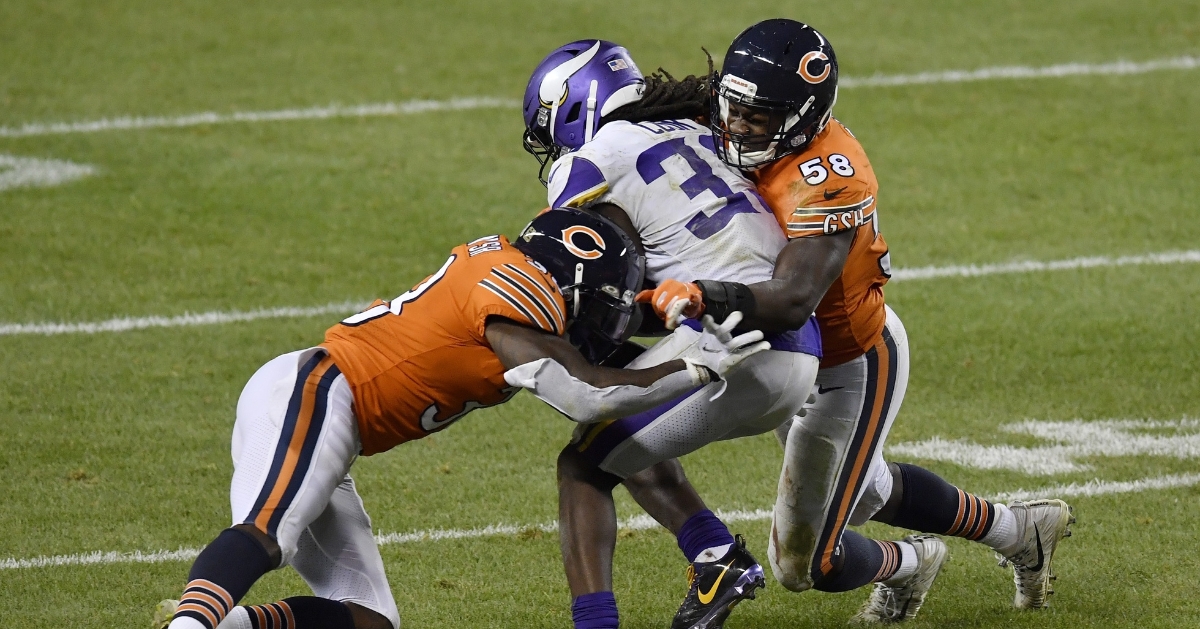 | | |
| --- | --- |
| Report Card: Handing out grades after Bears' loss to Vikings | |
---
| | | |
| --- | --- | --- |
| Wednesday, November 18, 2020, 8:20 AM | | |
It was a crazy week for the Chicago Bears, and frankly, a disappointing one. Another week, another loss. The Bears had a chance to gain some ground in the NFC and lost their fourth in a row.
Let's give out our position grades for the Bears, who were defeated by Kirk Cousins and the Vikings in a 19-13 loss.
Quarterbacks: D
Nick Foles was not particularly sharp in this one, as accuracy was missing all game long. Foles threw an interception on the second pass of the game and never really settled in after that. Foles finished the day with 106 yards and left the game late with an injury. Even against a bad d-line, he was under frequent duress.
Coach Nagy says he does not foresee Nick Foles being placed on IR. He acknowledges both Foles and Trubisky are banged up heading into the bye and the team will be evaluating both closely ahead of our next game, Sunday night 11.29 at Green Bay.

— Chicago Bears (@ChicagoBears) November 17, 2020
Running backs: D
This is more on the offensive line and a lack of David Montgomery, but there wasn't much out of this unit. Cordarelle Patterson led the way with 30 yards on 12 carries, and the rest of the contributors did not garner any more than 10 yards. Ryan Nall, Lamar Miller, and Patterson were all involved in the passing game, combining for five catches and 40 yards. Nothing too impressive for this group.
Cordarrelle Patterson is the heart and soul of this Bears football team. Just gimme wildcat snap after snap. Put the ball in your best player's hands. Big players make big plays in big games.

— Ian Hartitz (@Ihartitz) November 17, 2020
Wide Receivers: D+
This unit performed admirably enough to earn a D+, but this unit failed to produce. The blame might not be placed on this unit, but the production wasn't quite there. Allen Robinson had just a solid game with six catches for 43 yards. Rookie Darnell Mooney caught two passes for three yards and ran some good routes. Anthony Miller continued to be involved with two catches for 28 yards but had a drop. This unit should have been solid, but they have a lot of room to grow.
Allen Robinson's agent ?? (he's right) https://t.co/FnIKPZ7GQi

— NFL Update (@MySportsUpdate) November 17, 2020
Tight Ends: F
This unit, with an overfilled position room, had a quiet day on Sunday. Rookie Cole Kmet and Jimmy Graham combined for just one catch on five targets.
Chicago Bears TE Jimmy Graham was asked today if he had a reaction to HC Matt Nagy giving up his play calling duties.

Graham had no idea that Nagy was doing that.

(Video via @ChicagoBears) pic.twitter.com/sUEjRlojDW

— Daniel Greenberg (@ChiSportUpdates) November 14, 2020
Offensive Line: C-
The offensive line did not do a terrible job protecting against the Vikings. The o-line gave up two sacks and could not generate a push in the run game, but kept Foles upright for the most part. Some injuries mixed with a bad effort show this unit is the Bears' weakest one, but this wasn't their weakest game.
Defensive Line: B-
The D-line was okay on Monday. The unit occasionally pressured Cousins and was solid in the run game — at least until Hicks went out with an injury. The line was solid against Dalvin Cook though, so they earn a B-.
#Bears HC Matt Nagy says QB Nick Foles injury not as bad as first thought. Has a hip/glute injury. It's a strained right hamstring for Akiem Hicks, PR/WR Dwayne Harris(possible torn tricep). @WBBMNewsradio

— Jeff Joniak (@JeffJoniak) November 17, 2020
Linebackers: B+
Khalil Mack was great for the Bears, and he had an interception. Roquan Smith was all over for the Bears with 14 tackles and a sack. Danny Trevathan had eight tackles as well. This unit, and the defense as a whole, is not the problem.
?? T.J. Watt
?? Khalil Mack
?? Demarcus Lawrence

PFF's highest-graded edge defenders of 2020 ?? pic.twitter.com/drU0bQJ5AR

— PFF (@PFF) November 17, 2020
Secondary: C+
The Vikings had just one huge play. Eddie Jackson was heavily involved, but this group did nothing special. Jaylon Johnson was active and nearly had a pick. They desperately needed this group to come away with a takeaway, and they struggled to do that. Surprisingly, this unit gave up a lot of passing yards.
Eddie Jackson addressed the Bears inside their locker room postgame. He encouraged players to hold each other accountable.

Said Jackson later: "You see guys come off the field with their heads down; nobody says nothing to them. That has to change. ... We're a team."

— Chris Emma (@CEmma670) November 17, 2020
Special Teams: A-
Cairo Santos was 2-2 on field goals and made one extra point, nothing spectacular. The return game was great, with Patterson returning a 104 yarder for a touchdown and Anthony Miller had two solid punt returns. The only reason this unit doesn't get an A+ is the crucial muffed punt from Dwayne Harris.
Cordarrelle Patterson's 104 yard kick return TD was the 8th of his career.

That ties him with Leon Washington and Josh Cribbs for the most in NFL history. pic.twitter.com/wIBBx6peXj

— ESPN Stats & Info (@ESPNStatsInfo) November 17, 2020
Playcalling: D
There were absolutely issues with the play calling, and Matt Nagy allowed Bill Lazor to take over calling plays. However, many of the same issues resurfaced. The Bears don't use the tight ends enough, Cordarelle Patterson is not a running back, Nick Foles has no time, and the list goes on and on and on. This team needs to correct the play calling or make some change.
What I think of every time I hear the broadcast mention Bill Lazor. pic.twitter.com/UIZ1fw4XVo

— Rich Eisen (@richeisen) November 17, 2020
Nonetheless, this team is now 5-5 and looking to make it 6-5 and snap their losing streak in two weeks after their bye week on Sunday Night against the Packers.