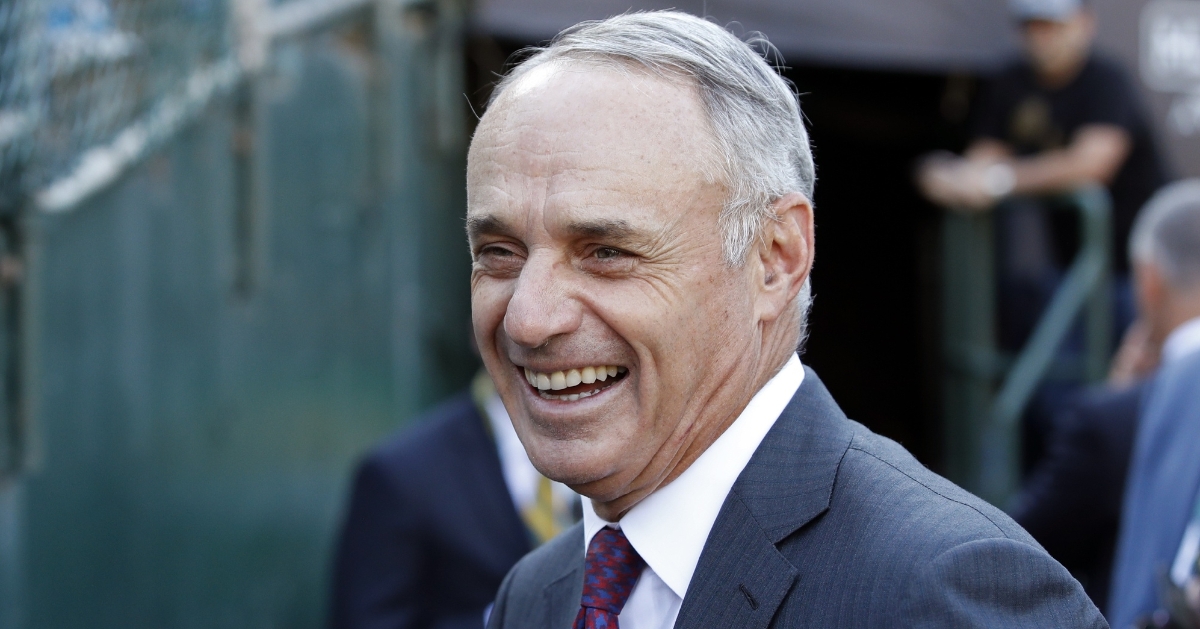 | | |
| --- | --- |
| Anthony Rizzo, David Ross respond to Rob Manfred's threat to cancel season | |
---
| | | |
| --- | --- | --- |
| Friday, July 31, 2020, 9:05 PM | | |
CHICAGO — In the wake of MLB Commissioner Rob Manfred's ominous threat to cancel the remainder of the 2020 season if players do not shape up and act more responsibly, members of the Cubs organization responded on Friday. Manfred is not pleased with the rise of positive COVID-19 tests and reportedly told the MLBPA that the season could be canceled as early as Monday, Aug. 3, if the positive tests do not decrease.
The major concern is that certain players are not taking the social distancing guidelines seriously, such as the Miami Marlins. Cubs manager David Ross responded to the report by defending his players, saying that they have not done anything wrong.
"I think our record speaks for itself," Ross said of his club's lack of positive COVID-19 tests. "We've created an environment here where we're following all of the protocols to get in here and keep safe."
David Ross on commisioner Rob Manfred telling MLBPA that players must do a better job of adhearing to the medical protocol. " I don t have any objection to saying players need to do a better job. I object to pinning things on my players who haven t done anything"

— Bruce Levine (@MLBBruceLevine) July 31, 2020
Chicago first baseman Anthony Rizzo expressed his concern with Manfred's warning, too, saying that it is on a lot of players' minds. Rizzo spoke on the importance of being as careful as possible but also implied that, with the players traveling to different cities and using different clubhouses, it is impossible to follow every single precaution to a tee.
"We don't know where this thing hides all the time, the virus," Rizzo said. "I think that, with players, it's just one of those things where you've got to be prudent. You've got to have faith. You can't really live in fear of it."
According to Rizzo, Manfred's threat to cancel season if the players don't take the protocols more seriously is "definitely in a lot of guys' minds, that's for sure."

— Paul Sullivan (@PWSullivan) July 31, 2020
Anthony Rizzo: "The guys here in our clubhouse know the importance of sticking together and being as prudent as possible away from the field and at the field. It's a little nerve-wracking. We say the most normal thing about the day is when we actually play baseball."

— Patrick Mooney (@PJ_Mooney) July 31, 2020
Cubs outfielder Steven Souza Jr. tweeted about player responsibility, echoing Rizzo's concerns. The decision not to attempt to carry out this season in bubbles located at the spring training sites might come back to bite MLB and the MLBPA. In the meantime, the only thing that the players can do to ensure that Manfred does not pull the plug is to abide by every guideline and be as cautious as possible.
Every player in this league better take a hard look at what you're doing off the field, because what you do affects, more than just you and your team. Your decisions off the field will put all of our seasons in jeopardy this year.

— Steven Souza Jr. (@SouzaJr) July 31, 2020