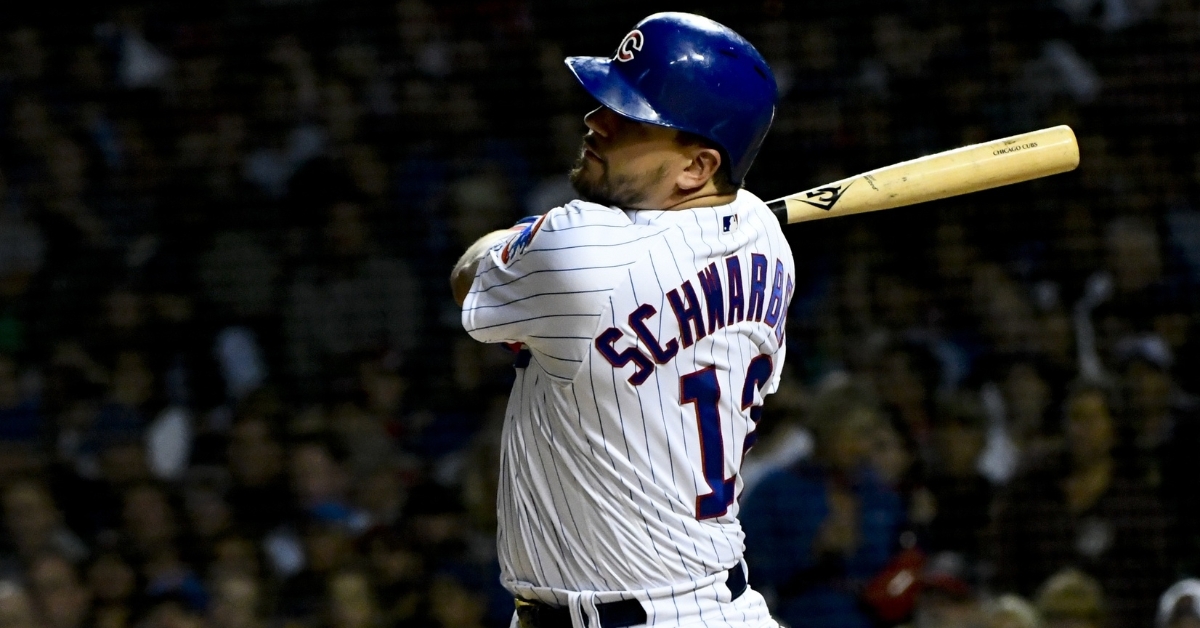 | | |
| --- | --- |
| Report: Cubs won't tender 2021 contract for Kyle Schwarber | |
---
| | | |
| --- | --- | --- |
| Wednesday, December 2, 2020, 7:50 PM | | |
The Chicago Cubs will not tender a contract for outfielder Kyle Schwarber for the 2021 season according to multiple reports including ESPN.
Schwarber has been with the team the last six seasons and now is a free agent. He was projected to make around $8 million in arbitration with the Cubs.
"I'm not a guy that's going to look into the future," Schwarber said about his future during the playoffs. "I'm just going to focus on one thing at a time. I've already got a bunch of gray hair on my head just because I think a lot about baseball. I don't need this on my mind too."
The Cubs have not ruled out a possibility of signing him later on to an extension but wasn't going the $8 million route for 2021. So there is a small chance that the 27-year-old could be back with Cubs as discussions are ongoing.
Jed Hoyer on Schwarber: "It was a hard conversation. I called Kyle. We'll definitely keep the door open. We'll continue to talk about ways to bring him back....We had a good conversation. He's a legend. No question about that."

— Jesse Rogers (@JesseRogersESPN) December 3, 2020
In 2020, Schwarber hit only .188 with 11 homers and 24 RBI in 224 plate appearances.
For his career as a Cub, he hit .230 with 121 dingers and 279 RBI.
Regardless of what the future holds, you singlehandedly gave me one of the best moments as @Cubs fan. You'll always be my left fielder @kschwarb12 @DOM_Frederic pic.twitter.com/wLBXo6ZG71

— Steven (@steve305_) December 3, 2020
Thank you Kyle Schwarber for everything you've done for Chicago & organization. 6 years of blood, sweat & tears. Your story is one for the ages, the come back in the 2016 World Series was something we will never forget. Good Luck to you. @kschwarb12 pic.twitter.com/EI9DBjzzXs

— Cubs Zone ™? (@CubsZone) December 3, 2020
THANK YOU, KYLE SCHWARBER! pic.twitter.com/em72Oic6xr

— Cubs Live (@Cubs_Live) December 3, 2020
never forget pic.twitter.com/APiiPMFUN3

— DOM (@DOM_Frederic) December 3, 2020
Kyle Schwarber's timeline with the Cubs. pic.twitter.com/SgSPNd2SvS

— Marquee Sports Network (@WatchMarquee) December 3, 2020
.@thekapman looks back on Kyle Schwarber's six seasons with the Cubs. pic.twitter.com/rbdxmsGewn

— Cubs Talk (@NBCSCubs) December 3, 2020