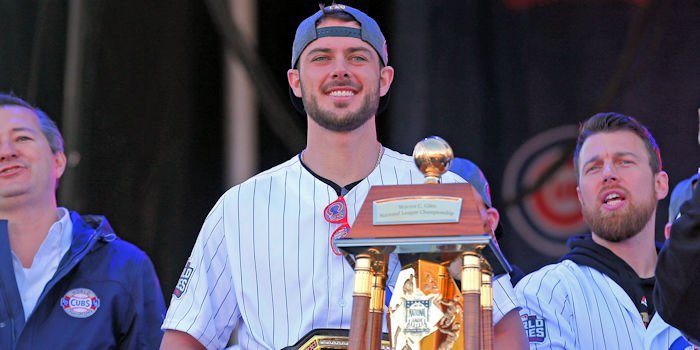 | | |
| --- | --- |
| Bryant: "I want to continue to get better and win more World Series" | |
---
| | | |
| --- | --- | --- |
| Friday, November 18, 2016, 12:00 PM | | |
Chicago Cubs third baseman was named the 2016 National League MVP winner by the Baseball Writers' Association of America on Thursday evening.
Bryant is truly a superstar as he has now won the top college player in 2013, top minor league player in 2014, rookie of the year in 2015, and National League MVP in 2016.
"It's amazing to even know I'm the first to do that," Bryant said Thursday of winning the four awards in a row on the BBWAA conference call on Thursday night. "It's very humbling, and I'm so grateful to get the opportunities to get to that point."
Bryant becomes the youngest Cubs MVP in team history and received 29 out of 30 first-place votes with 415 total points. His teammate Anthony Rizzo finished fourth in the voting.
"If it wasn't for Anthony and his protection and guidance, I wouldn't have won this award," Bryant said. "He texted me, and I said the same thing to him -- I said, 'If it wasn't for you, I wouldn't have been able to do this.'"
Bryant is not satisfied with only the MVP trophy and the Cubs first World Series title since 1908. He is still hungry for more.
"I obviously want to continue to get better and win more World Series," he said. "This year has certainly been one of the best years of my life, winning the World Series and now this is just icing on the cake. I look forward to enjoying this and the offseason. I don't know if this whole year will ever happen again."
Sammy Sosa was the last Cubs player to win the MVP award back in 1998.
Bryant batted .292 with 39 homers (3rd) and 102 RBIs (6th) this season. He also led the National League in 121 runs scored and 2nd in the NL for BsR (7.3) which is baserunning.
He was the second player in major league history to have two five-hit, five RBI games in a season. On June 27, he set a Cubs record with three homers and two doubles (16 total bases) in a single game. During the World Series, he had the game-tying home run in game five and also had the go-ahead homer in game six of the World Series to spearhead the Cubs 3-1 comeback to win their first World Series since 1908.
His offense was not the only remarkable part of his season as he led the National League with 7.7 wins above replacement as he was responsible for ten total defensive runs saved. He showed his true versatility for his team as he played six different positions in 2016. He is only the second player history to be named MVP starting at least 30 games in the infield and 30 in the outfield since Stan Musial in 1946