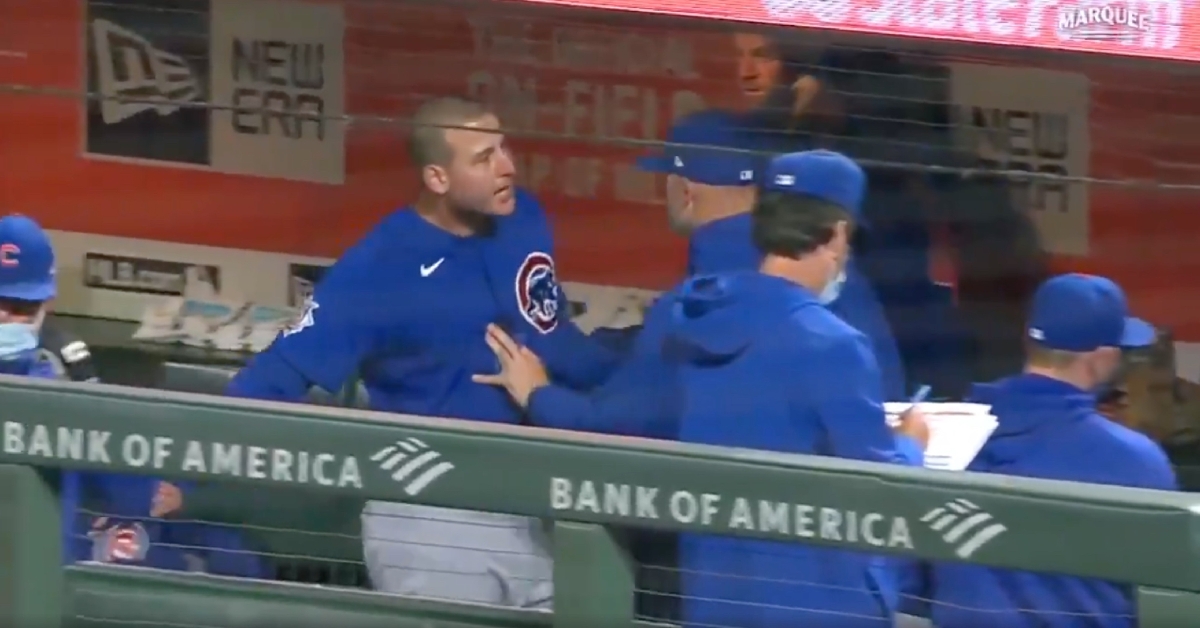 | | |
| --- | --- |
| WATCH: Willson Contreras, Anthony Rizzo get heated in dugout; David Ross holds Rizzo back | |
---
| | | |
| --- | --- | --- |
| Saturday, June 5, 2021, 1:01 AM | | |
SAN FRANCISCO — A rare on-camera spat involving members of the Chicago Cubs was caught on camera on Friday night. With the Cubs trailing the San Francisco Giants 8-5 at the end of the seventh inning, catcher Willson Contreras and first baseman Anthony Rizzo became heated with one another, and manager David Ross held Rizzo back from confronting Contreras.
There is no certainty as to what sparked the confrontation, especially considering Contreras caught a runner attempting to steal second base for the second out of the bottom of the seventh. A groundout to Rizzo ended the inning, and Contreras and Rizzo were then seen barking at one another in the visiting dugout at Oracle Park.
Final: Giants 8, Cubs 5. pic.twitter.com/k7Z80bGPz4

— Chicago Cubs (@Cubs) June 5, 2021
Contreras, who slammed down his chest protector just prior to the heated moment involving Rizzo, is rather fiery, and it seems as though he might not have appreciated something Rizzo said to him. Ross then slowly shoved a furious Rizzo away until Rizzo said his piece and stormed down the steps to the locker room. Neither player batted in the top of the eighth, but they both took the field for the bottom of the eighth.
Here's the video of Willson Contreras and Anthony Rizzo getting into a heated argument in the dugout. Manager David Ross had to get in the middle of it and separate the two. pic.twitter.com/5nIRPgwIwv

— Cubs Live (@Cubs_Live) June 5, 2021
Afterward, Ross downplayed the dugout quarrel, telling the media in his postgame press conference that it was a disagreement over "competitive stuff." For what it is worth, Cubs shortstop Javier Baez committed a throwing error to first base in the seventh inning, so that might have played a part in Contreras' frustration. However, Ross did not seem to think that the dispute was anything worth writing home about, so the to-do may have been nothing more than a meaningless blow-up.
Ross on Rizzo vs. Contreras: "Just a disagreement on some competitive stuff.... I don't think it's anything that's a huge deal."

— Paul Sullivan (@PWSullivan) June 5, 2021
David Ross says disagreement between Willson Contreras and Anthony Rizzo was just two competitive teammates. Doesn't think it is a big deal or an issue. #Cubs

— Russell Dorsey (@Russ_Dorsey1) June 5, 2021