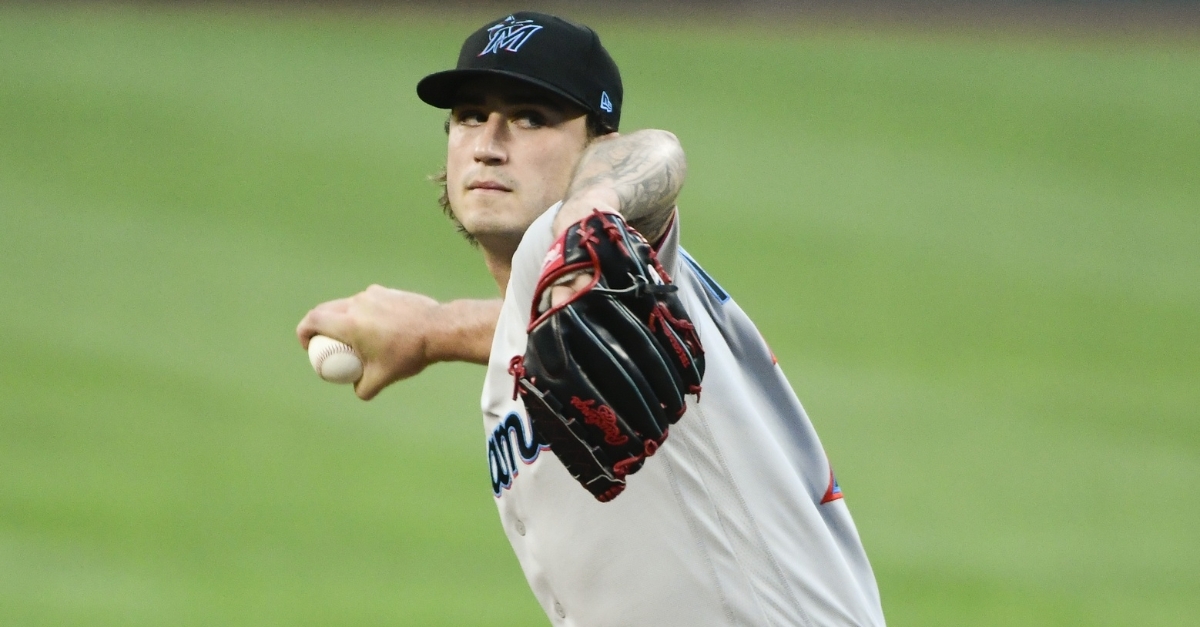 | | |
| --- | --- |
| Cubs ink Jordan Holloway to minor league deal | |
---
As we continue to inch closer and closer to pitchers and catchers reporting to spring training, the Cubs continue to make moves within their organization. Most of them at this point are going to be minor league moves, but those can all work out in the end for added depth.
After Mark Leiter Jr cleared waivers and elected to test his luck on the free-agent market, the Cubs felt like they needed to make a pitching move with the hopes of replacing what Leiter Jr brought to the table. In comes former Miami Marlins pitcher Jordan Holloway, who has agreed to terms with the Cubs on a minor league deal.
Not only that, but Holloway also receives an invite to spring training similar to what Leiter Jr. would have gotten had he stuck around. At 26 years old, Holloway is young enough for the Cubs to take a chance on, but there are some concerns about his health. Last season, Holloway was limited to 2 2/3 MLB innings and 23 2/3 minor league innings.
That was due to having a fractured bone spur in his pitching elbow that was finally repaired in September. Before that, Holloway flashed a powerful arsenal when healthy, and the expectation is that he will be 100 percent when he arrives at Cubs camp in Arizona next month.
Like Leiter Jr, Holloway has experience as both a starter and reliever, so look for the Cubs to groom him into a swing role candidate this spring. Considering how Adrian Sampson, Alec Mills, Leiter Jr, and several others occupied that role the past few seasons, Holloway might be the next in line, as that is a role the Cubs have often gone with to help limit some of the innings on their young starters.
When you look at how well the Cubs pitched down the stretch last season, you can understand why there is a ton of optimism surrounding this team and what this pitching staff can do. Holloway is hoping for an opportunity to prove he deserves a roster spot and would love to make some kind of impact.
A 20th-round pick back in 2014, Holloway hasn't gotten much big-league time, but has pitched well enough when given the opportunity. He currently carries a career 3.92 ERA with 38 strikeouts (and 28 walks) through 39 total big league frames. The walks are a huge concern as the command hasn't been great, but maybe the Cubs see something in him that they can fix.
When you look at his MLB numbers, you have to wonder what he has done differently, as his minor league numbers are not good at all. Since breaking into the league in 2014, Holloway has appeared in 97 career games, with 85 coming as starts. During that time, he has not only posted a putrid 13-36 mark, but his 4.81 ERA is nothing to get excited about, as it has been a struggle for him since day one.
While he doesn't allow a ton of homers, with just 34 coming across 330 innings, the command problem is something he needs to figure out. Holloway has walked 229 batters in his career while striking out 348. That shows you there is a little bit of power in that arm, but he has yet to harness it consistently.
I will not compare him to Jake Arrieta or Tyler Chatwood, but when you look at his struggles and command issues, those are the two names that come to mind. Both had incredible stuff when they were on, but they couldn't consistently do it. Arrieta figured it out in 2014 and managed to keep that going for five seasons before falling off.
Chatwood, on the other hand, was never able to find his command in Chicago, and it was when he moved to the bullpen that he finally started to pitch better. That may be the plan for Holloway. He has the stuff to be a decent pitcher in this league if he can figure out how to harness that command. Hopefully, a change of scenery and a fair shot in camp is what it will take to get him back on track.