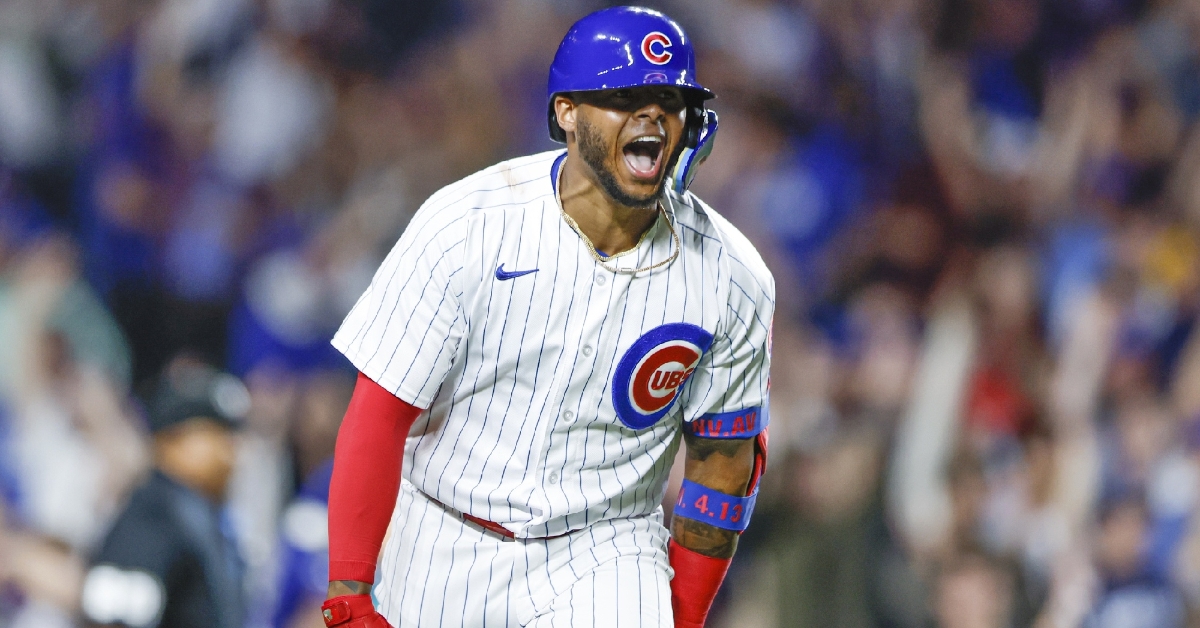 | | |
| --- | --- |
| Cubs Minor League News: Velazquez raking, Caissie smacks two homers, Wicks with gem, more | |
---
| | | |
| --- | --- | --- |
| Friday, May 26, 2023, 10:12 AM | | |
Coming off a rough night on Wednesday, the Cubs minor league system was back in full swing, with all four teams hitting the diamond again. Once again, this was a great showing, with the organization posting a 3-1 mark as they continue to play exceptionally well across the board.
IOWA CUBS 12 - NASHVILLE SOUNDS 5
After suffering what was arguably their worse loss of the season, the Cubs came out strong on Thursday and dominated the Sounds. Hayden Wesneski did his part on the mound and gave the Cubs four innings of three-run (1ER) ball. From there, it was a quartet of Iowa relief pitchers, including Daniel Palencia, making his AAA debut as the Iowa offense took care of the rest.
Daniel Palencia makes his relief debut tonight for the Triple-A Iowa Cubs (also his Triple-A debut), and he goes an inning scoreless, striking out two and walking one. He touched 99mph consistently, and - according to Statcast - the spin rate on his fastball was 28/2900 RPM(!). https://t.co/3SwaT8rHq7

— Bleacher Nation (@BleacherNation) May 26, 2023
Despite the final score, Nashville got off to a strong start, using a Luke Voit first-inning homer to jump in front 2-0. Darius Hill pulled the Cubs within 2-1 in the second with an RBI single, but once the third inning started, the Cubs offense started rolling. Trailing 3-1 to begin the third, Miguel cashed in with an RBI single of his own as he tied things up 3-3. One inning later saw the Cubs offense continue their onslaught as they took the lead and never looked back.
The David Bote double put the Cubs on top for good before a Yonathan Perlaza fielders choice made things 5-3. An Amaya double and Brenne Davis sacrifice fly followed that up as the Cubs used a four-frame to jump in front 7-3. The Iowa offense wasn't quite finished, with Bote, Jared Young, and Amaya all adding RBI singles across the next three innings to push the lead to 11-3 before winning 12-5. Nelson Velazquez capped off the Cubs scoring with a much-needed homer late in the game.
With this solo shot in the ninth inning to cap off a three-hit game, Nelson Velázquez is your @Therookiedsmia Player of the Game. pic.twitter.com/EGk651N0qH

— Iowa Cubs (@IowaCubs) May 26, 2023
With 17 hits, there was plenty of production to go around, but four players accounted for 12 hits. Bote, Velazquez, Young, and Amaya had three-hit games, with Amaya leading the way with four RBIs.
Back in the win column with 12 runs on 17 hits! pic.twitter.com/OzTpO1rg80

— Iowa Cubs (@IowaCubs) May 26, 2023
TENNESSEE SMOKIES 12 - BIRMINGHAM BARONS 1
One night after the Barons held the Smokies offense in check, Tennessee sought revenge as they jumped on the Barons early and often. Jordan Wicks was back on the and continued to post phenomenal numbers. Through six innings, Wicks allowed one run on two hits with four punchouts as his ERA fell to 2.40.
Jordan Wicks catches Eloy Jimenez looking in his first at bat. @jordan_wicks99 #SmokiesBaseball #BestYearEver #Cubs pic.twitter.com/wyoUka2W3a

— Tennessee Smokies (@smokiesbaseball) May 25, 2023
12 up, 12 down. pic.twitter.com/hlYEahJgII

— Tennessee Smokies (@smokiesbaseball) May 25, 2023
Offensively, the Smokies used a trio of crooked innings to bust things open, with the first coming in the third. RBI doubles from Luis Vazquez and Pablo Aliendo aided two of those runs, with an RBI groundout from Owen Caissie adding the other.
Geez Luis! An RBI double from Luis Vazquez and the Smokies are up 1-0 in the bottom of the 3rd! pic.twitter.com/FrQ5O2YXn4

— Tennessee Smokies (@smokiesbaseball) May 25, 2023
An RBI from Owen Caissie adds another to the board! 2-0 Smokies in the bottom of the 3rd. @owen_caissie #NextStartsHere pic.twitter.com/OmipgHroNX

— Tennessee Smokies (@smokiesbaseball) May 25, 2023
Pablo Aliendo joins the fun with an RBI double! It's 3-0 Smokies. pic.twitter.com/ibAA1dogc0

— Tennessee Smokies (@smokiesbaseball) May 25, 2023
LUIS VAZQUEZ WITH A 2RUN BOMB!!! pic.twitter.com/yoDSSuHKO8

— Tennessee Smokies (@smokiesbaseball) May 26, 2023
BACK-TO-BACK!! OWEN CAISSIE GOES YARD! pic.twitter.com/FeprrnrABr

— Tennessee Smokies (@smokiesbaseball) May 26, 2023
The lone run off of Wicks came in the fifth when Xavier Fernandez clubbed another homer to make things 3-1. That was as close as the Barons would get as the Smokies busted the game wide open with a five-run bottom of the fifth to take an 8-1 lead.
Vazquez and Caissie were right in the middle of it yet again as they connected for a pair of homers. Nelson Maldonado made it three homers in that inning for the Smokies, as they were in total command.
THE 3RD HOMERUN THIS INNING!! NELSON MALDONADO!! @nelsonmaldo_jr #NextStartsHere pic.twitter.com/5uODybFARZ

— Tennessee Smokies (@smokiesbaseball) May 26, 2023
Tennessee continued to play long ball in the bottom of the sixth, with Caissie going deep for the second time in as many at-bats and Aliendo following it with a homer to stretch the lead to 11-1 before eventually winning 12-1.
O'Caissie, that was sweeter than maple syrup! @owen_caissie #NextStartsHere #BestYearEver pic.twitter.com/E8KPnBvpbz

— Tennessee Smokies (@smokiesbaseball) May 26, 2023
PABLO ALIENDO WITH ANOTHER ONE!! @pabloaliendo14 #NextStartsHere #BestYearEver pic.twitter.com/L1TBONWkYx

— Tennessee Smokies (@smokiesbaseball) May 26, 2023
Caissie led the offense with three hits while also driving in four.
All the good things Caissie did tonight. pic.twitter.com/UHlg2ohMX4

— Brad (@ballskwok) May 26, 2023
The Smokies get an even dozen as Owen Caissie goes yard twice, Luis Vazquez, Pablo Aliendo, and Nelson Maldonado all hit homeruns and every starting Smokies player reaches base safely. What a night! #NextStartsHere #BestYearEver #Cubs pic.twitter.com/fVPVN0FOum

— Tennessee Smokies (@smokiesbaseball) May 26, 2023
DAYTON DRAGONS 4 - SOUTH BEND CUBS 2
The lone team to come away with a loss was South Bend, as their offense was held in check for a second straight game. Manuel Espinoza got the start and allowed one earned run in four innings to see his ERA rise to 0.69. Tyler Santana followed him with five innings of work and allowed the same line of two runs with one earned.
Typically a combined outing like that from two guys would be enough to get you the win, but not in this case, as the Dragons continue to play well. Dayton grabbed the early lead on the Edwin Arroyo single in the second before an error made things 2-0 in the third. South Bend responded in their half of the third and got on the board with a Bryce Ball sacrifice fly to pull within 2-1.
Neither team could do much of anything the next several innings, and Christian Franklin tied things up in the seventh as he brought home a run on a double play. Unfortunately, that was it for the Cubs, and their offense, as the Dragons scored a pair of late runs to win 4-2. The Cubs had five hits in the loss, with Ezequiel Pagan responsible for three.
Final tonight on a Throwback Thursday. pic.twitter.com/n2aT6nCfw1

— South Bend Cubs (@SBCubs) May 26, 2023
MYRTLE BEACH PELICANS 2 - FAYETTEVILLE WOODPECKERS 0
It has been a long time since the Pelicans put together a three-game winning streak, but it couldn't have come at a better time. Led by Marino Santy and his 4 2/3 scoreless frames, the Pelicans wouldn't need a ton of offense as they did what they needed to do to win this game.
Sometimes all it takes is one run, and Andy Garriola provided the Pelicans with the only run they would need as his fourth-inning single put the Birds in front 1-0. Myrtle Beach added to that lead in the sixth and benefitted from a balk to push the final run across in a relatively quiet 2-0 win.

Tags: Chicago Sports Baseball
,
Hayden Wesneski
,
Daniel Palencia
,
Darius Hill
,
David Bote
,
Yonathan Perlaza
,
Jared Young
,
Nelson Velazquez
,
Jordan Wicks
,
Luis Vazquez
,
Pablo Aliendo
,
Owen Caissie
,
Nelson Maldonado
,
Manuel Espinoza
,
Tyler Santana
,
Christian Franklin
,
Ezequiel Pagan