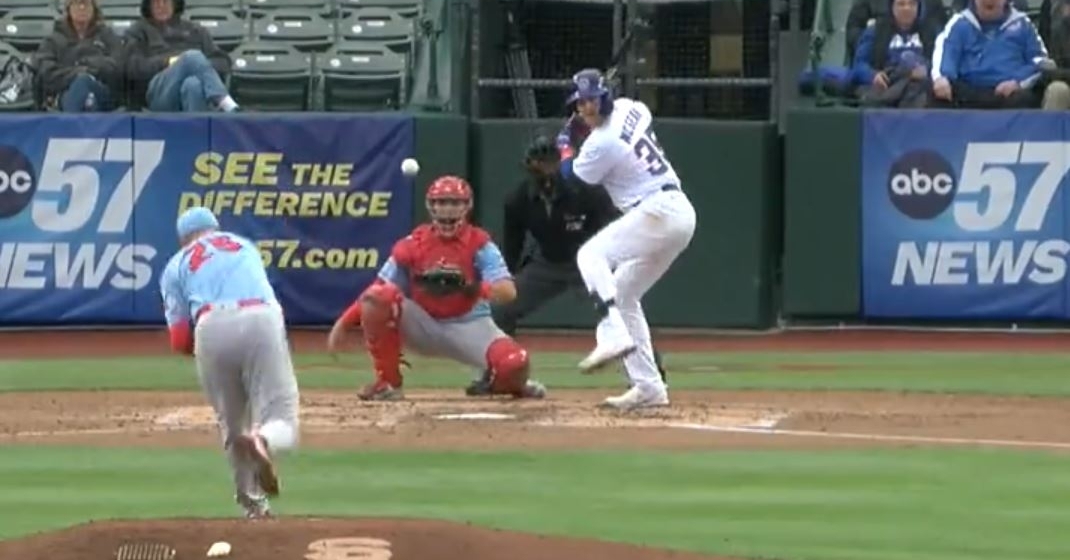 | | |
| --- | --- |
| Cubs Prospect Profile: Haydn McGeary | |
---
The next year plus will be interesting regarding the Cubs Minor League system and what direction they decide to go. This is a top-three farm system as things sit right now, and there is no reason to believe that they will take steps backward. However, you also have to consider that some of these prospects will be traded away for different assets as the Cubs not only hope to build a competitive MLB roster, but one that can be competitive for a long time.
One of the players who appears destined to have a bright future is also someone who could be a trade candidate in Haydn McGeary. When you talk about a fast-rising prospect, McGeary fits that mold as he was the Cub's 15th-round pick in the 2022 MLB draft. Typcially, most teams wouldn't expect much from a 15th-rounder, but McGeary is no ordinary 15th-rounder, and the Cubs have gotten one of the biggest steals of the entire 2022 class.
At 6-4 and 235 pounds, McGeary has all the size you would expect in a power-hitting 1B. Power is the name of the game for him as he is the all-time NCAA Division II home run king with 75 in 163 games at Colorado Mesa; McGeary won back-to-back D-II Player of the Year awards in 2021 and '22. He led D-II in hitting (.481), on-base percentage (.579), slugging (1.061), OPS (1.640), hits (103), homers (35), and total bases (227) in 2022. I don't care what level of baseball you are playing. To put up those kinds of numbers on the collegiate circuit is nothing short of impressive, and there is a reason why several D1 programs were looking to add him to their roster.
McGeary committed to the University of Kentucky and planned on going there for the 2023 season until the Cubs drafted him. While some thought he made a mistake signing with the Cubs, knowing he could improve his draft stock if he went back to school, McGeary felt differently and, after one season, has already reached AA and is on the verge of AAA very soon.
The Cubs wanted to see what McGeary could do and thus got him into 18 games that summer, where he hit .273 with one homer and 11 RBIs. A good sample size if you ask me, but what he did in 2023 is a different story and one the Cubs will be happy with should it continue. Despite having just 18 games of Minor League experience under his belt, McGeary began the season with South Bend before getting promoted to AA Tennessee just 20 games in.
Overall, McGeary did more than hold his own as he batted .275 this season across 124 games and had a near .400 OBP at .397. A big reason for that was his 80 walks and 121 strikeouts as McGeary not only showed terrific plate discipline, but wasn't afraid to work a walk. Along with that comes the great power that he showcased in college as the big right-handed slugger connected for 19 homers, which was second behind Owen Caissie while also adding 88 RBIs. Any time you can have those numbers in your first professional season, it is worth noting, and the Cubs have certainly opened their eyes on McGeary.
Given his physical stature, it shouldn't come as a surprise that McGeary produces elite bat speed, leading to hard and far contact. Not only that, but this guy doesn't have to crush the ball to hit it far, as he has what some would call the effortless power you look for. To have that at such a young age is encouraging, and that effortless power isn't something that will go away.
He makes good swing decisions, and while hunting pitches to punish leads to some deep counts and strikeouts, he also works a healthy amount of walks, which is always a good thing at such a young age. Though he occasionally caught and briefly played the outfield corners and first base in college, McGeary was primarily a DH and only provided a little value outside the batter's box.
With the MLB adopting the permanent DH a few seasons ago, that will help McGeary reach the bigs quicker as his bat will get him there. Just to get his bat in the lineup, the Cubs tried him at other positions, but unless someone at 1B needs a breather, he is a DH hitter similar to what David Ortiz was during his time in Boston.
He's a well-below-average runner with limited range and average arm strength, and the hope is that he can become an adequate defender at first. 2024 could be a massive year for McGeary as he is my bet to take home the Cubs Minor League Hitter of the Year award and could be a dark horse to earn the Minor League Baseball MVP.