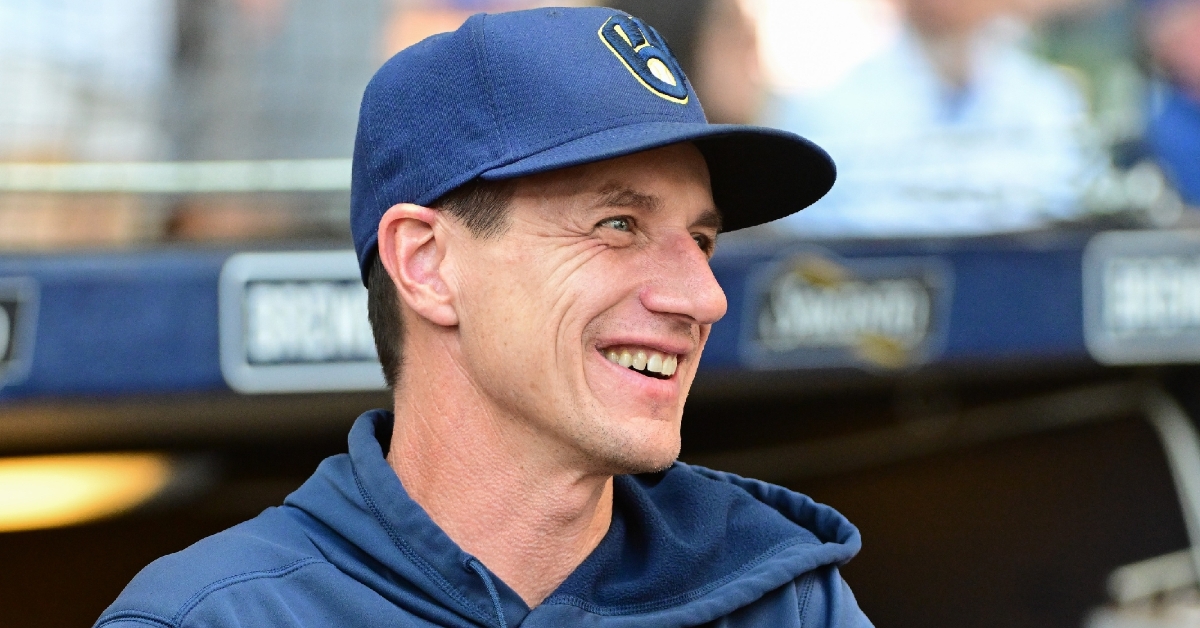 | | |
| --- | --- |
| Cubs pull a shocker and hire Craig Counsell as manager | |
---
The Chicago Cubs have hired former Brewers manager Craig Counsell as their next manager.
Reportedly, his salary is five years for $40 million, which is the largest managerial salary in major league history. He also interviewed with the New York Mets and Cleveland Guardians.
No other manager in baseball currently earns more than $4.5 million per season.
53-year-old Counsell has a career 707-625 record with a .531 winning percentage and led the Brewers to the playoff five times in nine seasons.
The Brewers won the NL Central division in 2018 and 2021.
Despite votes of confidence by the Cubs management about David Ross in recent mouths, the organization decided that they would go after the most highly-coveted free agent manager in baseball. This entire deal was done after Nov. 1.
Ross still had one year left on his contract, and he went 262-284 in four seasons with the Cubs. The Cubs reached the playoffs under his leadership in the COVID-shortened season in 2020.
Obviously, the baseball world, including Cubs fans, are pretty shocked by a new manager in the Northside.
Check out some of the reactions on Twitter on this ballsy managerial move:
Counsell had options. So he must feel confident about Cubs making commitment to spend. This is how big-market teams behave. It's cutthroat but consequences of David Ross's team blowing playoff berth in September. And Ricketts was clear season wasn't success. Action supports that.

— David Haugh (@DavidHaugh) November 6, 2023
Craig Counsell's $8 million-a-year deal with the Chicago Cubs is an industry-shaking deal. In recent years, multiple coaches have pointed out that it's more lucrative financially to take a job with a college program than an MLB team. Counsell's deal could help change that in MLB.

— Jeff Passan (@JeffPassan) November 6, 2023
The Cubs' deal w Craig Counsell is for about what the A's total payroll was last season.

— Buster Olney (@Buster_ESPN) November 6, 2023
The Cubs needed to ask the Brewers permission to speak to Counsell before Nov.1. They did not. So this ALL came together in the last few days. Its likely to be the most expensive managerial hire in MLB history.

— Jesse Rogers (@JesseRogersESPN) November 6, 2023
Within the last 30 minutes Chicago Cubs president of baseball operations Jed Hoyer informed members of the organization that David Ross is being let go and the team is hiring Craig Counsell, per sources.

— Daniel Greenberg (@ChiSportUpdates) November 6, 2023
Stunning, seismic and a terrific move. I love it. Craig Counsell is one of best managers in baseball. This announces #Cubs as World Series contenders. This is bold but path Cubs have chosen before by firing Rick Renteria and hiring Joe Maddon. I like Rossy but this is an upgrade. https://t.co/2EbnUsr3L8

— David Haugh (@DavidHaugh) November 6, 2023
Craig Counsell has reportedly been named the next manager of the Chicago Cubs!@JonHeyman gives an instant reaction to the news ⬇️ pic.twitter.com/RMRIanoel4

— MLB Network (@MLBNetwork) November 6, 2023
#stlcards will host the #Brewers on April 19.
But they won't see Craig Counsell until May 24.

Not sure about the quality of baseball, but goodness what fun the NL Central will be for the storylines.

— Derrick Goold (@dgoold) November 6, 2023
WELCOME TO CHICAGO CRAIG COUNSELL pic.twitter.com/UHda39bU0Z

— Chief Cub (@ChiefCub) November 6, 2023
DAVID ROSS OUT
CRAIG COUNSELL IN pic.twitter.com/Sv508E67Ct

— carl (@barstoolcarl) November 6, 2023
Cubs hiring Counsell, sources tell @TheAthletic

— Ken Rosenthal (@Ken_Rosenthal) November 6, 2023
The Cubs are hiring Craig Counsell, per reports. pic.twitter.com/iqOliIAvzl

— Marquee Sports Network (@WatchMarquee) November 6, 2023
#Breaking: The #Cubs are hiring Craig Counsell as their manager.
via @Ken_Rosenthal

— Jarrett Payton (@paytonsun) November 6, 2023
Two managerial vacancies have been filled today (Mendoza/Mets, Vogt/Guardians) and Craig Counsell will be taking over the Cubs. That leaves four manager jobs still open: Angels, Astros, Brewers and Padres.

— Mark Feinsand (@Feinsand) November 6, 2023
This joke is so much funnier now: In an effort to lure Craig Counsell to Chicago, the Cubs are putting a new roof on Wrigley Field.

— Evan Altman (@DEvanAltman) November 6, 2023
Counsell is exactly what the Cubs need in a manager. pic.twitter.com/V6UDpMqF9x

— Paul Sullivan (@PWSullivan) November 6, 2023
The Cubs are going to be aggressive as hell this offseason now, aren't they? You can't make this move and not put the pedal down as hard as you can.

— Bleacher Nation (@BleacherNation) November 6, 2023
Craig Counsell walking into Wrigley 😎 pic.twitter.com/BGcUltKHMi

— Wrigley Report (@wrigleyreport) November 6, 2023
November 6, 2023
https://t.co/Khso7HjamJ pic.twitter.com/s120fhY1we

— Adam Jahns (@adamjahns) November 6, 2023
SHOCKING #CUBS NEWS.
Feels like ⚾️ outside today too.@espn1000 & 100.3 HD2
Download ESPN Chicago app
Watch https://t.co/lMDnR1oAn8 or youtube live pic.twitter.com/5CXpfpFryx

— Silvy (@WaddleandSilvy) November 6, 2023
Geography clearly mattered to Craig Counsell

He is moving 90 miles south pic.twitter.com/Hf1dAMSAqq

— Joe DeMayo (@PSLToFlushing) November 6, 2023
Craig Counsell is the manager of the Chicago Cubs and he's bringing back the red bill hats! This photo is real and the statement is true. #Cubs #CraigCounsell pic.twitter.com/O0pZdd6JSu

— OBVIOUS SHIRTS® (@obvious_shirts) November 6, 2023
The Chicago Cubs are getting serious. This is what we wanted.

I can't believe it lol.

— Alex Patt (@chifanpatt2) November 6, 2023
Breaking: The Chicago Cubs are hiring Craig Counsell as their manager, sources tell @JeffPassan.

The news was first reported by The Athletic. pic.twitter.com/EiqEuQkZEo

— ESPN (@espn) November 6, 2023
You can love David Ross and also understand Craig Counsel is a better manager. Both can be true. This is an upgrade.

— The Schmack Guy (@Ant_Pasquale3) November 6, 2023
I'm on my cheeks still. Craig Counsell is a Chicago Cubs. David Ross is not. WTF

— carl (@barstoolcarl) November 6, 2023
Craig Counsell's 5-year contract with the Cubs is worth more than $40 million, per @Ken_Rosenthal

Counsell will be the highest-paid MLB manager. pic.twitter.com/Yq5EH7vtEi

— FOX Sports: MLB (@MLBONFOX) November 6, 2023
Cubs player reactions to this news are going to be really interesting.

Some guys are gonna be *pissed.*

Some guys are gonna be *stoked.*

Some guys are gonna be both.

Some guys are gonna just kinda want a sandwich, because they're hungry, and wait what happened?

— Bleacher Nation (@BleacherNation) November 6, 2023
.@dan_bernstein and @LaurenceWHolmes react to the stunning news that Craig Counsell will replace David Ross as the Cubs' manager.

"This is seismic," Holmes says. "I love this."

"That's a badass move," Bernstein says.

Listen to full segment: https://t.co/UZx1j8VLTz pic.twitter.com/g5vYwFJUaq

— 670 The Score (@670TheScore) November 6, 2023
Craig Counsell's 5-year, $40 million contract from the Chicago Cubs was about twice as much as the Milwaukee Brewers' offer to retain Counsell.

— Bob Nightengale (@BNightengale) November 6, 2023
Craig Counsell is calling Brewers players right now so they hear the news from him.

— Adam McCalvy (@AdamMcCalvy) November 6, 2023
I'm wondering how much Ross was making and how when you add that to the $8M Counsell is making, the Cubs might spend like $10M on the manager spot next season! Wild. Awesome. Love to see them flex the checkbook.

— Michael Cerami (@Michael_Cerami) November 6, 2023
I can't believe Jed Hoyer is driving off with Craig Counsell in the getaway car while David Ross and the Brewers are staring blankly at each other in the motel bar

— alyssa (@alyssaacorrine) November 6, 2023
exclusive video of Craig Counsell's call with Brewers players https://t.co/ztyw83Dsfg pic.twitter.com/9dnWstyXgh

— Aldo Soto (@AldoSoto21) November 6, 2023
Regardless of what happened today, David Ross is a Cubs legend for life.pic.twitter.com/KjzvFpBGLr

— This Day in Chicago Sports (@ChiSportsDay) November 6, 2023