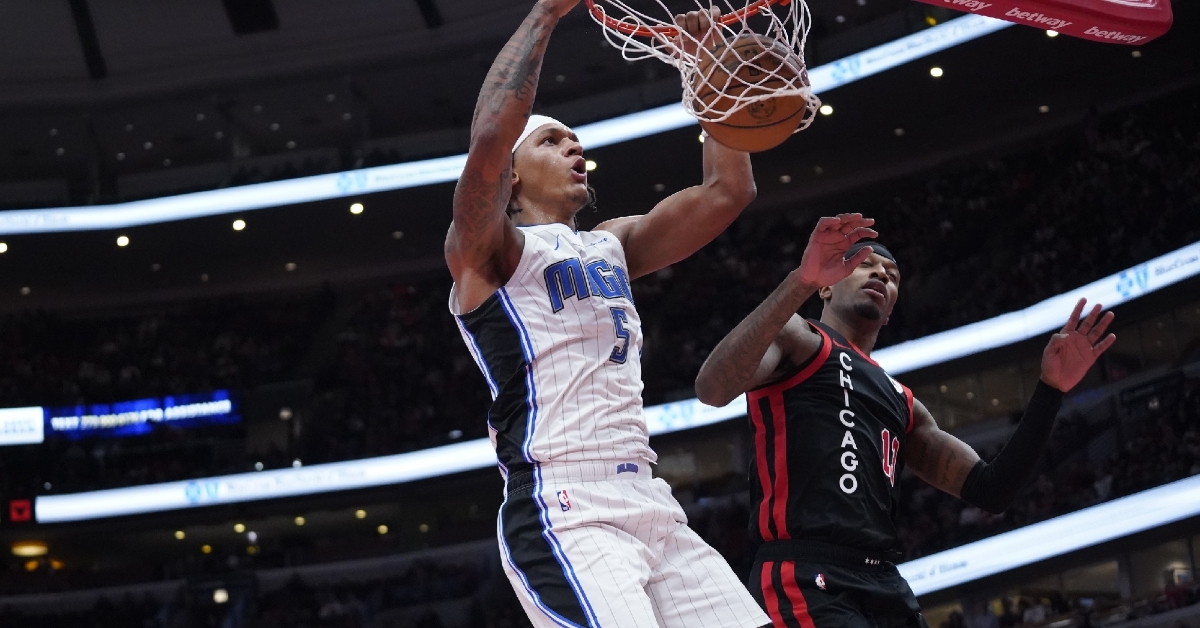 | | |
| --- | --- |
| Slow start proves costly for Bulls against Nets | |
---
CHICAGO - You know things are not going well when you get booed off your own court. That is what is happening to the Chicago Bulls (4-9) as the United Center faithful let them hear about their recent play. Coming off of arguably their worst performance of the season against the Orlando Magic (7-5), Chicago had a chance at revenge as the two teams met for the second time in three days.
This time, it wasn't just an ordinary regular season, but instead, part of the in-season tournament as a lot more was at stake, but once again, it was the Magic finding a way to pick up the victory as they withstood a Bulls rally 103-97.
In an effort to create more offense, Billy Donovan shook things up in his starting lineup and inserted Alex Caruso in place of Torrey Craig. That move worked out for Caruso, who finished with 18 points, but again, it was another slow start that proved costly for the Bulls.
Trailing 21-16 after one quarter of play, had it not been for the Bull's defense in those first 12 minutes, things would've gotten way out of hand. As the second quarter rolled along, the Bulls offense was no where to be found as they followed up that 16-point first quarter with 17 points in the second. For those who are not good at math like myself, that makes a 33-point first half.
I don't care how good defensively you are as a team. You won't win many games scoring 33 points in a half, as the Bulls were down 48-33 after 24 minutes of action. For whatever reason, the Bulls offense got going in the second half and continued the trend of being a second-half team. Chicago scored 64 points in the second half, a large portion of that coming from Zach Lavine and his game-high 34 points.
Say what you want about Lavine and the type of leader he is. He put the team on his back in the second half and tried to will them to a victory. They came close to doing that as they pulled within four points late in the fourth before running out of gas down the stretch and dropping another disappointing contest.
Anytime Lavine can give you 34 points, you have to like your chances, especially when he gets more than 41 points of support from two other guys. Fresh off his game off due to personal issues, Demar DeRozan was back on the court and put together a very efficient shooting night to finish with 23 points. He did struggle from the free throw line, but only had four attempts so you can only take a little into that.
As mentioned, Caruso was added to the starting lineup and has been playing well as of late. You could make the case that he is the best player on the Bulls roster right now which is why so many teams are interested in taking him off of the Bulls hands this season. Caruso continued his strong stretch of play with his 18 points as he was able to pick up the slack from Nikola Vucevic.
Sure, the big man came away with a double-double, but with just 10 points and 10 rebounds, it was an off night for him. Regardless, that is more than 80 combined points between the four, so how on earth can Chicago lose this game? That is because the rest of the team scored fewer than 20 points, with Coby White adding four, Andre Drummond five, and Craig three. The latter two came off the bench as the Bulls bench had a total of eight points in this one. That makes it extremely tough to win games, especially when four players on the Orlando bench had more points than the entire Bulls bench.
Talk about a team win for the Magic. They needed everyone to get involved, and they did, which is something the Bulls could learn from. While Franz Wagner was the leading scorer for the Magic with 21 points, he was the only one with more than 15 as the Magic continued to get contributions from across the board. Gary Harris added 15 points and six assists, with Paolo Banchero adding 13 points and eight rebounds to round out the strong showings from the starting lineup.
With the Orlando starting five struggling, the Magic needed their bench to pick up the slack, and they did that and more. This was the turning point in the game, and it is single-handedly the main reason Orlando won, as their bench had more points than their starting five. Jonathan Isaac and his 18 points led the way, with Cole Anthony adding 11. You also had Moritz Wagner pick up 10 and Joe Ingals eight, as those four had more points than the entire Bulls bench.
Things won't get any easier for the Bulls as they will face the Miami Heat twice in the next three days, with the first game coming on Saturday. Should the Bulls lose that game, this will be a 4-10 team and a team that will most likely be blowing things up sooner rather than later.