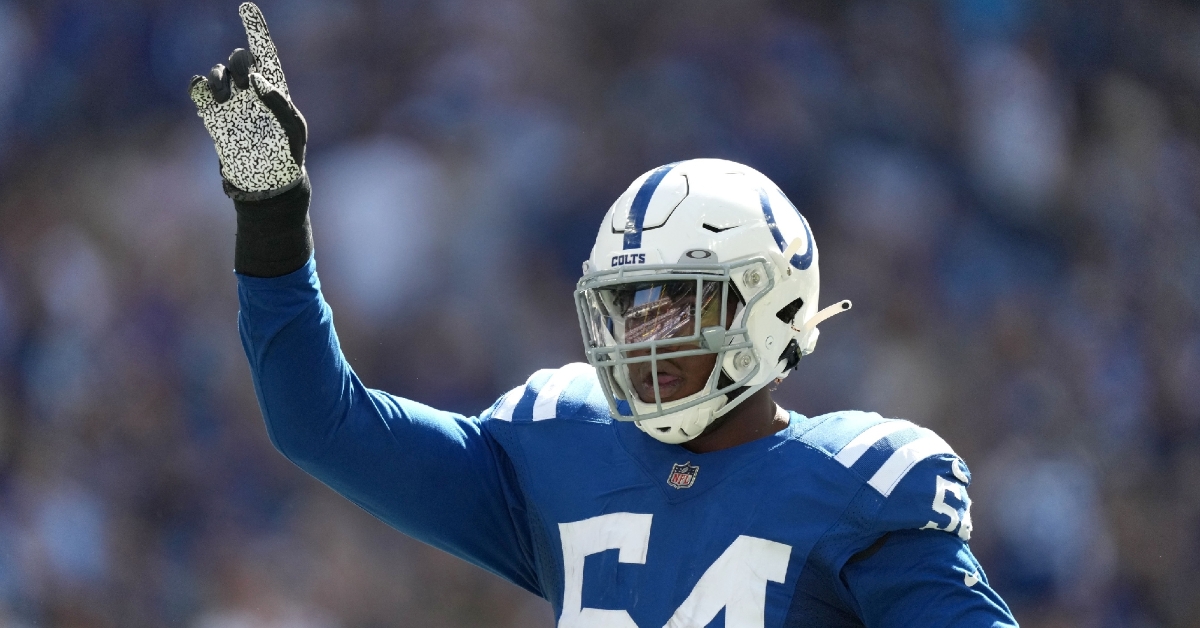 | | |
| --- | --- |
| Bears Trade Target: Dayo Odeyingbo | |
---
You have the love of the NFL offseason, don't you? From the free agent signing period to the NFL draft and then the eventual trades that happen throughout the offseason makes for one of the most exciting few months in sports.
You also have the ongoing rumor mill about what teams should and shouldn't do and who they should target.
The Bears are no secret to the rumor mill, as Ryan Poles has had his team linked to tons of players all off-season long. The most recent rumor seems far-fetched, as the Bears have been mentioned as a sleeper team for Dalvin Cook. Not only do I not think that happens, but it doesn't make sense for the Bears to make that trade when you look at who they have at RB right now.
You also have the rumors surrounding the defensive side of the ball, although these seem more likely to happen. With the Bears still looking to add to their pass rush, guys like Danielle Hunter, Chase Young, and Yannick Ngakoue have all been mentioned as potential fits for this team. Jadeveon Clowney has also heard his name linked to the Bears, as that rumor is gaining more traction.
With all those names being connected to the Bears, Ryan Poles has some serious thinking to do about how he wants to address the pass rush situation he is currently facing. Anytime you have a defense that only sacks the QB 20 times in a season, significant changes need to happen, which is what Poles focussed on most of the offseason.
The current changes he has made will help this defense, but unless others start to step up, the pass rush is still a concern. With several free agents left on the market, it wouldn't shock anyone to see Poles take a swing at one of those guys in hopes of injecting life into the front seven. However, Poles is intelligent, and he is calculating many thoughts about how this defense can improve.
I think Poles looks for a trade partner to improve the pass rush and goes for a player who is cheaper and has multiple years of control left. Why not look at Matt Eberflus' former team, the Indianapolis Colts, as one of those teams, as they have a player that fits the mold of Poles and falls into the financial range he is looking for?
No, I am not talking about Justin Houston, who is currently a free agent, but instead, a much younger player who is still figuring out who he is in this league. That man's name is Dayo Odeyingbo. Despite the Colts struggles last season, their defense was pretty consistent throughout the season, but Odeyingbo is probably a name many of you haven't even heard of.
Eberflus and Alan Williams are familiar with Odeyingbo, as they took him in the second round of the 2021 NFL draft when both were part of the Colts staff. That familiarity is worth noting because they play in a system he has experience in, and that would make the transition to a new team that much easier.
It is hard to say whether Odeyingbo is part of the Colts future, especially with this being just his third season, but it wouldn't hurt for Poles to check in and find out for himself. He fits the HITS principles very well, and despite struggling to see playing time in 2021, he saw over 46% of the defensive snaps in 2022 (mindful that Eberflus was gone) and finished with five sacks. Eberflus being gone had little to do with it, as Odeyingbo had to get used to the NFL game before he saw meaningful snaps on the field.
He has the height and the build that Poles and company like in their defensive ends and has violent hands despite not being the quickest off the ball. Remember that he is still just 24 years old and is still learning who he is as a player in this league. Odeyingbo has two years remaining on his rookie deal, which means he will come cheap and allow the Bears to fully evaluate his play before making a long-term decision.