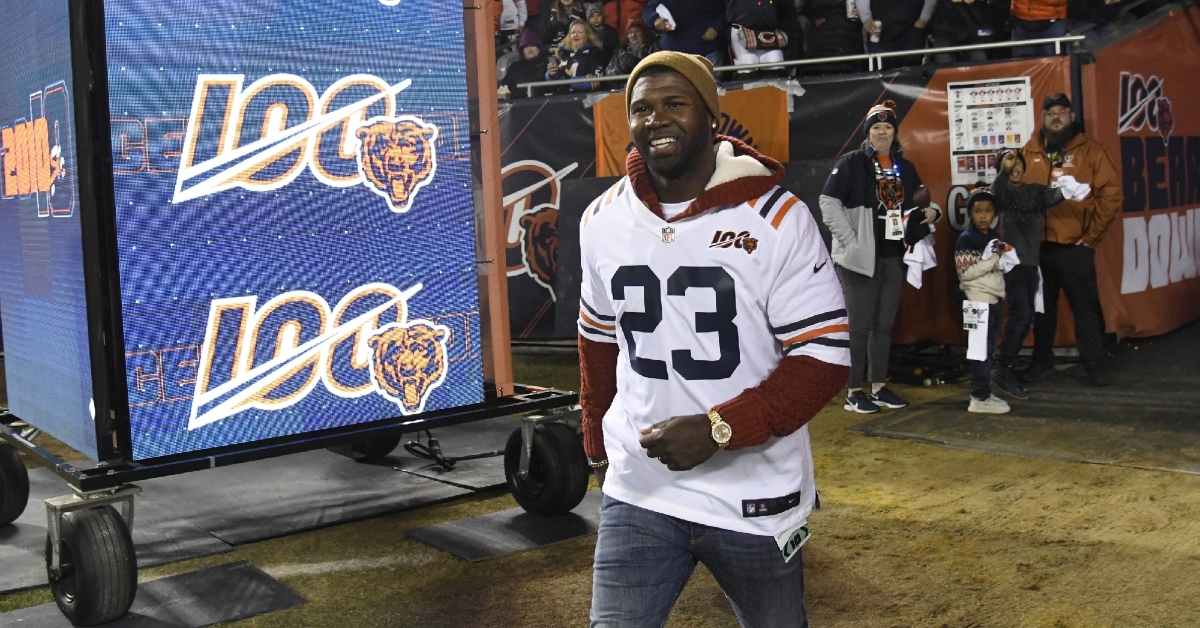 | | |
| --- | --- |
| Former Bears including Devin Hester hoping to get Hall of Fame invite | |
---
The NFL Hall of Fame may not be what it used to be in terms of credentials, but it is still an elite company you want to be a part of. For the 129 nominees that are being nominated for the 2023 NFL hall of fame class, they are hoping to hear their name called as it would symbolize all the hard work and dedication they put in.
While all 129 names will not get in, the field will be reduced to 25 by November 15 before going down to five. The final five names are the ones going on the ballot, and should they receive 80 percent of the vote, they will be given a gold jacket and have their place entrenched in NFL history.
The Bears are well-represented on this year's nominee list as nine former players find themselves on that HOF list. While five of the nine played most of their career outside of Chicago, they were still part of the Bears franchise at some point, so you have to think of them as a Bear.
However, four players spent most of their careers in Chicago and deserve to be in the hall.
Devin Hester
Perhaps the most notable name on this list is Hester, a top 15 finalist in his first year on the ballot in 2021. After not being chosen in 2022, Hester is back in the Nominee stages for a second time as he hopes for better fortunes.
The most prolific return man in NFL history, Hester holds NFL records of 19 kick-return touchdowns, 14 punt-return TDs, and 20 return touchdowns, which includes punts, kickoffs, missed field goals, fumbles, and interceptions. The second-round pick of the Bears in 2006, Hester was voted to three Pro Bowls, won 13 special teams player of the week awards, and was named to the NFL's All-Decade Team for the 2000s by the Associated Press and ESPN. He also returned the opening kick of the Bears last Superbowl back for a touchdown, so you can see why he is deserving.
Olin Kreutz
The Bears also have three other Modern-Day era players on the nominee list as they have now been on that list for the last several years. That starts with the former offensive lineman and current Bears analyst Olin Kreutz.
A third-round pick in 1998, Kreutz spent 13 seasons in Chicago, where he not only anchored the offensive line, but was nominated to six pro bowls. During his tenure in Chicago, Kreutz played in 191 games, with 183 coming as starts. That number is significant because he ended up just one start shy of Walter Payton's franchise record, so he was as durable as they come.
Lance Briggs
Briggs is the next of the Modern-Era players and was the third-round pick of the Bears in 2003. Across his 12 seasons in Chicago, Briggs was one of the more consistent players in Bears history as he landed in seven pro bowls over his career. He appeared in 173 games with 170 starts, recording 1,566 tackles, 15 sacks, 16 interceptions, and 18 forced fumbles.
Briggs also scored six defensive touchdowns, the third most in Bears history, and his five-interception return TDs are the second most. Briggs was the first linebacker in NFL history to return an interception for a touchdown in his first three seasons.
Charles Tillman
Perhaps the most intriguing name on this list is Charles Tillman, who was taken in the second round in 2003. Like most of the players on this list, Tillman spent more than a decade in Chicago before finishing his career with the Panthers.
Although not the Monsters of the Midway from the 1980s, Tillman was part of a dominating defense that helped secure three NFC north titles during his playing days and one Superbowl appearance. He set team records with nine defensive touchdowns, eight interception return TDs, and 675 interception return yards. His 36 interceptions are the most by a cornerback in team history and third most overall behind safeties Gary Fencik (38) and Richie Petitbon (37).
Now nearly a decade after his playing days have ended, Tillman is still known for one thing: the famous Peanut Punch. That technique is not only still being used today, but saw Tillman force 42 fumbles in 12 seasons, including a career-high 10 in 2012.
Other players on the hall of fame nominee list that spent time with the Bears are as follows. Jared Allen (DE), Clyde Simmons (DE), Ruben Brown (G), Dave Krieg (QB), and Muhsin Muhammad (WR).