| | |
| --- | --- |
| Blackhawks focused on future with Arvid Soderblom signing | |
---
| | |
| --- | --- |
| Thursday, May 27, 2021, 8:20 AM | |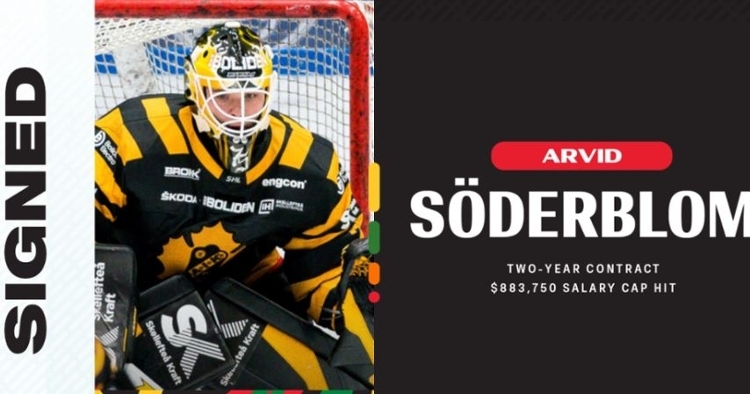 Entering the 2021 NHL season, goaltending was undoubtedly a question mark for this team. After all, they lost Corey Crawford in free agency, who then retired and had to depend on Guys like Malcom Subban and a cast of rookies to hold down the fort.
After watching the play of Kevin Lankinen all season and the sudden emergence of Colin Delia down the stretch, goaltending may not be an issue in the future as the Blackhawks have two great choices. However, that hasn't stopped them from focusing on the future, as they recently signed 21-year-old goalie Arvid Soderblom to a two-year deal work north of 800k.
Soderblom is being added to an already crowded goalie mix, but I do expect Subban to be traded or seek a starting role someone where else this offseason.
Allow me to introduce you to the young Soderblom who has played in the Swedish League as a member of Skellefteå in the SHL.
This signing isn't all that surprising, as the Blackhawks were one of many teams who looked to add him back in February. Now that the deal is official, it is a great pickup that is filled with upside.
In 22 games this past season, Soderblom was a wall, even if the results didn't always show. His overall record was 12-7-2, but it is what he did in the net that stands out. Not only did he allow just 2.03 goals per game, but he posted a save percentage north of 92%. Both of those were second in the SHL, only behind Viktor Fasth.
This deal is not only a bargain in terms of overall cash, but he is signed through 2023, giving Chicago more depth at one of the most important, if not the most critical positions in the game. While there is a lot to be known about this prospect, Soderblom seems to be one of those European kids that the Blackhawks are willing to take a chance on, hoping to find value.
Chicago has a legitimate starting goalie in Lankinen and two excellent backups right now, so don't expect this signing to challenge Lankinen's roster spot. Instead, this is a pickup more so focused on the future as it gives the Blackhawks the possibility of landing a future starting goalie. With zero NHL-caliber goalies in the system, Chicago could be in trouble should Lankinen get injured long-term. Adding this kid gives them more flexibility and depth and could save them from complete disaster.
Soderblom is still a raw prospect as to be expected at just 21 years old. However, being so young and seeing the success he already had is certainly a promising start. Chicago is in a transition period where they are getting rid of their older players in place of much younger talent. Soderblom falls into that trend as this is more of a future building block than immediate help.
The only way to ensure an organization is successful long-term is to stockpile the farm system with a plethora of young talent, hoping that they can bring you success. Some of that young talent led the way for this team in 2021, and the future is certainly bright for an organization looking to get back to championship play.