| | |
| --- | --- |
| Blackhawks looking to add elite defenseman | |
---
| | |
| --- | --- |
| Tuesday, June 22, 2021, 9:15 AM | |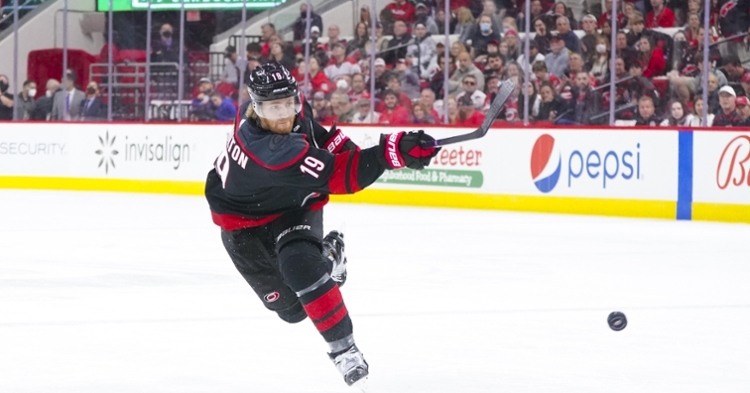 While the Blackhawks may be in rebuild mode with a team filled with young talent, that won't stop Stan Bauman from looking to add veteran pieces that he feels will help this team. Recent reports around the league not only expect the Blackhawks to target veteran components, but they expect them to monitor the defensive market, with Dougie Hamilton and Seth Jones being the two names heavily discussed.
As good as Duncan Keith has been across his NHL career, his days as a NO. 1 defender are long gone. Chicago needs a top-notch defender and Hamilton, and Jones can certainly bring that to the table. Given the assets Chicago has, the amount of cash the Blackhawks will have to spend, look for them to be very active this offseason as they look to speed up their rebuild to become contenders once again.
Getting Hamilton may be a bit easier than Jones at this point, as he is a free agent following his expiring contract with the Carolina Hurricane. Chicago will be one of plenty of teams contacting Hamilton this offseason, but the price will have to be right, so Chicago doesn't overpay for him. At 27 years old, Hamilton is entering his prime as an NHL player and has already played at a great level.
In 607 career NHL games Spanning time in Boston, Calgary, and Carolina, Hamilton has logged 341 career points, coming off 106 goals and 235 assists. That is excellent production coming from a defenseman and is certainly an upgrade this Blackhawks team would love to have. In his case, the cap number will be the biggest key. Should he seek money close to Alex Pietrangelo and his seven-year deal worth close to 63 million, look for them to walk away. However, if Hamilton would be willing to sign somewhere in the 6–7-million-dollar range for five years or so, look for the Blackhawks to engage.
On the other hand, Jones will be a bit trickier as it isn't up to the Blackhawks when it comes to signing him. Instead, that will hinge on the Columbus Blue Jackets and what they will want in return as he would have to be traded. Much like Hamilton, Jones is an excellent defenseman who, at 26 years old, has plenty of hockey left in his tank.
Since coming into the league in 2013, Jones has spent time with the Nashville Predators and Columbus and has tallied 286 points across 580 games. Jones isn't a big goal scorer as he has 65 to his name, but his 221 points show he has a knack for moving the puck across the ice and setting things up offensively. As expected, the asking price for Jones will be high, but how high is the question?
Most sources close to the NHL expect the Blue Jackets to want mostly draft picks or prospects for Jones. The question is how much and how good of a prospect? One league source sees the Blue Jackets asking for one first-rounder, one second-rounder, and at least one high-end prospect. Is that a lot? Yes, but that isn't outrageous when you look at the type of player Jones is.
Another NHL source said that any deal the Blackhawks would discuss for Jones would have to include Kirby Dach in the talks. Dach is a great player in his own right and would be an excellent fit on the Blackhawks team for years to come, but bringing Jones in and parting ways with Dach would be worth it.
Jones has struggled over the past two seasons, but a lot of that can be pointed to his use in Columbus. Not only was he overused to the point he was burned out, but he also had a weak supporting cast that didn't offer much help. The Blackhawks have a much better supporting cast, and Jones wouldn't have to worry about being overused to the point he falls apart.
Chicago no longer has a No.1 defenseman on their roster, which this team needs. Yes, they have prospects who could turn into that, but those are not the guys right now and are a few years away. Adding either Jones or Hamilton not only solves the defensemen issue now, but it also solves that issue for several years, which would allow the Blackhawks to work their prospects into the system at their own pace.
Rebuilding or not, this team is getting close to not only being a playoff contender, but someone who could contend for the Stanley Cup. A few moves and pieces need to be added, and these moves would be a start. The Blackhawks will be aggressive this offseason, so get ready for a fun offseason in Chicago.
Click here if video does not load https://www.youtube.com/watch?v=f2HmQCj5k3o