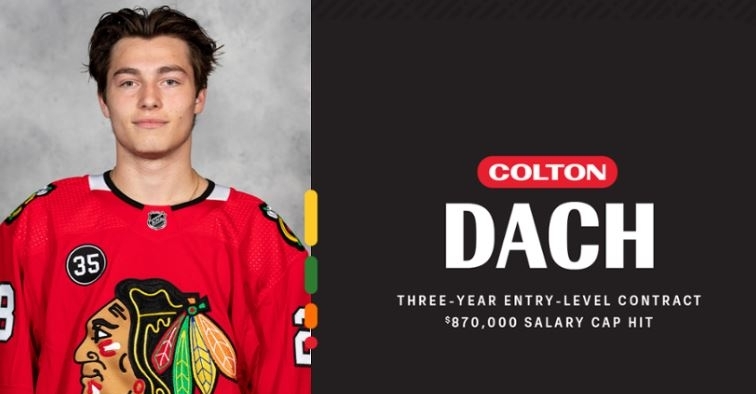 | | |
| --- | --- |
| Getting to Know: Blackhawks prospect Colton Dach | |
---
| | | |
| --- | --- | --- |
| Monday, May 16, 2022, 11:44 AM | | |
Although Chicago Sports HQ is primarily Cubs, Bears, and Bulls, there are other teams in the Chicago area that fans cheer for. One of those teams is the Chicago Blackhawks, who appear to be stuck at a crossroads period right now.
After exceeding expectations in 2020-21, the Blackhawks went out and spent a ton of money last offseason in hopes of doing a bit better. Instead, they took drastic steps backward and are now teetering on a rebuilding phase. Given the amount of money invested into several key players, I don't know how this will work, but it is something to watch going forward.
With that being said, the best way to speed up the rebuilding process is to have some blue-chip prospects who can be the future of this team. Not only do the Blackhawks have roughly 20 names that they see as future building blocks, but a lot of the NHL world thinks upwards of 10 players could be stars in this league.
Those 10 players deserve some recognition, and it all starts with Center Colton Dach. Taken in the second round of the 2021 NHL draft, Colton Dach is the little brother of Kirby Dach, as family has a whole new meaning for the Chicago Blackhawks. The 19-year-old Dach is not only a lefty, but a big boy standing at 6-4 and weighing 195 pounds. Expect a minimum of 15 more pounds added to that body as he will by a physical force to deal with for years to come.
Although known as the little brother to Kirby, Colton is similar to his brother, and many fans wanted to see the family stay together and play together one day. You get the sense that Colton may be a bit raw at this point as the organization appears to be giving him as much time needed to develop.
If he is indeed raw, you wouldn't have guessed it based on the numbers he put up in the WHL. While playing for the Kelowna Rockets, Dach scored 29 goals and 50 assists in 61 games, proving that he is more than a capable scorer. Following that campaign, he signed with Rockford and now will get all the time needed to develop in the AHL.
Although he has yet to suit up for Rockford since arriving, Dach is still regarded as one of the better shooters in the 2021 NHL draft, especially from a mechanical side of things. His long arms allow him to create some distance between him and defenders, allowing higher-quality shots to come off his stick.
Dach is also an intimidating and physical presence on the ice and someone that many teams do not want to run into. Dach is not the most fluid skater on the ice when it comes to his overall development, which is something he needs to work on. Hockey has always been known as a fast game, but the NHL is on its own level, so you need to be at the top of your game skating-wise.
However, skating aside, his offensive potential is hard to ignore, so expect him to get plenty of opportunities with Rockford next year. When the Blackhawks do decide he is ready to make the leap, this is someone who will help the organization for years to come.