| | |
| --- | --- |
| Takeaways from Blackhawks loss to Panthers | |
---
| | |
| --- | --- |
| Sunday, May 2, 2021, 9:53 AM | |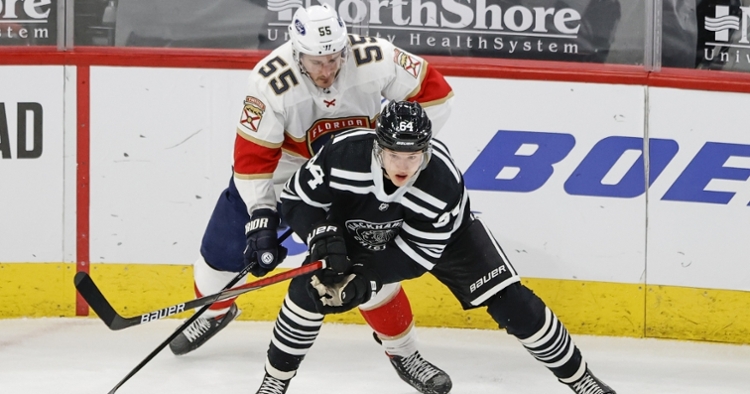 Chicago may not be winning these games against the Panthers, but they certainly are making them exciting as they continue to show growth against one of the best teams in the Central. Even though the scoreboard shows a 5-4 loss, the overall effort that stands out the most as Playoffs or not, this team is continuing to go down fighting.
Florida may have grabbed the early lead with a first-period goal from Anthony Duclair, but the rest of the action picked up in the second period as a total of eight goals found the back of the net over the next two frames. Ironically, Duclair's first-period goal would be the difference as both sides scored two goals four goals each in the final two periods.
Nikita Gusev adding the Panthers lead early in the second, putting the Blackhawks in a 2-0 hole. Once again, playing from behind is not out of the norm for this young team, and they continued to take the Panthers best punches and battle back. A power-play goal from Connor Murphy got the Blackhawks on the board before Alex DeBrincat tied things up less than a minute later. However, the Blackhawks defense had a late period meltdown allowing Aleksander Barkov to put home his 25th of the season and gave Florida a 3-2 lead.
That seemed to open the flood gates as both Duclair and Owen Tippett added one goal each less than a minute into the third period as Florida now led 5-2. That was a stretch of three goals in less than two minutes as Florida showing how fast they can strike. Refusing to go down without a fight, Chicago added another power-play goal off of the stick from Kirby Dach ahead of a Dominik Kubalik goal to make things 5-4. Unfortunately, that last goal came with less than 20 seconds to go as Chicago ran out of time in this one.
Quick strikes unravel the Hawks
One thing Chicago has not done well this season is get off to fast starts to open periods. They have also been known to allow plenty of goals in the first few minutes, which this team needs to improve on. Saturday was no different as the Blackhawks allowed not one but three goals in the first three minutes of periods which proved to be the difference in the game.
In both the second and third periods, Florida opened the scoring by putting home goals in the first few minutes. The third period was the backbreaker when they scored twice less than a minute in and three times in less than two minutes going back to the end of the second. That can't happen to a young team when you face an elite Florida squad, but it is to be expected.
For Chicago to take that next step as a team, they need to be the ones getting off to fast starts and putting the pressure on their opponents. Hopefully, this becomes a learning experience for them, and they use it to their advantage.
Kevin Lankinen continues to struggle
I am not necessarily going to blame Lankinen for his struggles against Florida as it is hard to stop 40 plus shots on a given night. However, I will put some heat on him for the last couple of weeks as he hasn't looked himself in quite a while. Whether it is fatigue, struggles, or just facing better competition, the once-reliable Lankinen has become a problem in recent weeks leading to several games where he has been pulled in favor of Malcom Subban.
When that happens, it puts pressure on a Blackhawks team who struggles to score as it is to score more. Sometimes it works like last night where they score four goals, but what good does that do when you allow five. Lankinen is young, much like this roster, and I think he is getting to the point where he has gotten fatigued.
A big reason for that could be from that stretch in the middle of the season where he played 12 games straight and 13 of 14. Had he gotten some rest in there, he may be a bit fresher, but at this point, you should keep trotting him out there to give him as much ice time as possible.
First time in forever
For the first time since the first week of the season, Chicago has fallen below .500 as they are now 22-23-6 on the season. Having watched this team all season, I would have never thought that was possible, especially when you consider where this team was in February.
Following that dismal start to the year, Chicago bounced back with a 10 -15 game stretch that saw them surge into first place in the Central. The next three weeks saw Chicago not only look like a playoff team but one who could make some noise given the right matchups. Then March happened, and this team entered a tailspin they never could get out of.
That was to be expected when it seemed like the entire last two months saw a schedule comprised of Carolina, Tampa Bay, and Florida, but they knew that half of their schedule would be from those three teams. All Chicago needed to do to make the playoffs was to take fourth in the division, which was possible even with poor play.
However, as the Blackhawks began to struggle, other teams like Nashville and Dallas caught fire, leading to where this team is today. The Blackhawks have five games remaining on their schedule until the season is over and can be eliminated from playoff contention with one more loss. They will look to next season knowing their schedule will be different and build off the positives from this year.