| | |
| --- | --- |
| Three takeaways from Blackhawks win over Stars | |
---
| | |
| --- | --- |
| Wednesday, April 7, 2021, 11:45 AM | |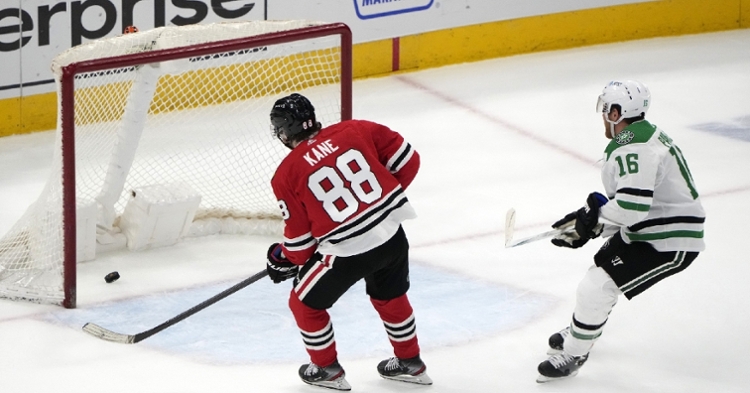 To say the last month has been a struggle for the Blackhawks would be an understatement. After being one of the hottest teams in the NHL for a month, Chicago has struggled to pick up points taking on the cream of the crop in the Eastern Conference. That has seen their hold on the fourth seed in the Central not only dwindle, but Chicago is now on the outside looking in for the postseason trailing Nashville by two points for the final spot.
With a stretch of games that really could get the Blackhawks right back in it, Chicago needs to take things game by game as this will make or break their season. In a matchup with Dallas on Tuesday, Chicago was looking to build on their 3-1 season record to pick up two more points. With Kirby Dach giving Chicago a first-period lead with his first of the season, the Blackhawks were in complete control through two periods of play as Dominic Kubalik and Alex DeBrincat added second-period goals to make things 3-0.
Despite both Andrew Cogliano and Radek Faksa making things 3-2, Patrick Kane delivered an empty-net goal with seven seconds to go to cap off a 4-2 Blackhawks win.
Here are some takeaways from the game:
Winning never felt so good
Winning games was never a problem for Chicago early in the season, but since the start of March, it surely has been. In three weeks, Chicago went from the three seed in the Central and looked like a playoff team to now on the outside looking in. A lot of that had to do with a brutal stretch of games that saw them face the three best teams in the Division, and points were hard to come by.
Even after that stretch of games was over, Chicago still struggled to get points as they never seemed to regain their focus right away. After holding a comfortable three-goal lead after two periods of play, Chicago let their focus lapse once again, allowing Dallas to get within one. Thankfully, Kane made sure things wouldn't worsen, and Chicago picked up a much-needed two points.
After the stretch this team recently went through, winning a game never felt so good. They needed this win, and it is like a giant weight has been lifted off their shoulder. Hopefully, they regain enough confidence to continue pushing forward.
Time to prove you belong
Even though Chicago is on the outside looking in right now, they are only two points back and are in a pretty good position. Their next eight or nine games are against the teams behind them in the standings, and they should be able to bank some points in the next few weeks.
How many points is the question, and that will go a long way to tell us where this team will be, come the final two weeks of the season. The more points they can get now, the better as contests with Florida, Carolina, and Tampa all linger in the final two weeks and could haunt the Blackhawks playoff chances.
For Chicago to make the postseason and prove they belong, now is the time to show fans why. This next stretch of games is as good of chance as any for Chicago to make a run. If they can't do that now, I think fans will miss out on playoff hockey in 2021.
Keep Kevin Lankinen fresh
For the most part, Lankinen has been as reliable as they come in goal, taking over the starting job just two weeks into the season. Sometimes being so good comes with a price, and there was a time where he was getting fatigued, and his production was lacking on the ice.
Given the stretch of games, Chicago is about to enter, it is imperative that Lankinen still gets his work but not overworked. They will need him for the stretch run against the division leaders and have him ready to go in the postseason should they reach that. Malcom Subban has improved since his rough start to the season but hasn't seen the ice time he thought he would make this season.
Now would be the perfect time to get him some starts as they would like a reliable backup goalie to be equally as fresh. Chicago knows what is at stake, and they know what they need to do if they want to make the postseason. Now it is time to execute that plan, beat these teams you need to beat and get back to playing the winning hockey they played in January and February.
https://www.youtube.com/watch?v=24PBQwoJjx8