| | |
| --- | --- |
| Three takeaways from White Sox win over Mariners | |
---
| | |
| --- | --- |
| Tuesday, April 6, 2021, 10:57 AM | |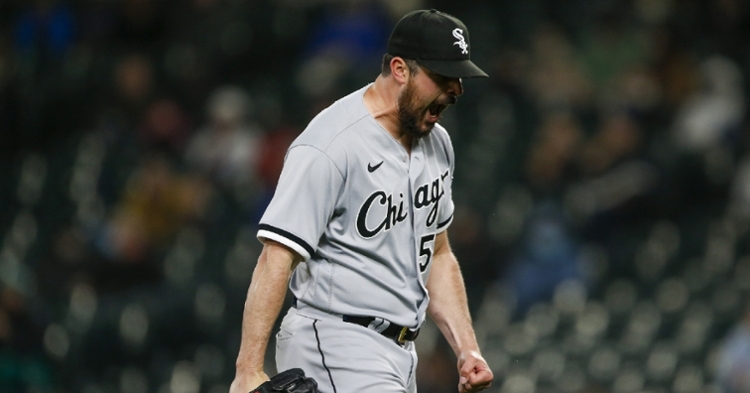 After a rough series to open the series that saw the White Sox go 1-3 against the Angels, Chicago continued their west coast swing with a Pacific Northwest trip. Hoping to get back on track, the Sox turned to Carlos Rodon, who was making his first start since returning via free agency.
Not only did he deliver by allowing just two hits and striking out nine in five innings, but the White Sox offense also backed him with six runs, including a three-RBI night from Yasmani Grandal to give the White Sox a 6-0 win.
Here are just a few takeaways from the game:
Rondon's shoulder looks OK
Rodon was once viewed as a top prospect in the White Sox system and emerged on the scene as a middle of the rotation arm as a rookie. Rodon has shown signs of breaking out at times across his entire career, but injuries have always held him back, limiting him to less than 30 stars in every season.
Last year, a shoulder injury forced him to miss the entire 2020 campaign as he hit the free-agent market for the first time. With several suitors looking to earn his services, Rodon chose to remain with the White Sox, signing a one-year 3-million-dollar deal. After a solid spring, Tony La Russa named him the No. 5 starter in the rotation as Rodon was given a fresh start with a new man in charge.
In his first start since returning, Rodon looked as good as he ever has, which is a promising sign for the White Sox rotation. His fastball velocity was up from recent years, his command was on point, and his breaking ball was back to being the sharp breaking ball that made him so successful. If he can stay healthy all season, Rodon could be in line to earn come-back player of the year honors, which will only make this White Sox staff that much deeper.
Still adjusting to life without Eloy
You know that old phrase "Spring Training doesn't matter." Well, it matters for the White Sox as they lost one of their best hitters in spring training. Eloy Jimenez tore his pectoral muscle trying to rob a home run in the final week of spring for those who may have missed it. The initial diagnosis isn't good as he is expected to miss 5-6 months or the entire season.
Not only is he their starting left fielder, but he is a 35 plus homer 100 RBI bat that is no longer in the lineup as the White Sox need to fix on the fly. Having guys like Grandal, Luis Robert, Yoan Moncada, and others certainly help as they can provide plenty of thunder on their own, but Jimenez is a considerable loss.
His loss is Andrew Vaughn's gain as he has taken over the starting LF duties from Jimenez for what looks like this season. Depending on how Vaughn plays this season, you could be looking at a situation where La Russa needs to decide who is the starting LF of the future. As good of a hitter as Jimenez is, his defense is skeptical, and he is better suited as a DH.
Michael Kopech on the verge of breaking out
When the White Sox called up Kopech a few seasons ago, everyone knew they were getting a front-line starter with incredible stuff. Yes, Kopech did struggle at times, but he also showed everyone why he would be the starter of the future and the future 1-2 punch with Lucas Giolitto.
After opting out of last season, Kopech knew he would have a lot of work ahead of him this season to get back to his prior form. With that in mind, La Russa assigned him to the pen to start the season in hopes of him building up arm strength to get in the rotation by mid-season. If there is one thing we have seen so far, Kopech is nasty and could be perfect for the Sox pen.
After a two-inning outing last night in which Kopech struck out the side in the sixth before finishing with five punchouts in two innings, he now has eight strikeouts and two walks in just four innings of work. His fastball has consistently been 96 MPH plus while his breaking ball has been giving hitters fits.
Yes, Kopech will be a starter at some point this season but look at the White Sox pen with him in it. You have Kopech in the seventh, flame-throwing lefty Garrett Crochet who can handle the eighth inning, and then Liam Hendricks waiting in the night. Suddenly what was an area of weakness the past few seasons has become an area of strength, and it is something the White Sox should strongly consider sticking with this season.